Stay current on your favorite topics
HEADLINES
▪ Issuance improves in Europe after Q1 slump ▪ US issuance also sees post-Brexit bounce, but still down year-on-year ▪ Refinancing rules debt as issuers look to take advantage of circumstances ▪ Slow M&A market hits LBO issuance activity
Geopolitics has become an increasingly strong force in financial markets, and this was particularly true in 2016. Tensions over the UK Referendum vote in June, coupled with the US Presidential election in November, hung over leveraged loan and high yield activity. This led to a particularly quiet period in the run-up to the Brexit vote in late June, while markets paused for thought in October before Americans went to the polls in early November. Markets sprung back to life once the results were known, and the fundamentals came back into sharp focus as the pent-up demand was released. However, looking deeper into the figures, what appears to be a steady year for issuance has been rather a poor one for new issuers and M&A-based debt activity.
Improvements from Q2
Although overall yearly bond issuance was down, the European leveraged loan market showed surprising resilience, only temporarily slumping in the aftermath of the Brexit vote. Activity started to pick up in the second quarter rising to €28.6 billion, followed by a steady Q3 before a huge €57.4 billion-worth of issuance in the fourth quarter. This is up sharply from the €18.8 billion in the first quarter and the near €22 billion total in the last two quarters of 2015.
The European high yield market also received a lift after the vote, rising to €29.1 billion in the third quarter of 2016, ahead of the €26 billion registered in the entire second half of 2015.
As with 2015, institutional investors are looking for a home for their cash stockpiles. Central bank policy such as the Bank of Japan's unlimited quantitative easing (QE) programme sent bond yields globally to record lows and US$11.4 trillion of securities below zero. And even with the ECB announcing in December a scaling back of QE from €80 billion to €60 billion per month, investors are casting their nets ever wider to include low-volatility, higher-yield assets such as leveraged loans in their search for dependable returns to help meet their long-term liabilities.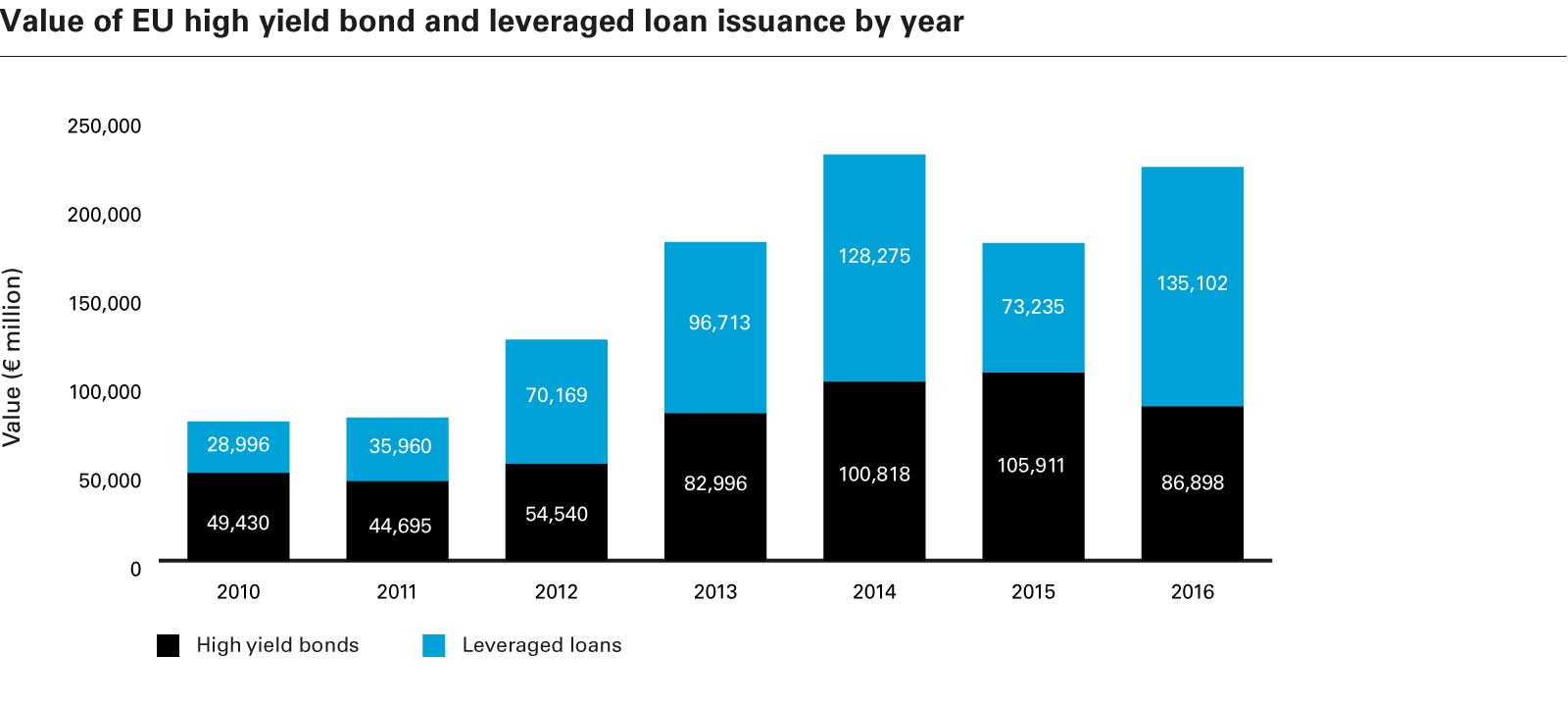 View full image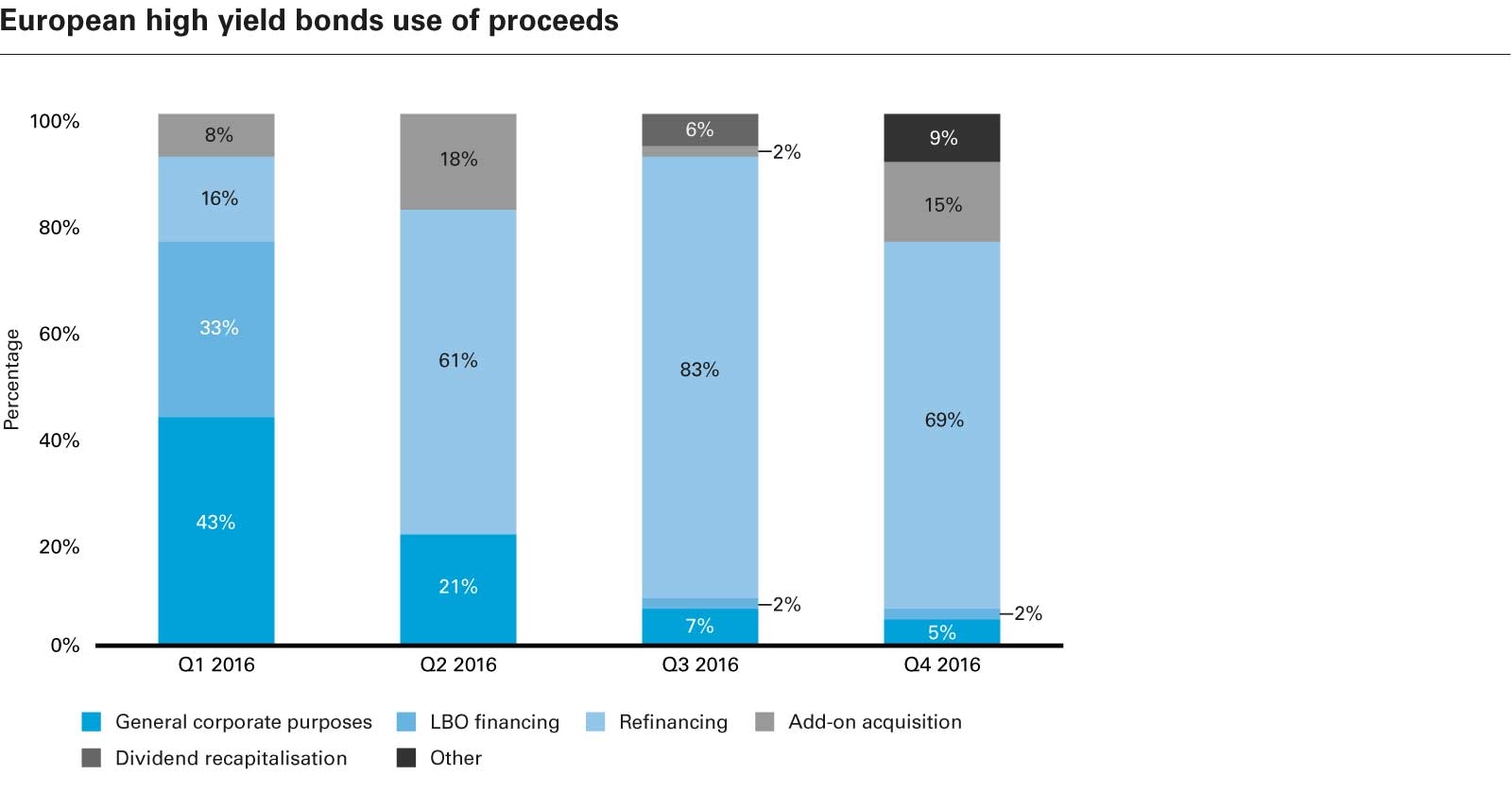 View full image
False dawn?
39%

Percentage of proceeds for European leveraged loans used for repricing in Q4 2016
However, while the numbers look more optimistic, a closer inspection of how these issuances were used points to a less-promising picture. The use of proceeds for leveraged loans in 2016 changed drastically as the year moved forward, from more than three-quarters of it in Q1 being used for LBO financing to 72 percent being used for refinancing and repricing by Q4.
A similar usage swing was also seen on the bonds' side. Rather than new issuances, this points to a market becoming increasingly dominated by issuers taking advantage of favourable conditions in order to get better terms on their debt.
One of the main reasons for the shift in the use of proceeds has been muted global M&A activity—a traditional source of debt deals in 2016. The value of deals dropped by 18.1 percent to US$3.2 trillion in 2016 compared with 2015, according to Mergermarket data. And while some major acquisition financings have occurred in 2016's leveraged debt markets—for example, the €1.6 billion in notes raised to support an investment consortium's €3.7 billion deal for fleet management company LeasePlan—this has been the exception rather than the rule for multi-billion euro deals. Indeed, there were only 38 M&A deals in the over US$10 billion category, compared with 57 in 2015.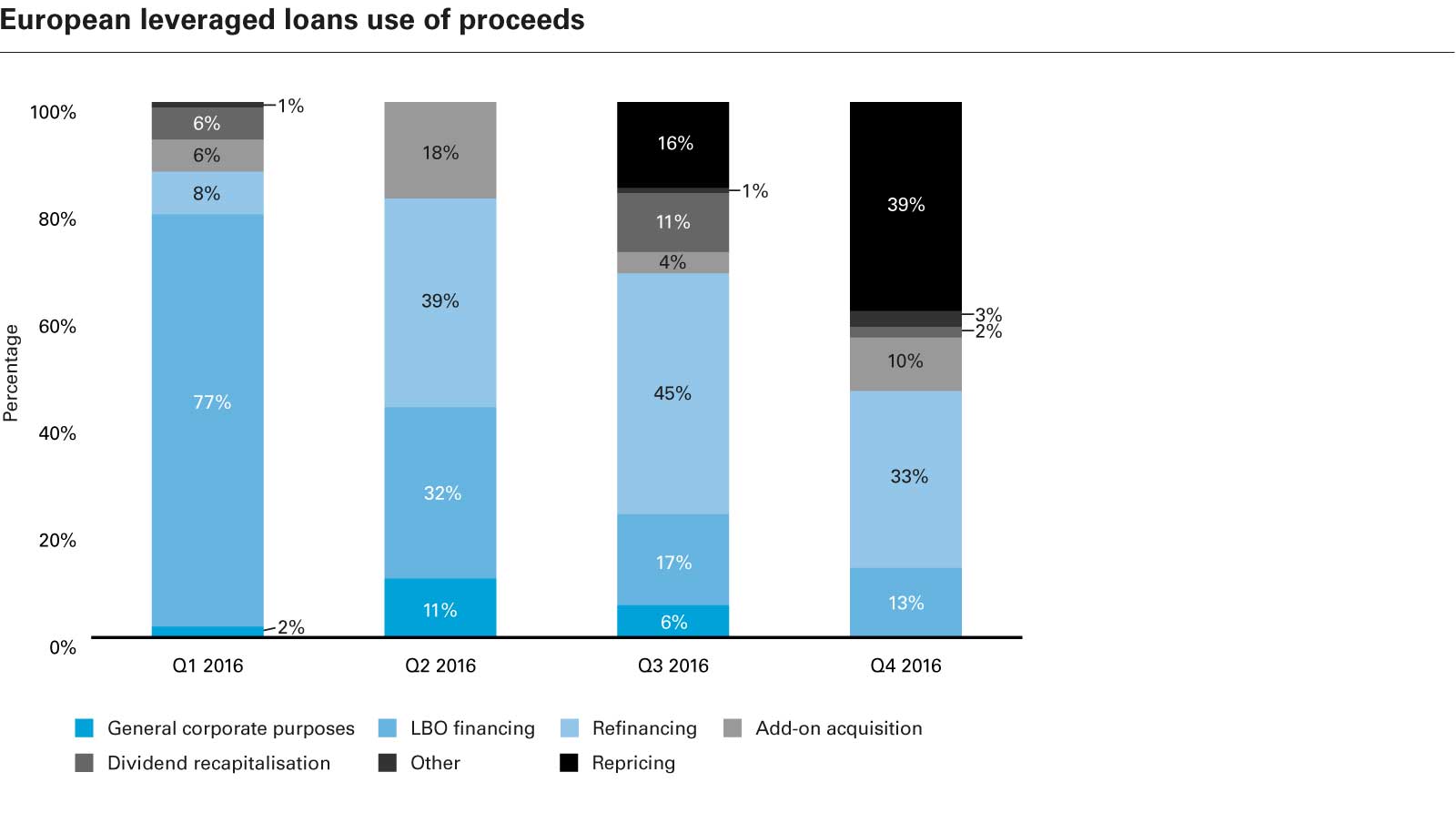 View full image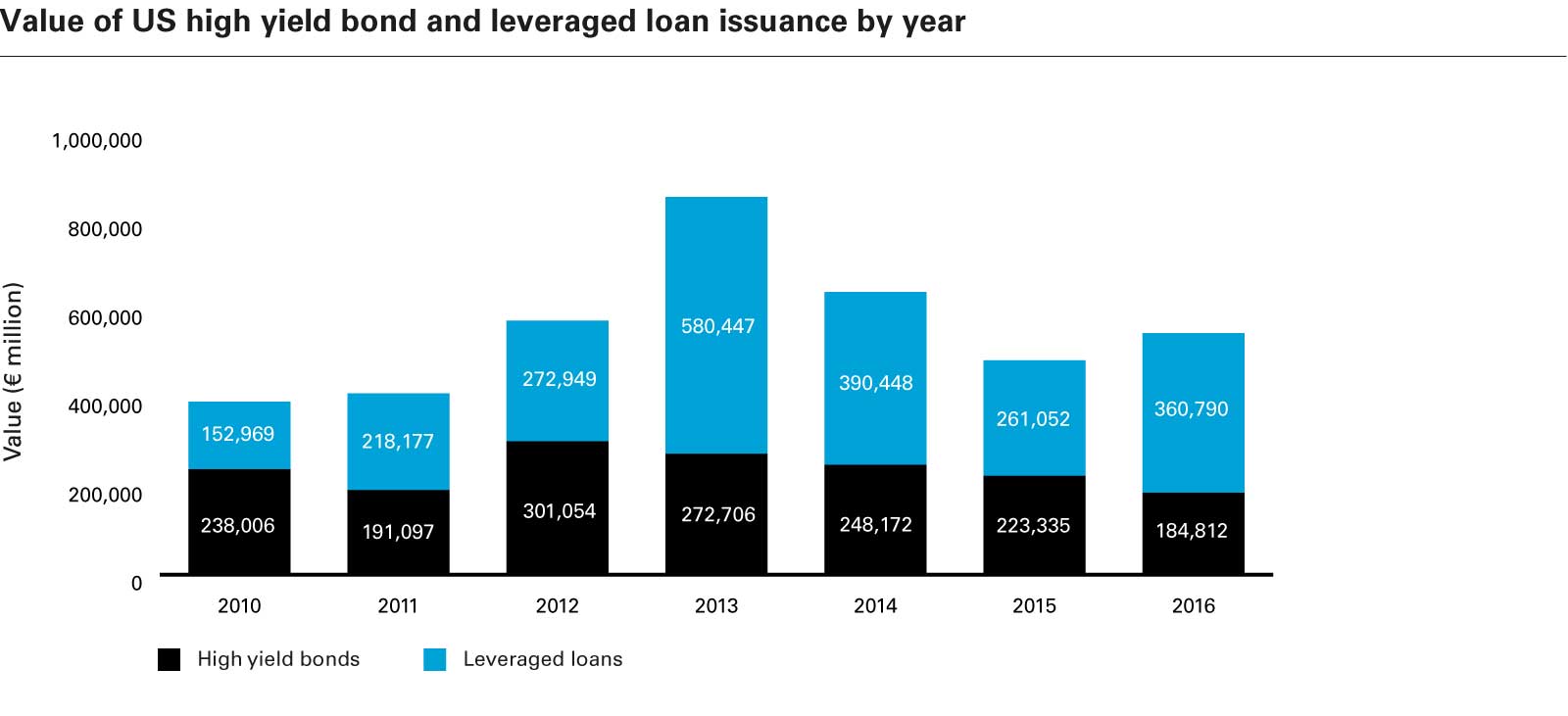 View full image
US at a glance
The US leveraged loan market also saw issuance rise after Brexit, particularly in the fourth quarter. After a depressed start, Q4 saw US$147.2 billion of issuance, bringing the year's total to US$360.8 billion. This brought it way ahead of the US$261.1 billion in 2015 which was considered the worst year of capital-raising in leveraged loans since 2011. Transactions also rose from 461 to 489 over the past year. It was a less robust picture than in respect of high yield, however, which saw issuance slide to US$184.8 billion from US$223.3 billion in 2015. Volume also declined by 42 transactions to 308 over the period.
One notable aspect of the strong appetite for issuance is the growing popularity of second-lien debt. This included the US$250 million component in network security firm Infoblox's US$750 million loan. Further, November started off with the US$420 million financing in Swedish specialty chemical firm Perstorp's US$1.22 billion equivalent dollar and euro trade.
European leveraged debt fights back
Read other articles in this report
This publication is provided for your convenience and does not constitute legal advice. This publication is protected by copyright.
© 2017 White & Case LLP