There is huge scope for future dealmaking across payment applications, peer-to-peer lending platforms, crowdfunding, enterprise resource planning and bookkeeping, as institutions move to buy in technology or understand market trends
Fintech has already proven its value and will play an undeniably large role in the provision of financial services in the future. According to Accenture and CB Insights, there are already at least 20 fintech unicorns—private companies worth US$1 billion or more—in operation.
This is in addition to the fintech companies that have already listed—such as payments company Square, which went public in November 2015 with a valuation of US$2.9 billion—and are worth more than many traditional financial services businesses. Fintech is now firmly established as a successful sector in its own right. And research from Technavio suggests that the global fintech investment market will grow at a CAGR of 54.83 per cent between 2016 and 2020. The survey findings underscore this optimism, with 77 per cent saying the level of fintech deals will increase during the next 12 to 18 months. This figure rises to 88 per cent for more than three years (Figure 21).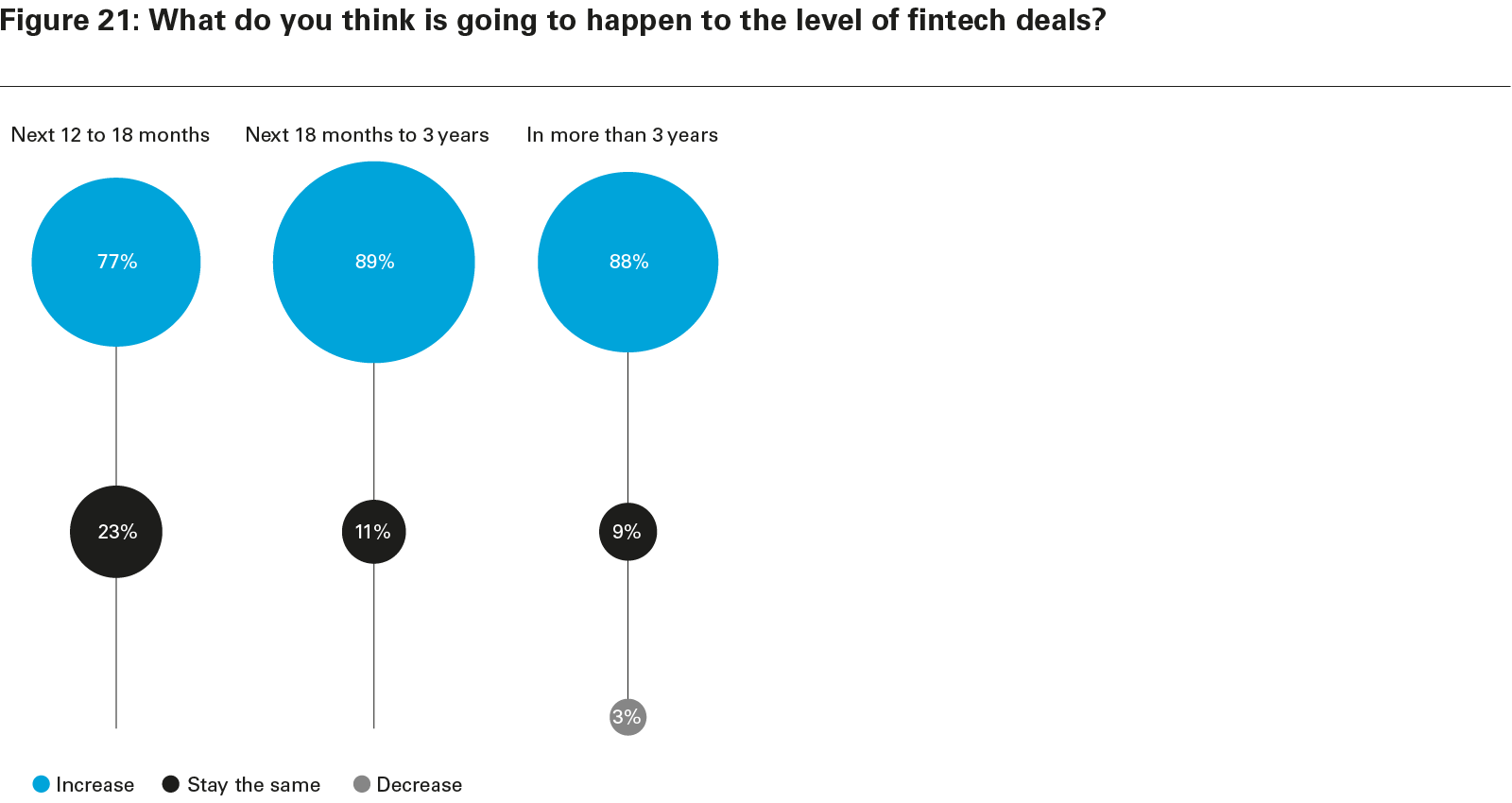 View full image
28%

think speciality financing will be the biggest fintech M&A hotspot

Source: White & Case fintech M&A survey 2016
20

fintech unicorns already operational

Source: Accenture/CB Insights
Looking ahead
Financial services firms and investors alike are keen for deals in various areas of fintech, as players try to come to terms with new technological capabilities and react to changing consumer and infrastructure dynamics.
Fintech investors have identified the core, proven services and platforms that will attract investment, such as payments and digital lending. These seem to centre around P2P finance, payment services and blockchain.
P2P's growth prospects continue to thrive, especially in this era of low interest rates. According to research from investment bank Liberum, people who lend money via P2P platforms can gain returns of more than 5 per cent per year, compared with the base rate of 0.25 per cent.
However, financial services players are keenly aware of the potential of what is to come. Blockchain and distributed ledger technology, for example, are still relatively nascent but hold great promise for banks and insurers. Blockchain, which records and saves data by storing it in an open-access database maintained across thousands of computers, has the potential to significantly enhance the security and speed of transmission of financial data. This is already attracting attention from major firms, with Standard Chartered investing in distributed ledger firm Ripple in September 2016.
The US Federal Reserve recently commissioned a landmark study to examine how blockchain can speed up electronic payments while making them safer and more widely used. Tech company R3 CEV, meanwhile, has secured an agreement with more than 50 of the world's leading financial institutions to join a consortium that will investigate distributed ledger technology. R3 has also worked with 11 global institutions on an experiment where there was an exchange of tokens across a private network without the need for a third party to verify the transaction.
Payment services, meanwhile, remains a hotspot too, albeit a maturing one. PayPal, Alipay and Worldpay are billion-dollar public companies; technology giants Apple and Google have moved into the space using their technology platforms; and there is still a lively ecosystem of younger payment services companies, such as iZettle and Stripe, that are winning business. This is enticing investors, with private equity firm TCV leading a US$180 million injection into cross-border payments company Payoneer.
"Technology has changed everything," says one European banker. "Payment applications provide consumers with multi-bank access through a single portal, and credit and equity funding can be raised using digital peer-to-peer lending platforms and crowdfunding. Enterprise resource planning and bookkeeping have been transformed too. There is huge scope for future dealmaking across all of these areas, as institutions move to buy in technology or understand market trends." For banking, it could also herald a commitment to sharing fintech capabilities. Indeed, distributed ledger startup Ripple announced in September 2016 the launch of the Global Payments Steering Group, with founding members including banking giants Bank of America Merrill Lynch and Santander. Its purpose is to "oversee the creation and maintenance of Ripple payment transaction rules, formalise standards for activity using Ripple, and other actions to support the implementation of Ripple payment capabilities."
Fintech funding and valuations
Investors are set to pour even more capital into fintech's growth, but valuations are a cause for concern
Fintech investment and financing have increased hugely during the past five years, from US$1.7 billion in 2010 to US$22 billion in 2015, according to Accenture and CB Insights. And 99 per cent of respondents believe that the volume of fintech fundraising will increase over the next 12 months—58 per cent saying considerably (Figure 23).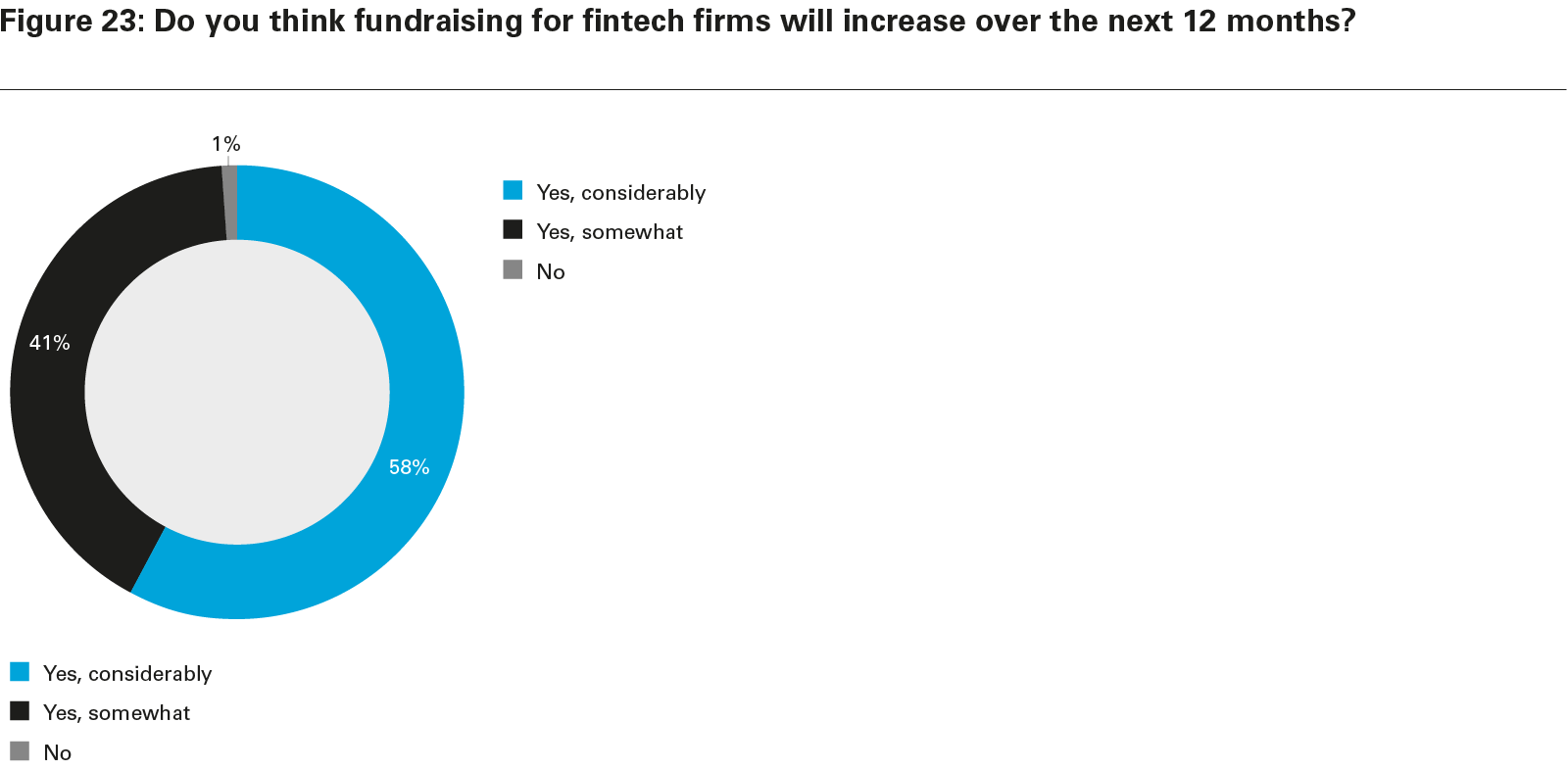 View full image
As capital flows into fintech, however, valuations increase and investors have begun to consider whether the sector is frothy after companies such as Powa, valued at more than US$2 billion in 2015, ended up in administration less than a year later. The share prices of Square and peer-to-peer lender Lending Club, meanwhile, are now below their original listing values.
Venture capital investment in fintech has also stopped increasing, another indicator that valuations could be full. Data from KPMG and CB Insights shows that, in Q3 2016, global VC-backed investment in fintech was less than half of what was seen in Q3 2015. Over half of respondents agree that valuations are too high, although a substantial minority say the pricing of fintech assets is well-balanced, indicating that a correction has filtered through the market (Figure 24).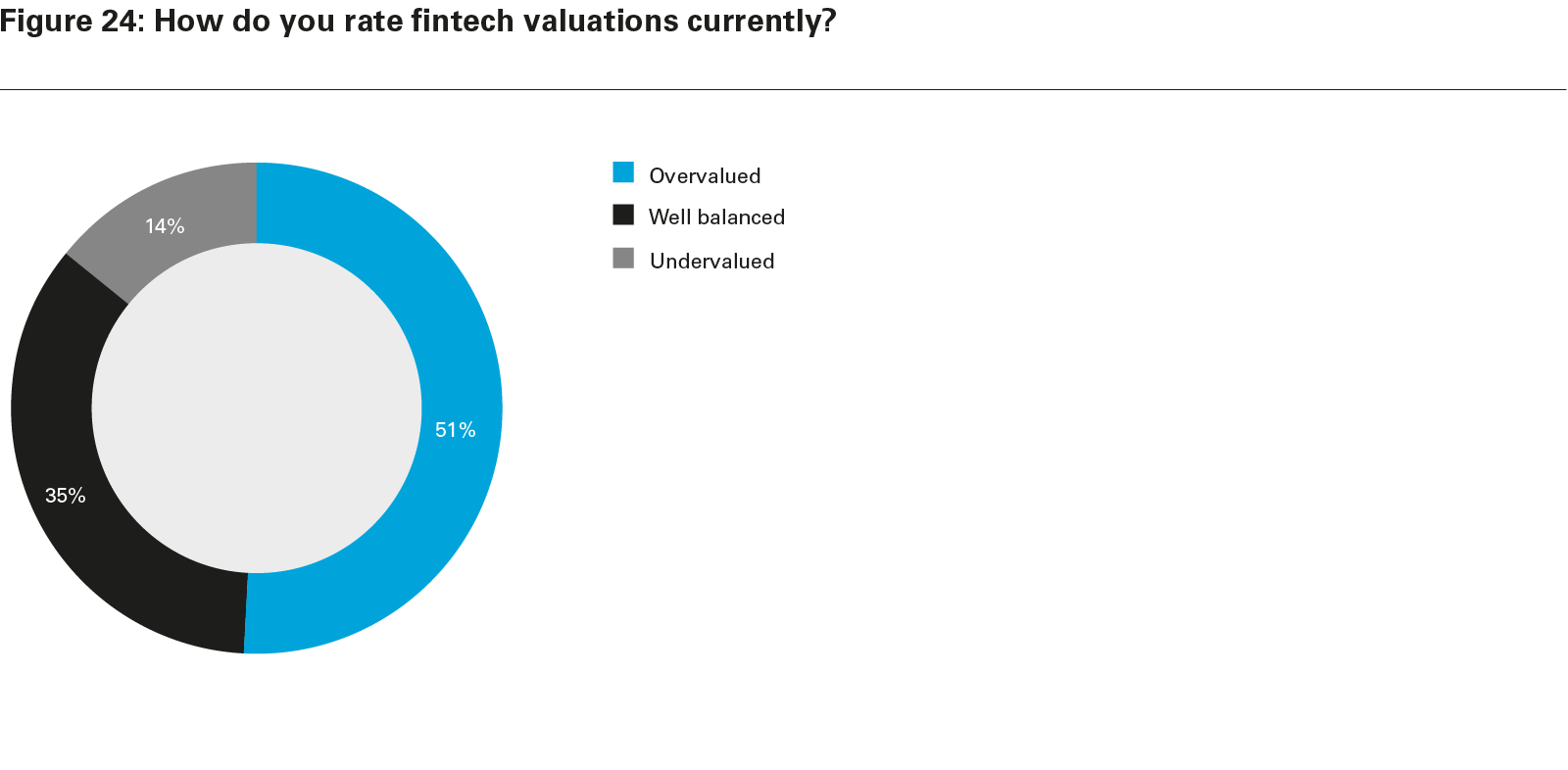 View full image
However, companies do need to be careful what they pay for, as it could cause issues for balance sheets. For example, in June, Lending Club announced that it was taking a writedown of up to US$40 million on the 2014 acquisition of fellow fintech firm Springstone Financial for US$140 million.
Interestingly, more than half of respondents say fintech companies are overvalued, yet an overwhelming 95 per cent expect valuations to continue to rise (Figure 25). While this could point to the emergence of a potential bubble, it could also reflect a mixed picture across different regions. As the pace of investment in mature markets has slowed—which is likely to impact on valuation expectations—fintech investment in Asia has continued to show strong growth, suggesting that valuations could continue to go up as well.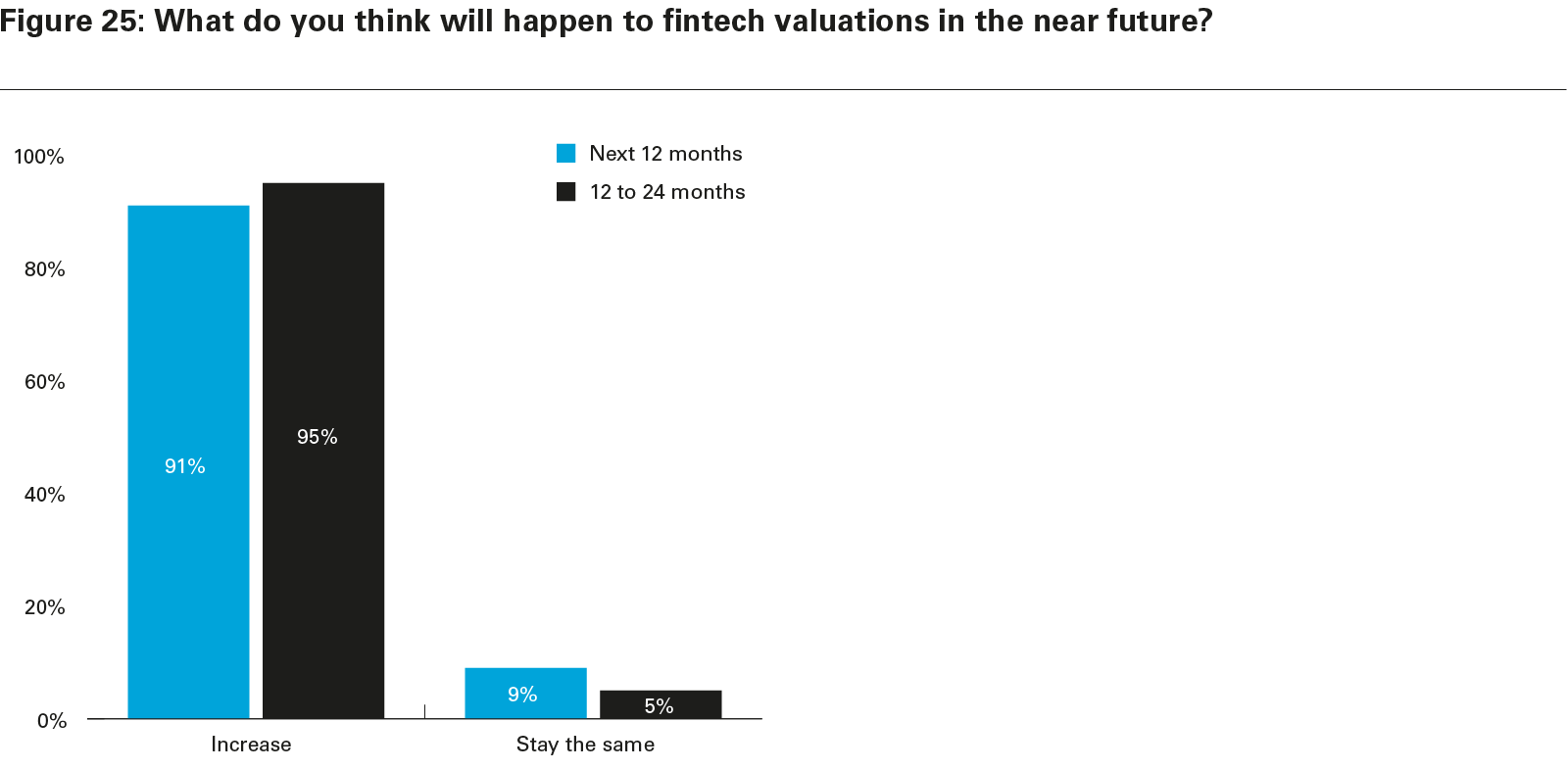 View full image
Indeed, the need to keep up to date with the latest technological trends is often all that is needed for money to flow. "The business that fintech has been able to achieve is more than was expected and the changes they have got in after partnering with fintech are outstanding," explains a managing director of an asset manager. "The valuations are driven by demand and competition, neither of which is coming down anytime soon."
To read the full report, please click here.
To read other articles in this report, please click here.
This publication is provided for your convenience and does not constitute legal advice. This publication is protected by copyright.
© 2016 White & Case LLP