70%

say fintech plays a major part in their corporate strategy

Source: White & Case fintech M&A survey 2016
In much the same way that digitalisation and the increasing use of smartphones have disrupted the transport and consumer sectors, with companies such as Uber and Airbnb demonstrating that technology can open up markets in a short period of time with little need for investment in physical assets, fintech has come to the fore in the finance industry.
Traditionally, the financial services sector has been dominated by large, entrenched institutions and characterised by high barriers to entry. However, the combination of new technology and the introduction of new payment services regulations across the globe (including, in Europe, the initial Payment Services Directive in 2009) started to entice non-financial services firms towards the lending market. From this, fintech entrepreneurs have seized the opportunities created by mobile technology to reach more customers with greater ease, less expense and in a more engaging way. According to data from KPMG and CB Insights, global investment in fintech in the first three quarters of 2016 was US$18 billion, compared with US$19.1 billion for the whole of 2015. On top of this, fintech inventions are also at the heart of reconfiguring financial market infrastructure.
Whether it be payment processing, lending or insurance, all aspects of financial services have been impacted. In the past 18 months, payment processing companies such as PayPal, Square and Worldpay have secured multi-billion-dollar IPOs, valuing them at significant premiums.
Peer-to-peer lending and crowdfunding are also increasingly gaining traction. Figures from Nesta—an innovation charity—Cambridge University and KPMG meanwhile, show that in the UK alone the alternative finance sector, including P2P and crowdfunding, did £3.2 billion-worth of loans, investments and donations in 2015, 84 per cent more than 2014.
In insurance, price comparison websites have disintermediated the market, offering consumers greater choice, price transparency and speedier purchasing. Although this sub-sector has shown signs of maturing in the past 24 months, players such as Moneysupermarket.com, which has seen its share price grow more than three-fold in the past five years, have continued to expand. Further, wealth management is also seeing fintech-related disruption, with the proliferation of "robo-advisors" creeping into the industry. Indeed, the world's largest private wealth manager, UBS, is launching its own robo-advisor with UBS SmartWealth. Across sectors, established financial services firms are clamouring to get involved.
While the focus on fintech M&A is predominantly on generating growth, the emergence of new capabilities can also help larger financial institutions to navigate regulatory requirements
Fitting in fintech
Rather than viewing fintechs as disruptive competitors, financial services companies are now looking for ways to collaborate with these businesses for mutual benefit.
"Institutions accept that they need to reinvent the way they use and develop technology, and fintech providers recognise that payments, for example, is only a small part of what institutions do," says Alastair Lukies, chairman of Innovate Finance, an independent not-for-profit membership organisation serving the global fintech community. "There is much bigger business to collaborate with."
Another sign that the financial services sector now feels more comfortable with fintech is the fact that they have the confidence to identify where fintech can fit into their companies and make acquisitions accordingly.
Spanish bank BBVA, for example, has placed M&A at the centre of its digitalisation strategy and used banking development. BBVA deals include the US$117 million purchase of Oregon-based digital banking pioneer Simple and a US$67 million deal for a 29 per cent stake in online bank Atom.
Most financial services companies now recognise that fintech will be key to their future strategy, after initially taking a cautious approach and stepping back to observe the fintech sector establish itself. Indeed, nearly nine out of ten respondents to our survey see fintech as having a major part or leading role in their corporate strategy (Figure 2).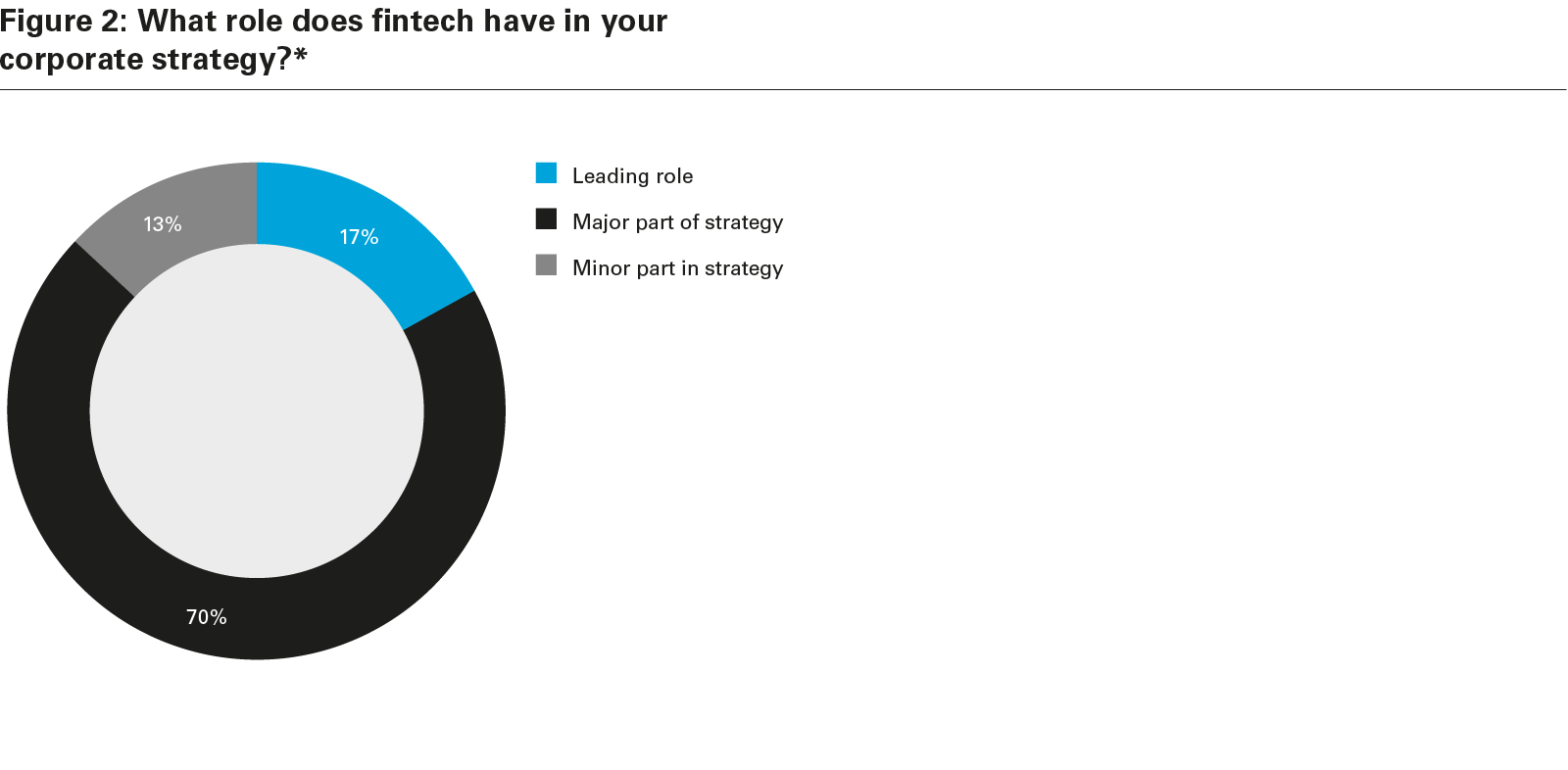 *Financial services respondents only
View full image
The hunger to acquire grown-up startups is rising, and there is a greater number of mature fintech companies in the market. According to Accenture and CB Insights in 2015, there were 94 fintech deals globally worth US$50 million or more, a record high.
54%

respondents looking to collaborate with mature fintech firms in the next two years

Source: White & Case fintech M&A survey 2016
Mutual benefits
It is not just the case, however, of financial giants forcing their will onto smaller startups—the idea of collaboration is very much a two-way street. An analysis of fintech deal data by Accenture and CB Insights shows that investment into fintech firms wishing to collaborate with the industry increased by 138 per cent in 2015 and accounts for 44 per cent of all fintech investment, up from the 29 per cent recorded in 2014. Investment into fintech companies seeking to compete with the industry, by contrast, was only 23 per cent higher in 2015 than the previous year.
Investing in fintech through corporate venturing arms or bespoke fintech funds continues to be a valuable tool for exploring the market and buying in technology.
Much of BBVA's M&A activity, for example, has been directed through its corporate venturing arm, BBVA Investments. Elsewhere, Santander chairman, Ana Botin, announced in July 2016 that the bank would double its investment in Santander InnoVentures, its London-based fintech venture fund, to US$200 million. The fund takes minority stakes in fintech startups with a view to incorporating new technology into Santander's banking operations. Milan-based Unicredit has adopted a similar approach, committing US$200 million to a fund managed by Anthemis Group. In China, meanwhile, the CCB Trust, a subsidiary of the China Construction Bank, was among the main backers of a US$4.5 billion funding round in Ant Financial.
Investing in fintech through fund structures allows institutions to monitor developments in the market without having to commit to an acquisition of a technology that is promising but still needs to prove its relevance. For example, Brazilian bank Banco Votorantim partnered with Microsoft in October 2016 to invest in the tech giant's BR Startups fund, which has backed around 70 startups since its creation in 2014.
Investing in fintech through fund structures allows institutions to monitor developments in the market without having to commit to an acquisition of a technology that is promising but still needs to prove its relevance
Multiple paths
For banks headquartered in the U.S. or with US subsidiaries, however, exploring the fintech space in this way is more complicated. The US Bank Holding Act and the Volcker Rule place restrictions on the size and the nature of equity investments that banks can make. These rules prohibit banks from holding more than 5 per cent of a non-bank subsidiary and restrict investments in covered funds, making it difficult to dip into fintech in this way.
"The rules on equity investments by banks are not intended to restrict activity in fintech, but banks do have to take a legally robust position. Investing in fintech equity stakes is such a small part of what banks do that it can be difficult to justify all-out engagement with a regulator on this issue when it is not a primary focus," says a global bank executive.
Banks that do have to comply with the Volcker Rule and the US Bank Holding Act have looked at other ways to engage with fintech. Some have supported incubators and accelerators, providing mentoring, office space and other resources instead of equity investment.
"An incubator model is a good way to see what is going on and build relationships. An institution can hold a startup's hand through development and if a product gains traction, the bank will have a good understanding of how to fit the technology into its business," the executive says.
With so many approaches available, choosing which one is right for a given financial services business is very much a situation-dependent decision. "What we look to do is make a decision on whether to buy in a technology or build it up in-house," says Kaushalya Somasundaram, global head of fintech partnerships at HSBC. "There are advantages and disadvantages to either approach. Doing things in-house can take longer and prove costly, but developing something in-house also means you are developing your own IP, which makes it harder to replicate and means you can tailor it to your own organisation's needs."
"The important thing to recognise is that there is no one way to address fintech," adds the global banking executive. "Institutions recognise that and are taking a multi-pronged approach by doing work in-house, forming partnerships, making acquisitions and supporting fintech funds."
75%

growth of fintech investment in 2015

Source: Accenture and CB Insights
Deal drivers
The combination of M&A deals, joint ventures and partnerships with fintech firms is helping established giants become more efficient and open, as well as creating new distribution channels and cutting down costs. J.P. Morgan, for example, has partnered with online lender On Deck, using its technology platform to process loan applications. Zopa and Metrobank have a similar deal, where Metrobank loans will be provided on Zopa's platform.
In both of these examples, banks have seen value in backing an existing digital platform to widen the distribution of their loans, reach new customers and cut the costs of processing loan applications by using digital infrastructure.
"Fintech is something that can liberate banks and financial institutions that, over the years, have had to spend more time and resources running their branch networks and large back offices. Fintech can help them get back to their core business as risk lenders and service providers," Lukies says.
Yet while the focus on fintech M&A is predominantly on generating growth, the emergence of new capabilities can also help larger financial institutions to navigate regulatory requirements. This is particularly salient when thinking about the European Payment Services Directive 2 (PSD2), which will become law in all EU Member States by January 2018 at the latest. PSD2, which will force banks to open up account data to trusted third parties and customers, could provide the perfect reason for fintech and financial services firms to increase their collaboration and dealmaking. According to Accenture analysis, PSD2 and other regulatory changes could see UK banks losing up to 43 per cent of their payments-based revenues by 2020.
Fintech entrepreneurs have seized the opportunities created by mobile technology to reach customers with greater ease, less expense and in a more engaging way
Growing up
A sign that the fintech market is maturing is that 95 per cent of respondents now expect to do fintech deal or investment in the next 12 to 24 months—22 per cent expect to undertake a majority acquisition, just under a fifth (18 per cent) expect to be involved in a minority stake acquisition, and a further 18 per cent expect to be involved in a joint venture (Figure 6). As fintech continues to evolve, businesses are looking at opportunities to participate in the next wave of disruption.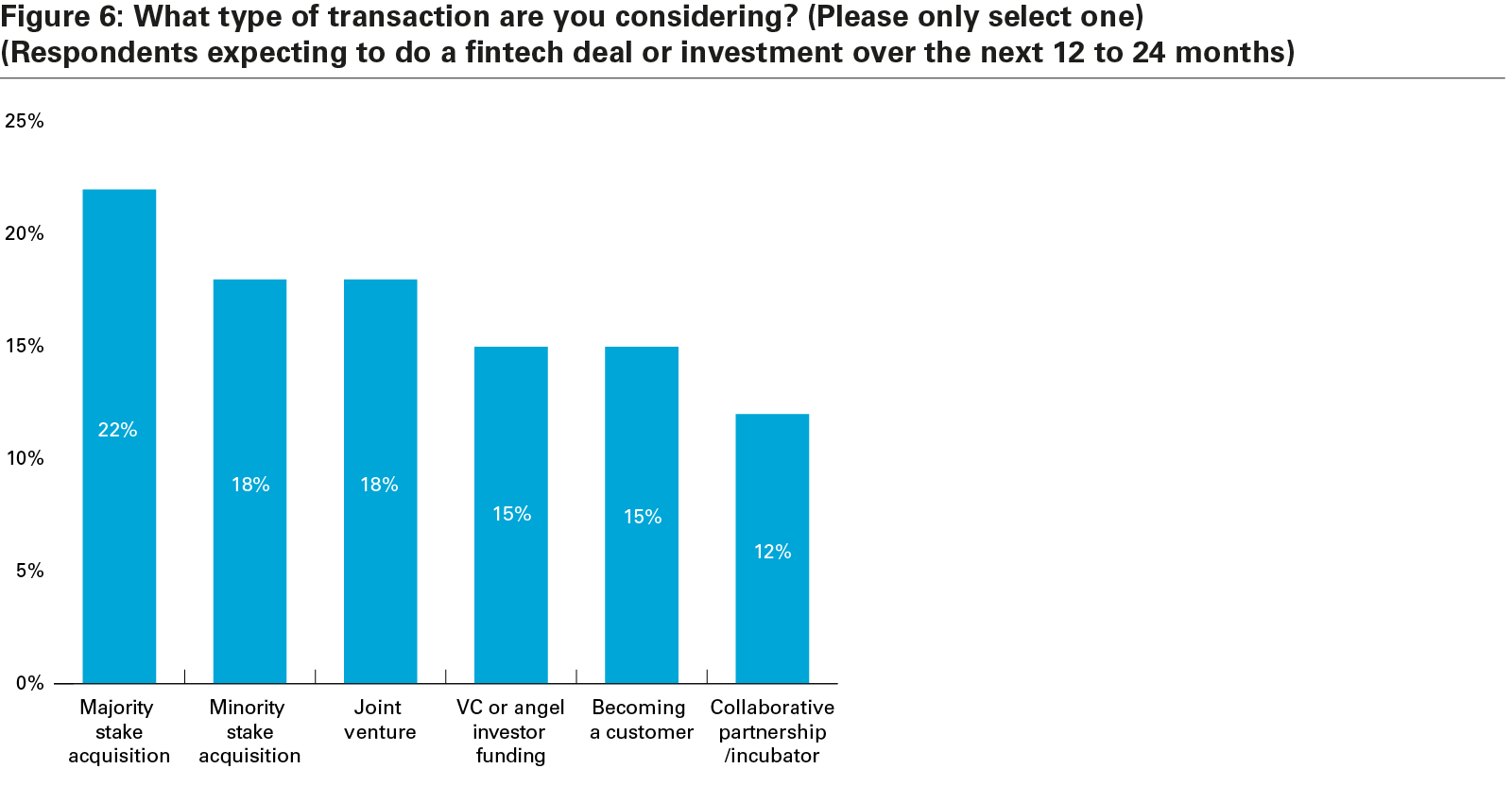 View full image
There are new opportunities, for instance, to develop and use big data, insure-tech, blockchain and enterprise resource-planning technology in an operational rather than consumer-focused context.
Well over a third of respondents (39 per cent) are not seeking to branch out and are instead focusing on existing business lines. For those looking into new areas, regulatory technology (19 per cent) and blockchain/distributed ledger technology (19 per cent) rank as the most popular (Figure 7).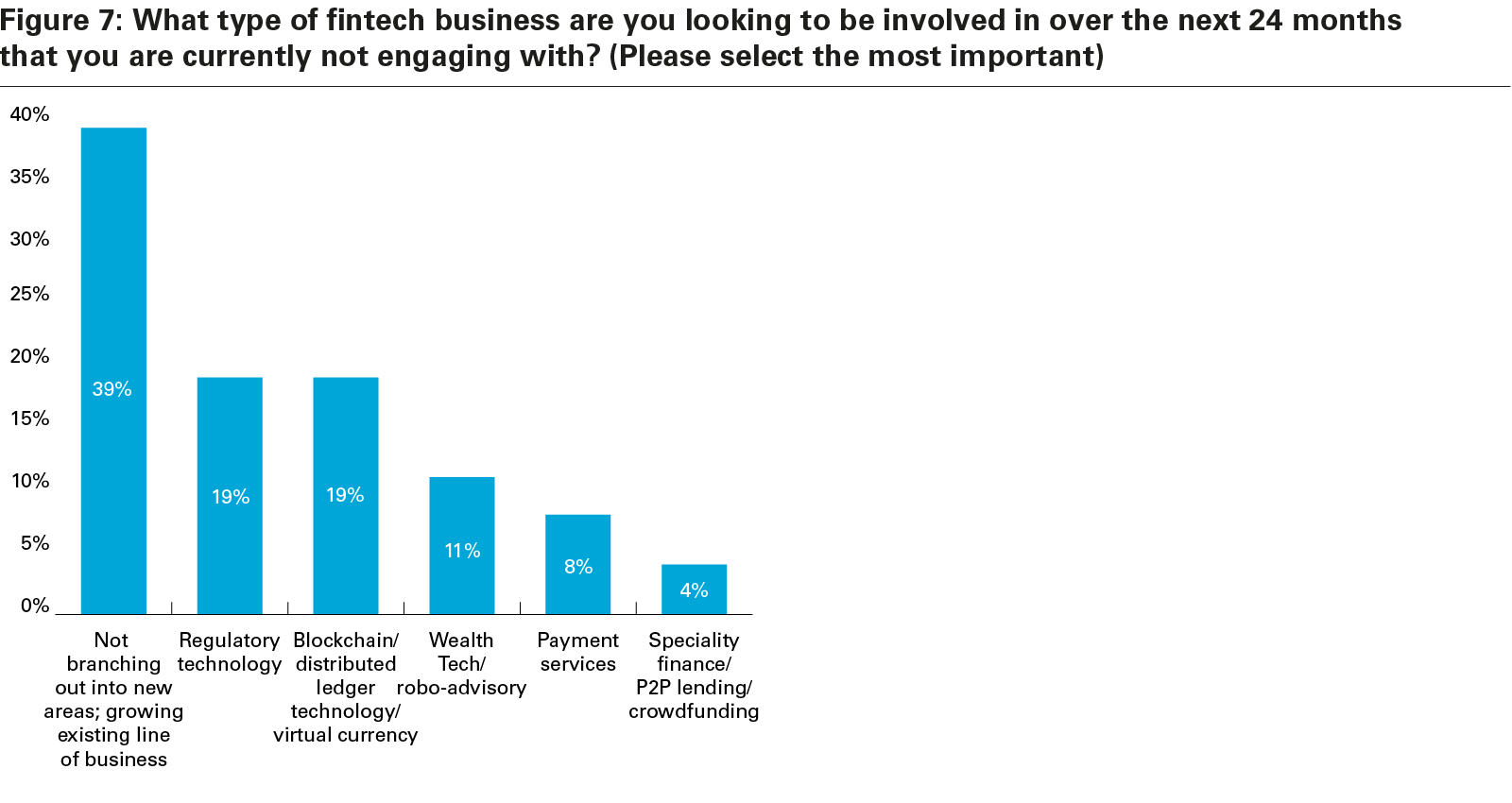 View full image
Focusing on what you know chimes with the theme of keeping risks down and maximising speciality.
"Our prime area of focus is to concentrate on our existing investments and acquire along the same lines," says a partner of a private equity firm with an interest in fintech. "We do not want to scatter our capital, as it would mean dealing with more risks at once. The plan is to focus on the current growing line of business so that we can make the expected returns from the same source. Diverting or having too much involvement would be risky."
For larger financial services companies that already cover several areas, allowing subsidiaries some degree of autonomy regarding fintech can bring its own benefits. "Fintech is so broad and changing all the time, so we encourage each business line to engage with fintechs in their specific area, as they are the ones closest to the market," says Somasundaram. "Once they have decided which fintech they want to work with and in what manner, we have a central team that engages with the fintech company, builds the relationship and coordinates the process."
Putting the pieces together
Many financial services firms find it difficult to bridge the culture gap between old and new worlds. One reason for this is the cultural disparity between large financial services firms that are rigid but powerful and up-and-coming fintech startups that offer huge potential but lack the scale.
This brings up two issues. First, integrating fintech assets carries the risk of clashing cultures. Further, embedding new technologies and ways of working when large amounts have already been invested in legacy projects and infrastructure can also cause disharmony.
Culture clashes are a problem for startups in general. Indeed, while not in fintech, much of Tumblr's disappointing performance since its acquisition by Yahoo has been attributed to a failed combination of the two companies' sales teams. Fintech can be equally as fallable.
"Integrating a fintech business with a startup culture and willingness to take on risk and experiment often grates with that of a large financial institution that is focused on regulatory compliance and risk reduction. You also have one group used to launching new products and services, and another that has invested huge resources and time into building up existing infrastructure, and is reluctant to scrap that in favour of something new," one fintech investor says.
Best practice for fintech integration is yet to emerge, as it is only recently that institutions have made such acquisitions. Many have invested but allowed fintech companies to continue operating independently for the time being. This is seen in HSBC's initiative to house its 3,000-strong digital team in a separate building from its main office in order to foster a creative, startup mentality that won't be suppressed by bureaucracy.
Indeed, financial services executives are clearly looking to bridge the perceived gap between institutions and fintech startups. In 2016's MIT Sloan CIO Symposium, for example, Principal Financial Group CIO Gary Scholten explained how his company is digitally transforming by changing its approach, creating minimum viable products (a development technique of building a minimum set of features on a product in order to gauge feedback from early adopters), adapting as new data surfaces and being more experimental. "To be successful in digital, you have to act like a startup," he said.
However, for all the talk of allowing fintech to innovate and revolutionise, this can be extremely tough to do in practice. For one, the implementation of fintech, while streamlining businesses, could also threaten jobs. A Citigroup report from March 2016, for example, suggests that European and US banks will cut 1.7 million jobs in the next decade as fintech develops—and in a heavily regulated and unionised industry, this will not come without resistance.
Another potential issue for emerging firms trying to break barriers is gaining trust among traditional financial services consumers. A 2016 survey from CapGemini and LinkedIn found that fewer than one in four customers trust their fintech provider, compared with more than a third for traditional financial companies.
"Fintech is still so young and new, and institutions are still trying to understand it and integrate it into their businesses," says Graham Kirk, associate general counsel—group M&A at HSBC. "It will take time before fintech fully beds down into the structures of an institution. Just looking at the legal side, integrating fintech means that financial services companies now need to take a multi-disciplinary approach across their teams of corporate, commercial, tech, and IP in-house lawyers."
To read the full report, please click here.
To read other articles in this report, please click here.
This publication is provided for your convenience and does not constitute legal advice. This publication is protected by copyright.
© 2016 White & Case LLP