Stay current on your favorite topics
The continued wave of QE has pushed yields down, leaving investors more open to less-restrictive covenants in exchange for higher returns.
HEADLINES
▪ Cov-lite deals becoming the new normal in Europe ▪ Payment-in kind notes' return signifies the return of a hot market and low margins ▪ US company high yield bond and leveraged loan issuance in Europe surges ahead of 2015 numbers
The high yield bond and leveraged loan markets have been converging for years—however, 2016 saw the pace accelerate, especially after the Brexit vote eased some uncertainty. Covenant-lite (cov-lite) deals, historically popular in the US, have crossed over to become a mainstay in European leveraged debt. In Europe, cov-lite deals accounted for 39 percent of the total of first lien loans in 2016 compared with 26 percent in 2015 and just 15 percent in 2014.
The market, then, has clearly evolved. However, other factors are also helping these boundaries be pushed. Most notably, the continued wave of QE has pushed yields down, leaving investors more open to less-restrictive covenants in exchange for higher returns.
The increasingly aggressive structuring is also seen in the leverage ratios of some of these loans, with some top-end deals hitting leverage of 7 to 9 times and regularly 5 to 5.5 times through the senior component.
Of these instruments, Term B Loans (TLB) have gained the most traction as the aggression has risen. Figures from Debtwire, for instance, show that there were 165 senior-secured and cov-lite TLBs in 2016 worth €90.6 billion in 2016, compared with 112 of the same instruments worth €46.2 billion in 2015.


View full image
39%

European first lien cov-lite loans in 2016, compared with 26% in 2015
48%

US first lien loans that were cov-lite in 2016, compared with 42% in 2015
Heating up
Another significant trend has been the continued presence of US issuers who are taking advantage of the varying differential cost between borrowing in US dollars and another currency and then swapping it back to the greenback. In 2016, there was €14.3 billion-worth of high yield bonds issued by US companies in Europe. While this is down on 2015's near €17 billion, it is way ahead of 2014 (€1.6 billion) and 2013 (none).
US companies also heavily increased their European issuance when it came to leveraged loans in 2016. US firms borrowed €40.5 billion-worth of leveraged loans last year, compared with €20.9 billion in 2015. This had been a recurrent theme as interest rates continued to bottom out and companies wanted to diversify their investor base or fund their European operations. Another sign of the market heating up is the extremely low average margins on loans. From a two-year high in the first quarter of 2016, at 4.34 percent, they have tumbled to a three-year low in quarter four to 3.57 percent.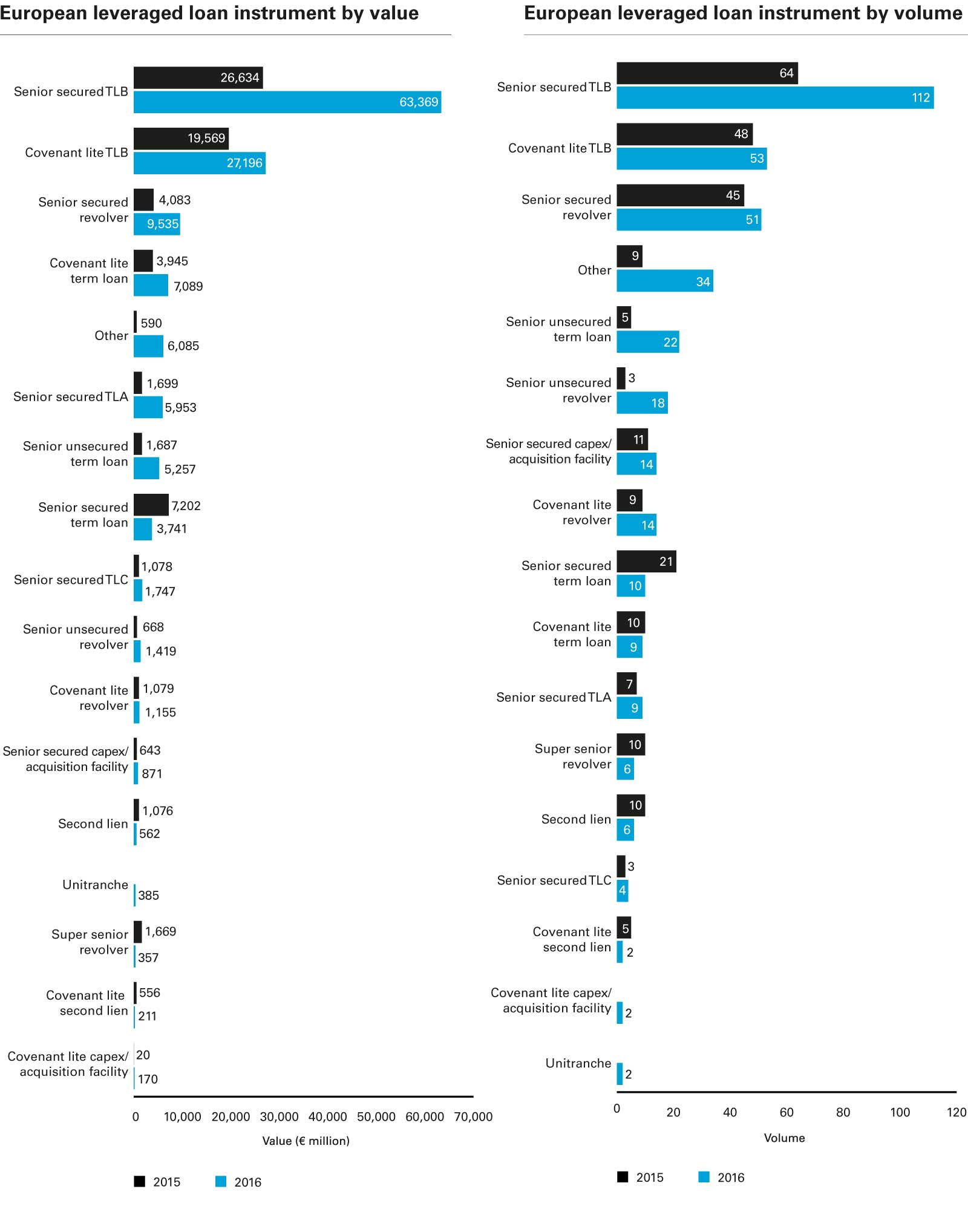 View full image
Activity further afield
Although US and European issuers have dominated the leveraged finance field, emerging market companies are slowly making their presence known. The most recent case was Nigerian-based IHS group, a Pan-African mobile telecoms infrastructure group which recently purchased rival Helios Towers Nigeria (HTN) for an undisclosed sum. In November, the group raised US$800 million, the largest-ever deal from an African sub-investment grade issuer and the first from a corporate issuer from Nigeria since Seven Energy printed US$300 million at 10.5 percent in September 2014. The net proceeds of the issue will be used to refinance US$500 million of IHS Nigeria existing debt as well as develop a new towers building programme.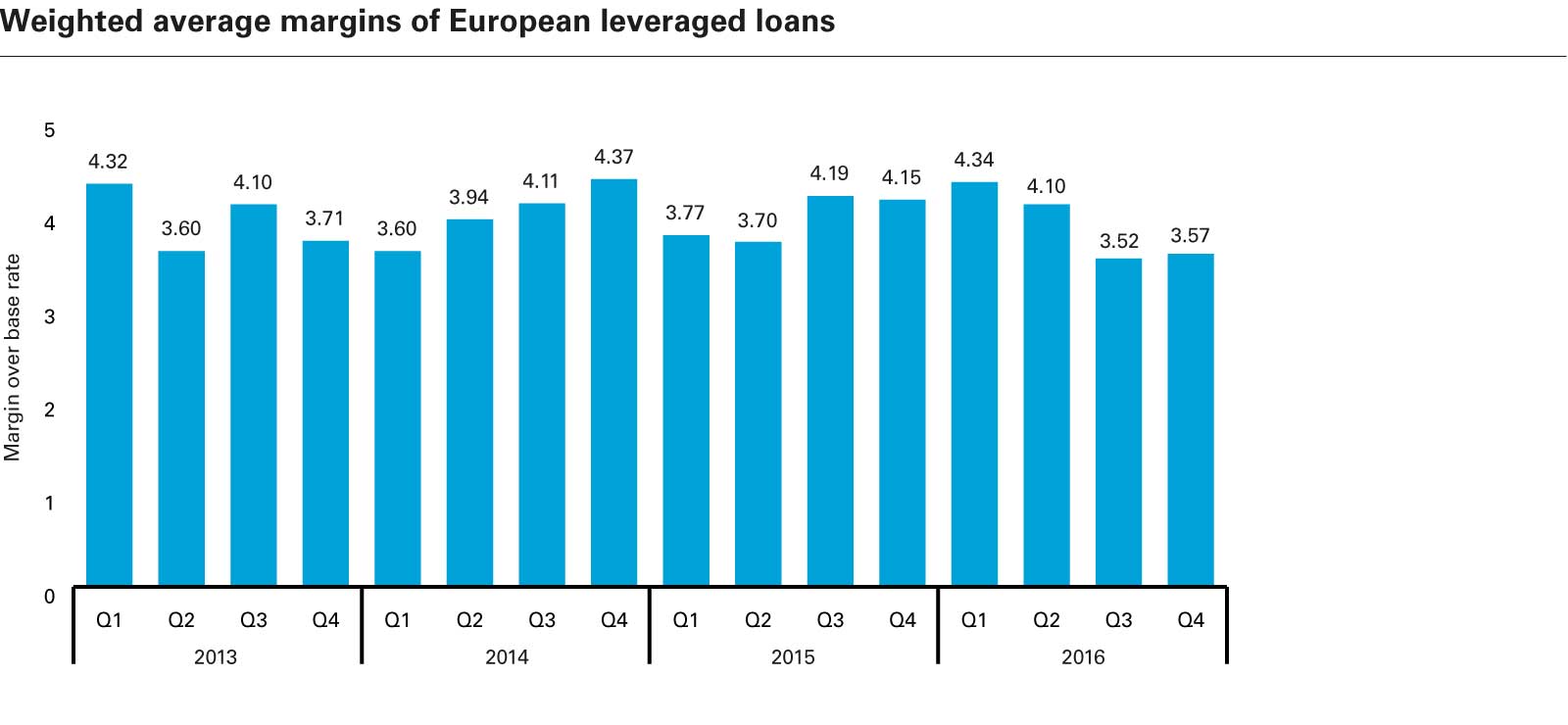 View full image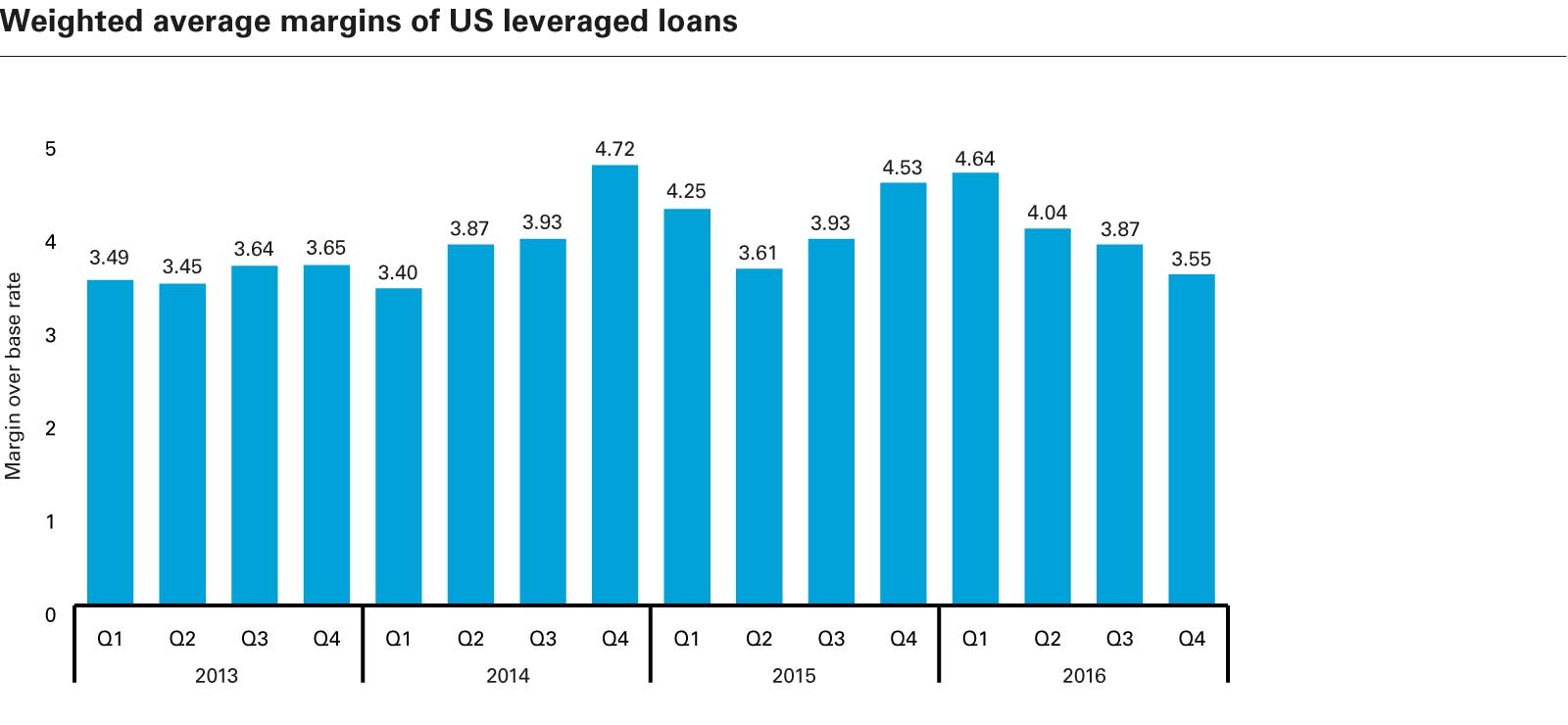 View full image
The return of the PIK
11

Number of PIK notes issued in 2016, compared with 4 in 2015
The resurgence of the payment in kind (PIK) notes, whereby the borrower does not pay cash interest until the principal is repaid or redeemed, is another indication of investors willing to move further out on the risk curve for yield.
There were 11 PIK notes issued in 2016, a substantial increase over the four in the whole of 2015. September was a particularly busy month with Ardagh Group, a Luxembourg-headquartered packaging company, selling US$1.72 billion of the securities and German auto components maker Schaeffler AG issuing €3.59 billion. This was more than €1 billion initially planned, which makes it the largest PIK issue ever.
Investors have turned to these notes as average yield on sub-investment grade debt in Euros has fallen. According to Debtwire, the average yield to maturity on European high yield bonds fell from six percent in Q1 2016 to 4.8 percent in Q3—however, this did bounce back to 5.9 percent in Q4.
Moody's Investors Service gave the Schaeffler's deal a Ba1 rating for refinancing the existing holding company debt, while the upsize allowed it to repay a legacy intercompany loan. However, not all deals pass the investor test, and companies need to have a strong investment case. For example, French glass bottle manufacturer Verallia, which is owned by private equity firm Apollo, pulled its €500 million PIK in October because the buy-side baulked at the deal's use of proceeds and weak structure.
Looking ahead, there are also concerns that the rise in PIK notes is a symptom of an overheating credit market, particularly as they are often used to pay dividends to shareholders. This dynamic will depend on how much primary LBO activity there is in the next few months, as it's the lack of M&A this year that has driven the low supply in the leveraged markets.
European leveraged debt fights back
Read other articles in this report
This publication is provided for your convenience and does not constitute legal advice. This publication is protected by copyright.
© 2017 White & Case LLP