Traditionally, private equity investors kept their distance from the financial services sector due in part to its complexity, high capital requirements and a heavily regulated environment. The banking collapse in 2008, however, redrew the M&A landscape in financial services and created a perfect storm of factors for financial sponsors who are now taking advantage of new market conditions to emerge as credible players in European financial services M&A.
In the years following the 2008 financial crisis, as banks, insurers and other financial institutions have had to recover and rebuild, private equity has seized the opportunity to establish itself as a substantial force in financial services M&A.
Favourable market conditions are attracting a new class of investors that were previously dissuaded from deals in financial services
More than 90 percent of respondents in the White & Case 2015 FIG M&A Survey agree that there is a growing trend for financial sponsors to invest in the financial services sector in Europe.
Deal figures for European buyouts in financial services paint a similar picture. According to Mergermarket, in 2015 buyout deals accounted for 20 percent of all European financial services M&A activity, the highest share of the market by financial sponsors on record. During the same period, financial sponsors invested €15.5 billion in European financial services transactions. This represents a historic high for investment by financial sponsors in financial services M&A.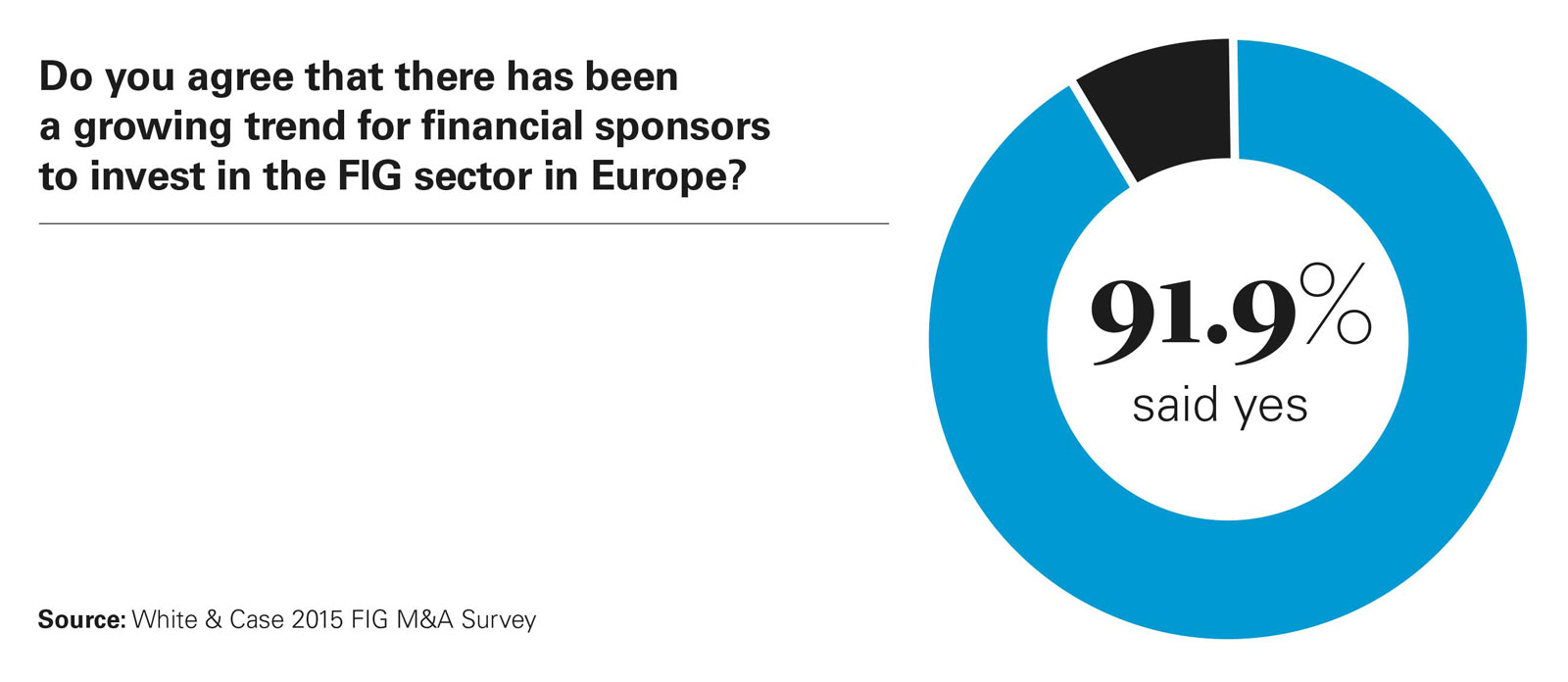 View full image
The amount of capital available for financial services M&A has also increased materially, as has the number of firms targeting deals in the sector. In particular, new entrants with a specialised financial services focus have been gaining traction rapidly. These firms have raised more than US$13.6 billion globally over the last ten years, with an estimated war chest of US$3.6 billion in dry powder (pre-leverage), according to Preqin.
Rules and regulations
The increase in financial services M&A by financial sponsors is a new trend. Pre-crisis, alternative investors were dissuaded from pursuing financial services transactions as they typically found themselves up against strong strategic buyers who had an appetite for expansion, cheap capital and synergies in their favour.
In response to the crisis, and in an effort to help banks recover and protect taxpayers from funding future bail-outs, regulators and governments introduced a series of measures to help recapitalise the banking system and reorganise bank balance sheets.
In addition to the constraints that these measures have placed on bank firepower, bank M&A appetite has also been weighed down by a number of fines for regulatory breaches, including rigging Libor and Forex rates and the mis-selling of financial products. According to Reuters, the world's 20 largest banks have paid fines totaling US$235 billion since 2008. Many banks are therefore hesitant to run the risk of inheriting these unknown liabilities through large M&A deals.
Accordingly, many financial institutions have decided (or been forced) to focus on their core businesses and raise funding by selling assets, often at lower valuation levels. Consequently, these institutions are no longer on the buy-side of M&A transactions, leaving room for new entrants to the market and (at least, until recently) creating a perfect storm of lower prices and fewer bidders.
Financial sponsors have emerged as credible players in European financial services M&A
Attractive valuations are among the main drivers for increasing financial sponsor interest in financial services.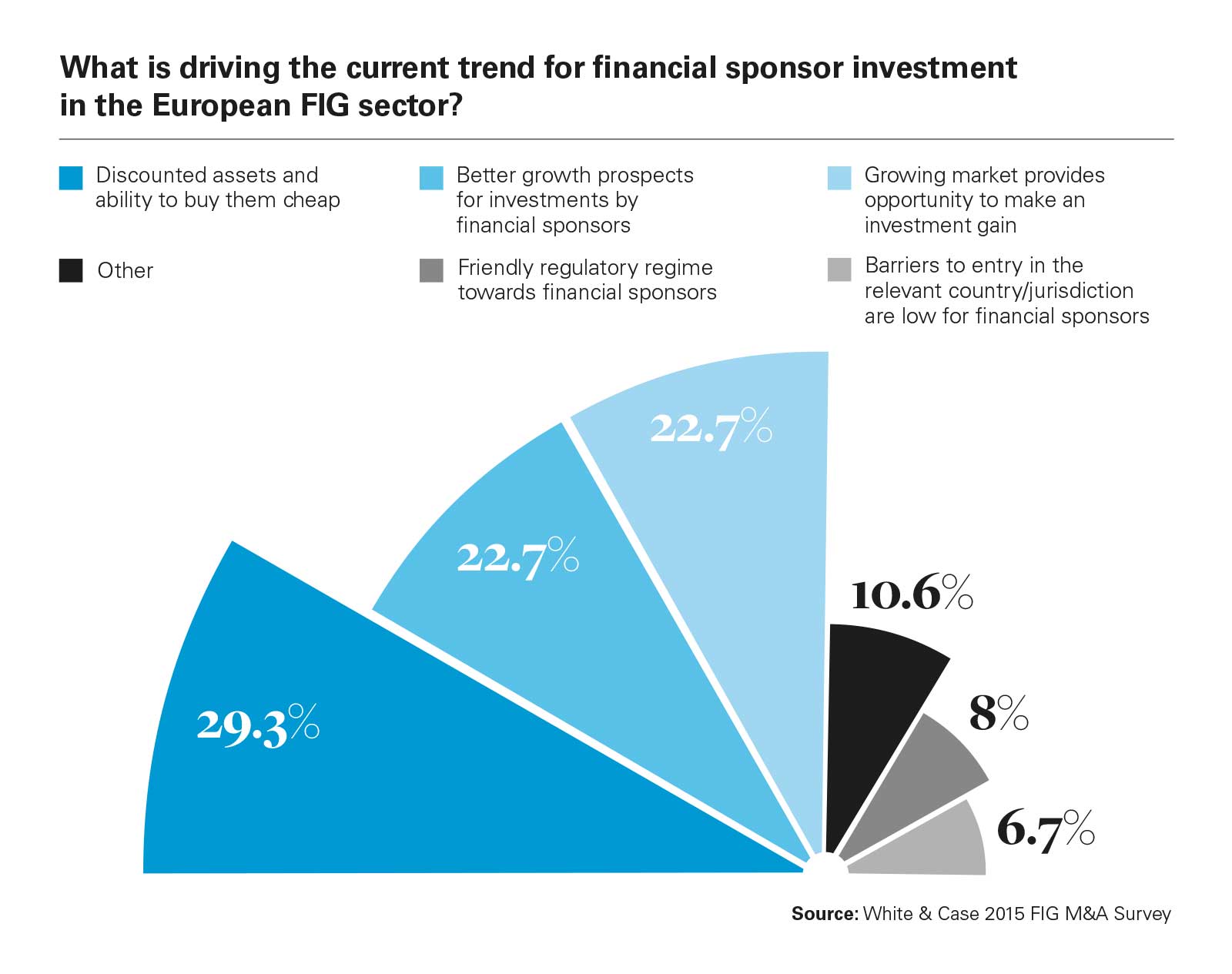 View full image
"Given the liquidity, regulatory and restructuring pressures that financial institutions have encountered, they have had to divest assets in order to improve liquidity and free up capital. Financial sponsors will always follow activity, and financial services has been a happy hunting ground," says a partner at a leading private equity firm investing in financial services.
The fact that banks and insurers have had to focus on selling also means that financial sponsors have been ideally placed to benefit from this development as they no longer are coming up against tough strategic buyers when bidding for assets.
A broad spread
This favourable backdrop has allowed private equity to invest right across the financial services industry, from banks, asset management and life insurance through to fund administration, payment services and the rapidly growing fintech sector.
Asset management, payment services and fintech units are the sub-sectors within financial services which are generating the most interest from financial sponsors.
"The good buying opportunities that have emerged in financial services since 2008 have seen financial sponsors become more comfortable with the sector," says Professor Scott Moeller, Director of the M&A Research Centre at Cass Business School in London.
"Dealmakers have seen that if they have the patience to look at the detail and get through the inordinate amount of paperwork that comes with running a financial services business, the private equity model can be very effective in this sector."
Financial sponsors that have invested in financial services transactions have generated some excellent returns. Advent International and Bain Capital quadrupled their investment in payment services company WorldPay after listing the business in an IPO valuing the company at £6.3 billion. Bridgepoint, meanwhile, more than tripled its money and delivered a 55 percent IRR when it sold wealth management firm Quilter Cheviot to FTSE 100 investment and savings group Old Mutual in a deal worth £585 million.
As financial institutions stabilise, alternative investors are well set to remain key players in future transactions in the industry.
"The banks have done the hard work and gone through the hard times. Profits in financial services companies are starting to improve and there is good visibility for financial sponsors on what they are buying," says Christoph Pfeifer, until recently the CFO of GFKL Financial Services, a German-based provider of receivables management services formerly owned by Advent and recently acquired by Permira. "This should be a good sector to invest in in the coming years."
To read the full report, please click here.
To read other articles in this report, please click here.
This publication is provided for your convenience and does not constitute legal advice. This publication is protected by copyright.
© 2015 White & Case LLP