Africa Focus: Spring 2018
Stay current on your favorite topics
SAATM is an important step forward in the liberalization of the aviation sector in Africa, particularly for African carriers.
Competition with international carriers is tight, but opportunities exist for African airlines to grow market share
African airlines are in a steep decline. Their market share has fallen by approximately 40 percent over the last three decades. African carriers now represent only 20 percent of the market across the continent. Emirates is now the dominant carrier in many African countries.
This stark warning came from the Ethiopian Airlines (EA) Group CEO Tewolde Gebremariam, speaking in June 2017 at the second International Civil Aviation Organization (ICAO) meeting on Air Cargo Development in Africa at the 29th African Union (AU) summit (the "Summit") in Addis Ababa.
In light of this, the AU announced at the Summit the launch of a single African air transport market (the SAATM) from January 2018. SAATM is an important step forward in the liberalization of the aviation sector in Africa, particularly for African carriers. Other indications also exist that the more ambitious of these are pushing forward with plans for development and growth, bolstering investor confidence. (Figure 1 shows the 10 largest African carriers by fleet size.)
Figure 1: Top 10 African carriers by fleet size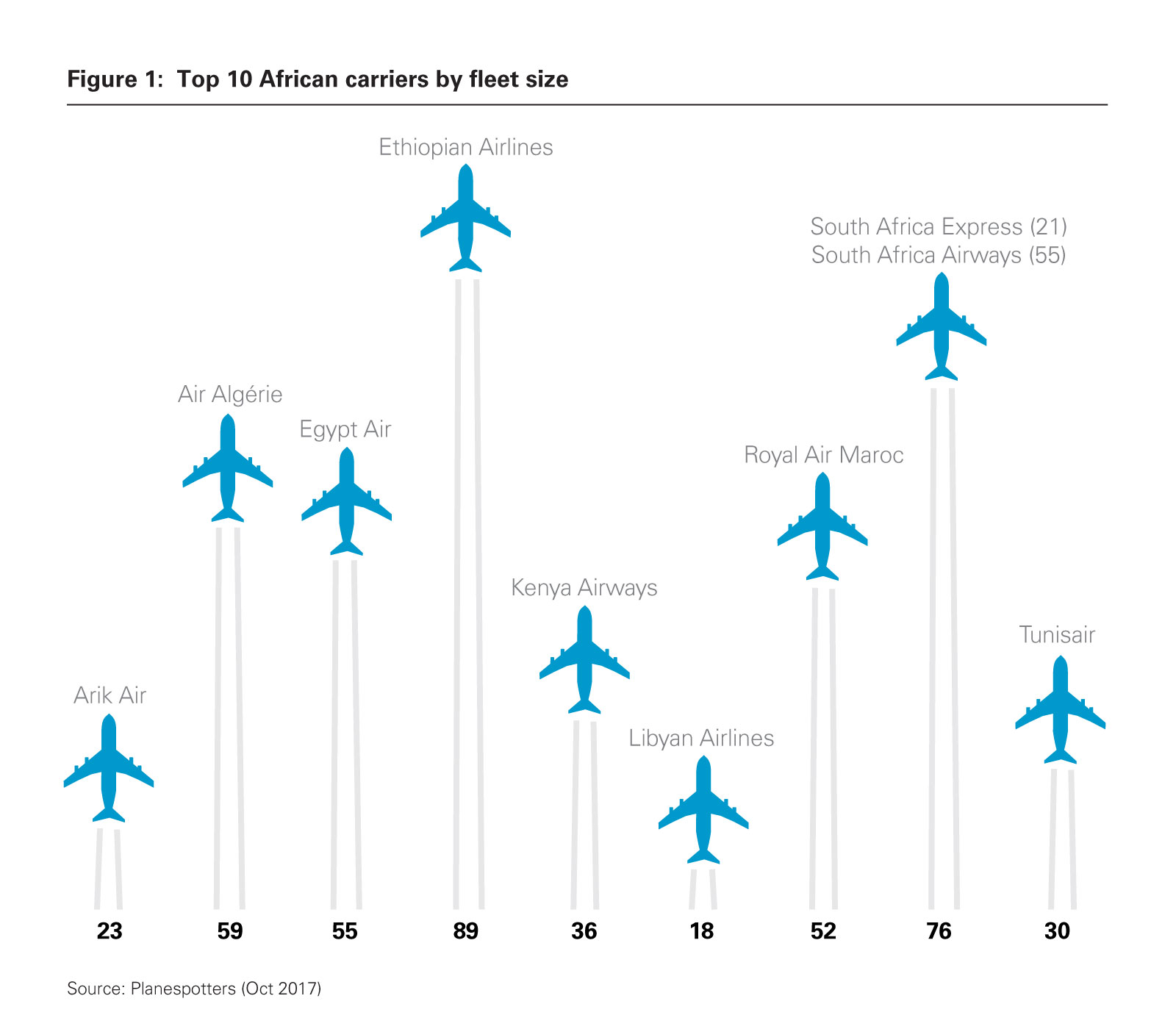 View full image

At its Middle East and Africa Aviation Day, held in Jordan in October 2017, the International Air Transport Association (IATA) identified four priorities for the region:
Safety
Intra-African connectivity (as envisaged by the SAATM)
Blocked funds (due to the problems encountered by airlines in trying to repatriate their foreign currency earnings from African states—it is estimated in Nigeria alone that more than US$600 million in blocked funds owed to foreign carriers was held in 2016).
Smarter regulation (promoting growth-supporting policies and favorable tax regimes for the industry)
Optimism should be tempered with caution, though. Efforts to overcome some barriers in this area have been stilted, and entrenched structural issues persist. Real transformation will require sustained commitment from governments and other key players in the aviation sector.
A Single Market
The SAATM has its roots in the 1988 Yamoussoukro Declaration (the "1988 YD"). This sought to achieve concord on the principles of air travel liberalization by promoting cooperation between African carriers and encouraging improvements in their operation and management. The 1988 YD was followed by the 1999 Yamoussoukro Decision (the "1999 YD"), which was endorsed by the Assembly of Heads of State and Government of the AU. However, many African states have failed to properly ratify or implement the 1999 YD. By the end of July 2017, only 20 of the 55 AU member states were committed.
In the absence of a single African air transport market (like the EC's Single European Skies network) African carriers cannot avoid the market restrictions arising from bilateral air service agreements. This means that they are unable to make optimal use of existing infrastructure. For instance, of the nine "flight freedoms" defined under the Chicago Convention, even the crucial fifth freedom (namely, the freedom to fly between two foreign countries on a flight originating or ending in one's own country) is absent in much of Africa (Figure 2).
Figure 2: Flight freedom—the crucial 5th freedom is absent in much of Africa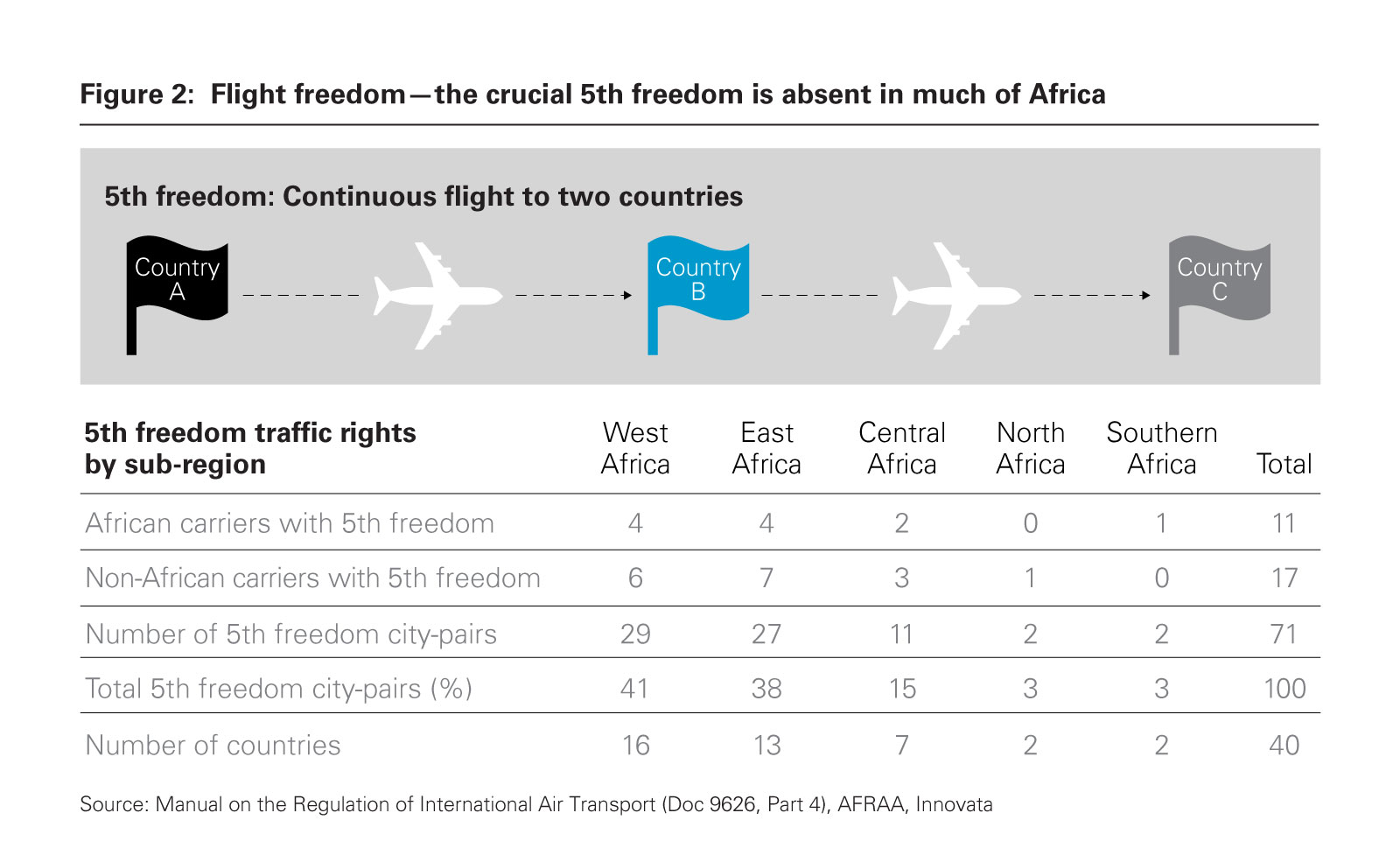 View full image

The International Air Transport Association estimated in 2014 that the implementation of the 1999 YD by just 12 key states would generate 155,000 jobs and US$1.3 billion in annual GDP—an indication of the economic and employment benefits that could arise from intra-African air connectivity. Morocco's open-skies agreement with the EU in 2005 prompted an increase of 25 percent in passenger traffic among the national carriers within just two years.
Even within individual states, some African carriers have struggled to cooperate and share resources efficiently. The former General Secretary of the African Airlines Association (AFRAA) identified the depletion in Nigeria's total fleet to 40 aircraft as symptomatic of the lack of collaboration between the Nigerian carriers, for example, with regard to training and maintenance, or in pooling spare parts.
25%

Morocco's open-skies agreement with the EU in 2005 prompted an increase of 25 percent in passenger traffic among the national carriers within just two years.
IATA
The Bigger Picture
There are also more tangible issues to consider. Key infrastructure lags behind its European and Asian counterparts, particularly in the sector-specific areas such as airports, air traffic control and compliance with safety and technical standards. Speaking on the side lines of the ICAO's third International World Aviation Forum (IWAF) in Abuja, Nigeria in November 2017, the president of the African Development Bank (ADB), Dr. Akinwumi Adesina, acknowledged that the African aviation sector accounts for about 9 percent of aircraft accidents and 37 percent of aviation fatalities globally per annum. This poor record is reflected in the number of African carriers listed on the EU's Air Safety List as banned or restricted, meaning these airlines cannot compete intercontinentally.
Lack of sophistication of African financial systems is a further issue. Some international banks and financial institutions see many sub-Saharan states as insufficiently capitalized to be a viable market for aircraft finance. Local banks are frequently unable to provide the debt needed, either. Financing, insurance and lease rentals that African carriers are able to obtain come at a significantly higher cost than those for their rivals in Europe, the Middle East and Asia-Pacific. Attempts to employ unusual sources of financing may have further exacerbated the problem. For instance, the use of special notarial bonds in South Africa proved unattractive to investors because they are only enforceable within that country's borders. However, the use of ECA financing has become more common, with development banks often funding the difference between the ECA-supported loan and the aircraft purchase price.
To achieve the level of growth sought by the industry, Dr. Akinwumi Adesina suggested that the continent's carriers need to procure a substantial number of additional aircraft. Together with the necessary infrastructural improvements, he estimated this to require an overall financing amount of approximately US$150 billion. Given the statistics from IATA released at AFRAA's 49th Annual General Assembly held in Kigali, Rwanda in November 2017, though, indicating that African airlines collectively suffered losses of almost US$700 million in 2015 and more than US$130 million in 2016, it would appear that those airlines will struggle to obtain such finance and leasing packages from conventional sources, or without significant premiums being applied.
Opportunities and Progress
The picture is not as wholly bleak as the decline of the last 30 years might suggest, though. In 2016-17, for example, Kenya Airways reported 4 percent year-on-year growth in load factor, complemented by a 5.4 percent increase in passenger numbers. The then CEO Mbuvi Ngunze also highlighted reduced operating costs as a driving factor. In South Africa, Q2 2017 turned around a lackluster Q1 to indicate increased aviation activity in its key airports, and Q3 2017 was reported by the Commercial Aviation Association of Southern Africa to have consolidated its modest recovery.
Other carriers are pushing ahead with ambitious growth and expansion projects. EA has ordered 10 Airbus A350-900s (having been the first African carrier to operate these models in 2016), in tandem with an estimated US$345 million expansion project to increase passenger capacity at Addis Ababa's Bole International Airport. This progress has not gone unobserved— EA is one of the few African airlines allowed by the US Federal Aviation Administration to fly into the US. Following the success of Congo and Djibouti in resurrecting their flag carriers in 2015, Ghana— among others—has also recently announced its intention to re-establish its own. The signing of the Ezulwini Declaration of Regional Safety Oversight Organizations in Africa, in conjunction with the Global Forum on Regional Safety Oversight Organizations for Global Aviation Safety (jointly hosted by ICAO and the European Aviation Safety Agency), is another encouraging sign that ICAO is aware of the precedent for regional oversight of state safety regimes. Similarly, the ADB and IATA have signed a memorandum of understanding under which they will work in partnership to promote Africa's economic and social development by improving the safety, security and efficiency of its aviation sector. Should this partnership prove productive and see measurable improvements in these areas, African carriers could improve their chances of securing the investment necessary to develop and grow into airlines that can compete internationally. In addition, relatively low passenger load factors (utilization) on African flights, relative to global norms, also suggest scope for growing revenues even without further investment in infrastructure or fleet expansion (Figure 3).
Figure 3: Passenger load factor (utilization) in flights by continents(Percent)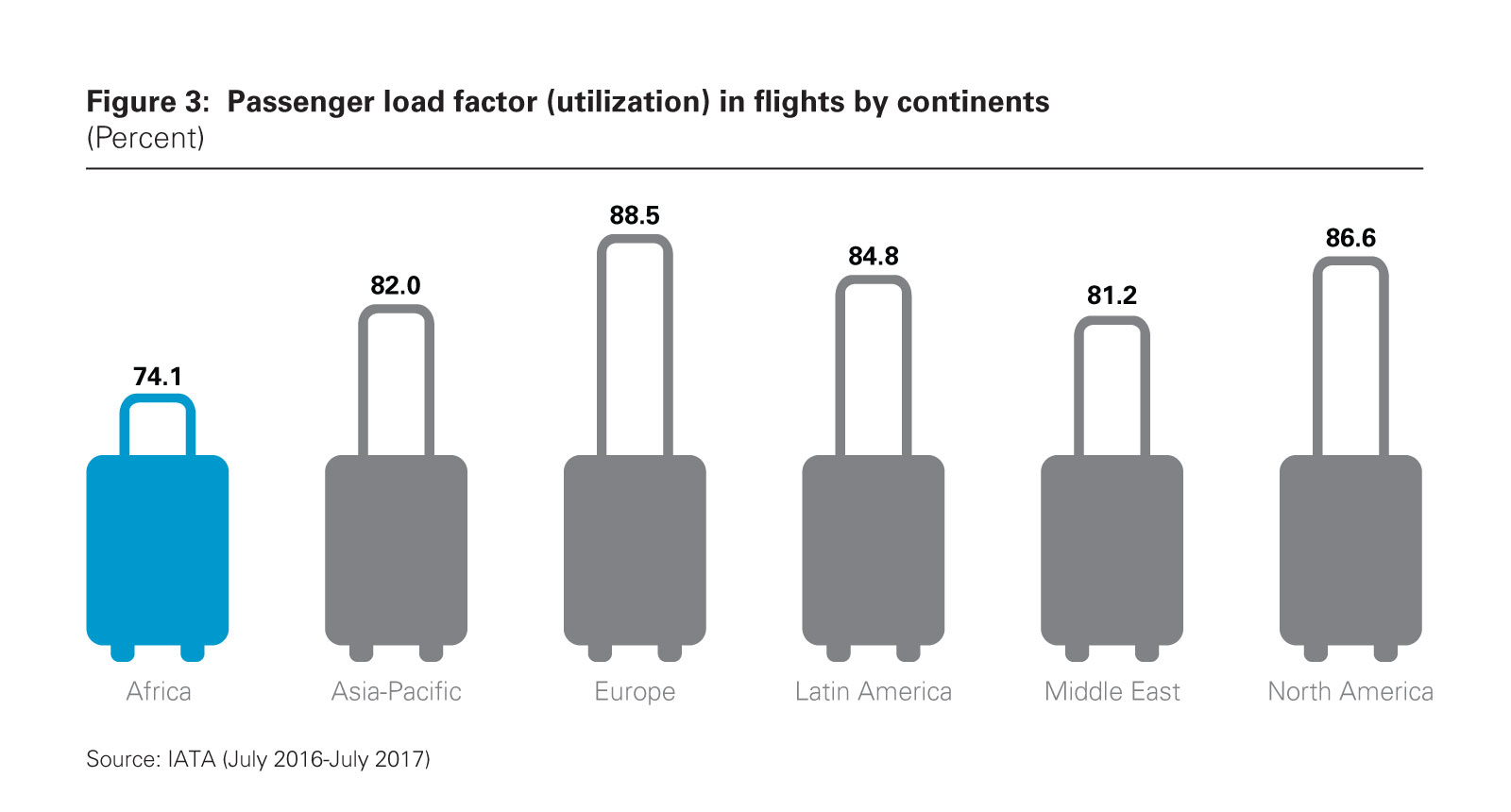 View full image

Industry figures outside the continent are confident that the African aviation sector can make significant progress. The African Business Aviation Association (AfBAA) (founded in May 2012) was recently admitted to the membership of the International Business Aviation Council (IBAC). This was established in 1981 and holds permanent observer status at ICAO. IBAC Director-General Kurt Edwards has pointed to the growth in the number of African companies that demonstrate their commitment to safety and professionalism by achieving International Standard for Business Aircraft Handling and International Standard for Business Aircraft Operations registrations. "We look forward to working with AfBAA to further advance safety excellence across Africa," he said.
Conclusion
Africa's aviation sector has yet to become the catalyst for economic growth that the industry might have hoped for. Paradoxically, the slow uptake of the 1999 YD, which might reflect an underlying protectionist attitude to the industry, has allowed foreign airlines to extend their reach into the African market and pry revenue away from the African carriers.
While there is much to be optimistic about, and meaningful strides are being taken in the right direction to improve infrastructure to entice investment and support growth in the African aviation sector, the states need to fully commit to the SAATM at a political level in order to set in full motion the liberalization of the market and allow African carriers to operate successfully and competitively.
NEXT CHAPTER
Green finance in Africa
FULL MAGAZINE
Africa Focus: Spring 2018
This publication is provided for your convenience and does not constitute legal advice. This publication is protected by copyright.
© 2018 White & Case LLP