Working in Poland
At the heart of the White & Case legal practice, we focus on the care and responsibility for our clients and their businesses. We are proud that our ability to understand the market puts us on everyone's shortlist for challenging assignments that require innovative thinking and a new approach. Thanks to relentless efforts and business acumen, our teams have been involved in providing strategic advice during the most important business undertakings in Poland and worldwide.
With our knowledge and commitment, we not only handle the most prestigious transactions, but we also work pro bono advising on cases related to important current and historical social issues. Our lawyers devote their time and attention to the areas in which they see an opportunity to foster growth and help, such as our assistance to the Kościuszko Foundation and the Polish Humanitarian Action.
We strongly believe that caring is sharing. That is why we created the program White & Case for Students, which supports and advances legal education.
If you are determined to build your career and be part of our community, read on. We hope you will be inspired to join us!
White & Case is a leader in providing legal services related to financing transactions in our region, so I've gained a lot of experience working on complex projects and learning from the best lawyers in Poland.
Michał Oleś
Associate, Warsaw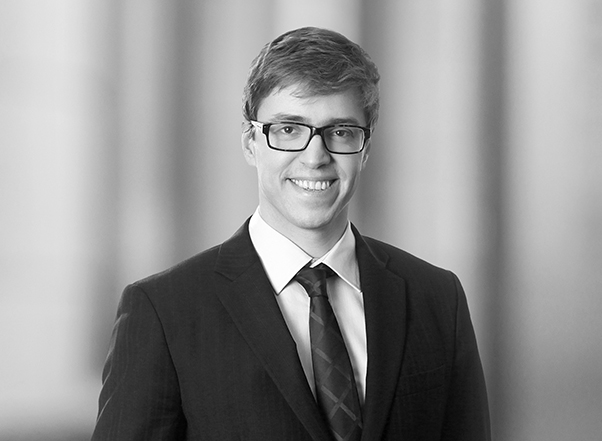 My secondment in London was a great opportunity for me to experience banking law in a different country, getting to know my colleagues in London and showing me how global and connected the Firm is.
Anna Pawelec
Associate, Warsaw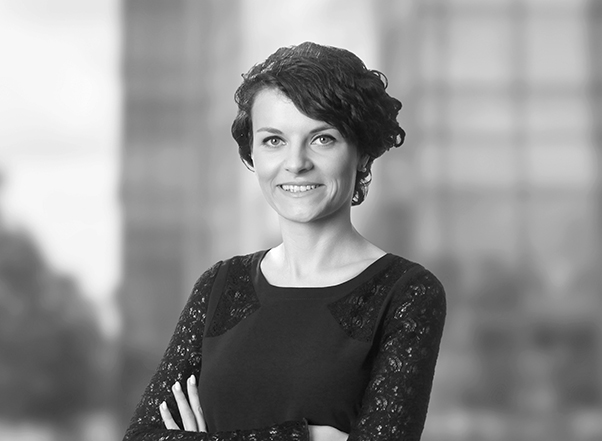 I had a chance to join the team in Paris, representing a state-owned company from Eastern Europe in an international arbitration dispute, which is an example of the many great benefits of working in a global firm.
Jakub Wołkowicz
Local Partner, Warsaw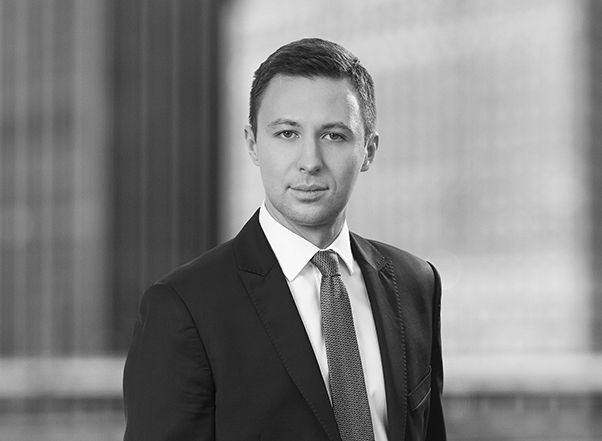 White & Case for students
Learn more about our various student programs.
Foreign Direct Investment (FDI) International Arbitration Moot Court and Willem C. Vis International Commercial Arbitration Moot Court
Many of our commercial litigation and arbitration lawyers gained their first professional experience actively participating in international moot courts. This strong personal connection and a true understanding of how valuable these initiatives are make us very keen to support Jagiellonian University teams in their preparation for both the Vis and FDI global rounds. During the time that we spend together with those teams, we share our experience and try to highlight the most essential areas in their presentations that need to be improved.
In the meetings and pre-moots that we organize in our office, we do our utmost to foster the necessary skills and confidence that allow the teams to successfully compete with their rivals from all over the world. We are very proud to see them take first place in Poland and become widely respected in the international moot court community.
Capital Markets Law Students Association, University of Warsaw
When we first met with students from the Capital Markets Law Students Association at the University of Warsaw, we were thrilled by their passion and commitment to an area that is one of the pillars of our success. Seeing their eagerness to explore a field that is so close to our hearts inspired us to share our experience and contribute to their projects where they make understanding complex capital markets regulations as accessible and fun as possible. We still remember our student days and how difficult it was at times to find relevant information about major capital markets transactions without any insights or guidance. Therefore, it is our aim to show students how the law actually works, and we are truly excited to be a partner of the Capital Markets Law Students Association.
During the academic year, you will find us at the university library or law school conducting workshops and challenging students on current transactions and cases. In fact, you can even meet students debating in our office and planning their projects with the support of our team, which always brings us a lot of satisfaction and joy to our everyday work.
Philip C. Jessup International Law Moot Court Competition
When we started our global adventure with the Philip C. Jessup International Law Moot Court Competition, we truly wished to find and motivate brilliant law students who would enjoy law as much as we do. However, we did not expect to see it thrive as well as it has. Now, after years of constant support, we are delighted to see how strong and valuable the relationships established during the competition are. Therefore, we are particularly committed to promoting the Jessup competitions in Polish universities as we sincerely believe students should have the advantage of gaining knowledge and experience in the international community.
Every year we sit as judges in the national preliminary rounds and deliver feedback and insights that—we hope—improve the standings of the Polish team during the international rounds. There is still room for Jessup to become more renowned and established on the Polish market, and we believe it is our duty to be part of that development.
Our student events calendar
2019 – 2020
Willem C. Vis International Commercial Arbitration Moot Court & Foreign Direct Investment International Arbitration Moot Court
During this period, we are committed to organizing workshops and pre-moots that provide necessary feedback to our teams. Feel like joining us? Contact the Jagiellonian University teams here for FDI and here for VIS!
October – December 2019
Rynkologia
Rynkologia is the newest project of the Capital Markets Law Student Association and is aimed at all law students, regardless of their year of study. It is intended to familiarize them with transactional issues and show how that knowledge can be useful to them in their professional careers. To obtain more information, please visit the web site of the CMLSA here!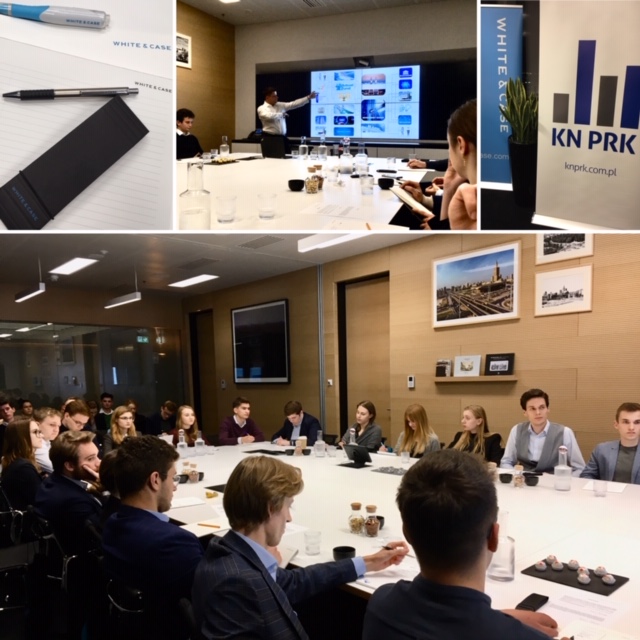 March – April 2020
Corporate Law Academy
We will be participating in the Corporate Law Academy at the University of Warsaw and will be conducting a workshop on equity capital markets. Would you like to meet us and participate? Contact students from the Capital Markets LSA here!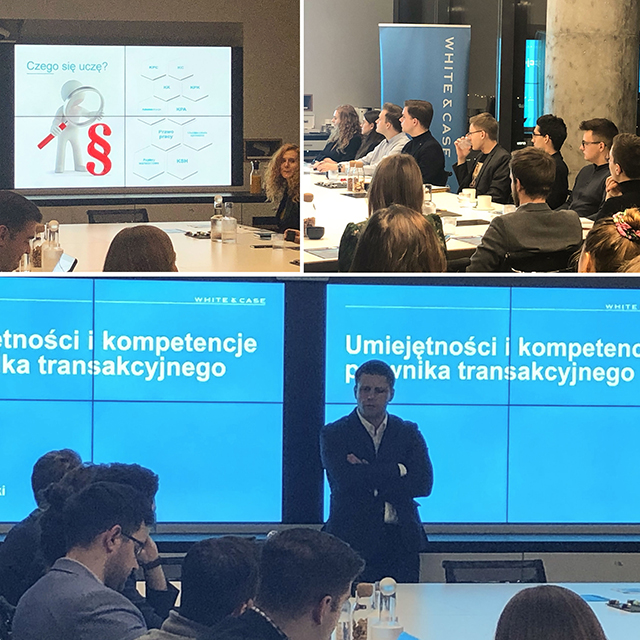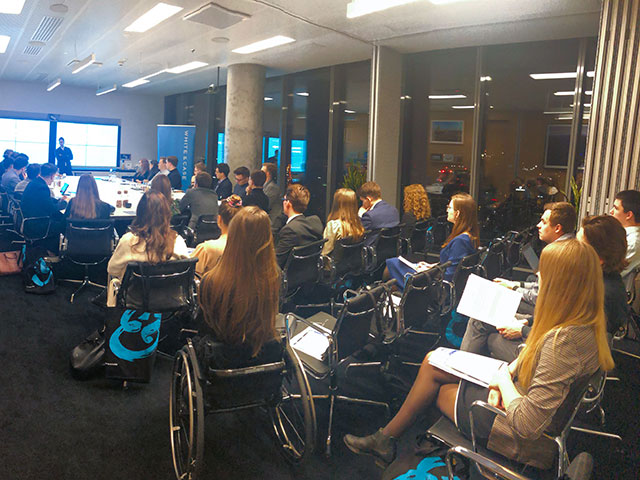 March – April 2020
Philip C. Jessup International Law Moot Court Competition
We are eager to meet the teams taking part in the national preliminary round and give them feedback on what and how they can improve for the international rounds in Washington, DC. Contact your university to take part!
Join us
White & Case internships are known for being academically challenging and intense. From your very first day with us, you will become part of our team. Along with our top-notch lawyers, you will be responsible for delivering the relevant solutions and opinions on projects that we currently manage. Assigned tasks will often be challenging. However, your internship supervisor and other experienced team members will be there to assist you with any problems you may encounter.
At White & Case, we firmly believe in the adage "practice makes perfect", and for this reason we are very eager to share our experience and knowledge with you. Your performance as an intern will be evaluated not only based on your demonstrated knowledge and skills, but also on your potential and eagerness to acquire further qualifications. We expect our interns to have a true understanding of the law and genuine academic interests. We are looking for talent fueled by ambition and personal responsibility, as these are traits that allow us to trust each other and therefore provide excellent service to our clients
Requirements
Genuine comprehension of and passion for law as we believe that only with such qualities can you fully enjoy working on our projects and deliver creative solutions;
Fluency in English and Legal English, which are essential for daily communication with our colleagues from different White & Case offices around the world;
Attention to detail as our clients appreciate that we can effectively keep an eye on the big picture when delivering top-notch legal advice;
Excellent analytical skills, as we would love to hear your opinions supported by strong reasoning;
Responsibility and willingness to learn and work as we enjoy working together and want you to become a part of our team;
We offer
Active participation in projects we are currently working on;
Development under the aegis of an experienced lawyer;
Access to our international know-how and resources;
Work in a supportive and professional team;
Direct contact with the global business and law environment
Opportunity to start and develop your legal career in a leading global law firm;
Possibility to travel and work in our foreign offices;
Special training: White & Case Professional Skills Institute;
Competitive salary as we value your work and time;
Recruiting process
Initial selection of applications
We appreciate your time and interest in our internships. We will always contact you to inform you about our decisions and recruitment results. If you send us your resume and it meets our current needs, you can be sure that within a few days we will get in touch with you to guide you through the next steps of the recruitment process.
Polish law and English language tests
We are looking for outstanding fifth-year law students and graduates. To verify your knowledge and assess your skills, we invite you to take our Polish law and English language tests in our office. These tests give us insight into your knowledge of civil, commercial and procedural law, as well as your ability to work on legal matters in English (mostly exercises in reading, writing and legal terminology).
Interviews
If your test results meet our requirements, we will invite you for interviews with our lawyers and HR representatives, during which we will inquire about your academic involvement, personal interests and character. We will also assess whether you will feel comfortable working with us in our Warsaw office.
Frequently asked questions
Is it possible to extend the contract?
Yes. We invite our best interns to continue working with us for a longer period as Associate Trainees and Associates. Many of our current lawyers, including partners, commenced their professional career as legal interns in White & Case.
Which practice should I choose?
As it is important to us that you present your best knowledge and skills while working with us, we strongly advise you to choose the practice you are genuinely interested in. This ensures that in the course of your internship you will learn about and work on projects that suit you best. We offer internships in our:
Bank Finance
Dispute Resolutions
Mergers & Acquisitions
Corporate
Real Estate
Competition
Capital Markets
You can also choose one of our sub-practices in arbitration and commercial litigation, white collar crime, private equity and tax law.
If you have no specific interest right now, don't worry. You have time to discover what your passion is, and you can apply for a general internship. During the interview, we will do our best to find out which practice would be the most suitable for you.
Is it possible to rotate between departments?
Rotation is rather uncommon at White & Case. We believe that our interns need time to acquire the necessary knowledge and comprehension of the projects our teams are working on to become truly involved. Therefore, we prefer that you stay with one department, as only then will you fully benefit from your internship. Nonetheless, we treat our interns individually and always consider your career path in terms of your preferences.
What will my responsibilities be?
From the outset, you will join the team you choose during the recruitment process and will become one of us. You will assist our lawyers in delivering superior service to our clients by finding relevant solutions and preparing the requisite documentation.
12
interns and associate trainees work with our team at any given time
71%
of our associates have started their careers as legal interns
7
the number of student education initiatives we work on every year
White & Case Poland
White & Case
M. Studniarek i Wspólnicy - Kancelaria Prawna sp.k.
al. Jana Pawła II 22
00-133 Warszawa
Poland
T +48 22 50 50 100