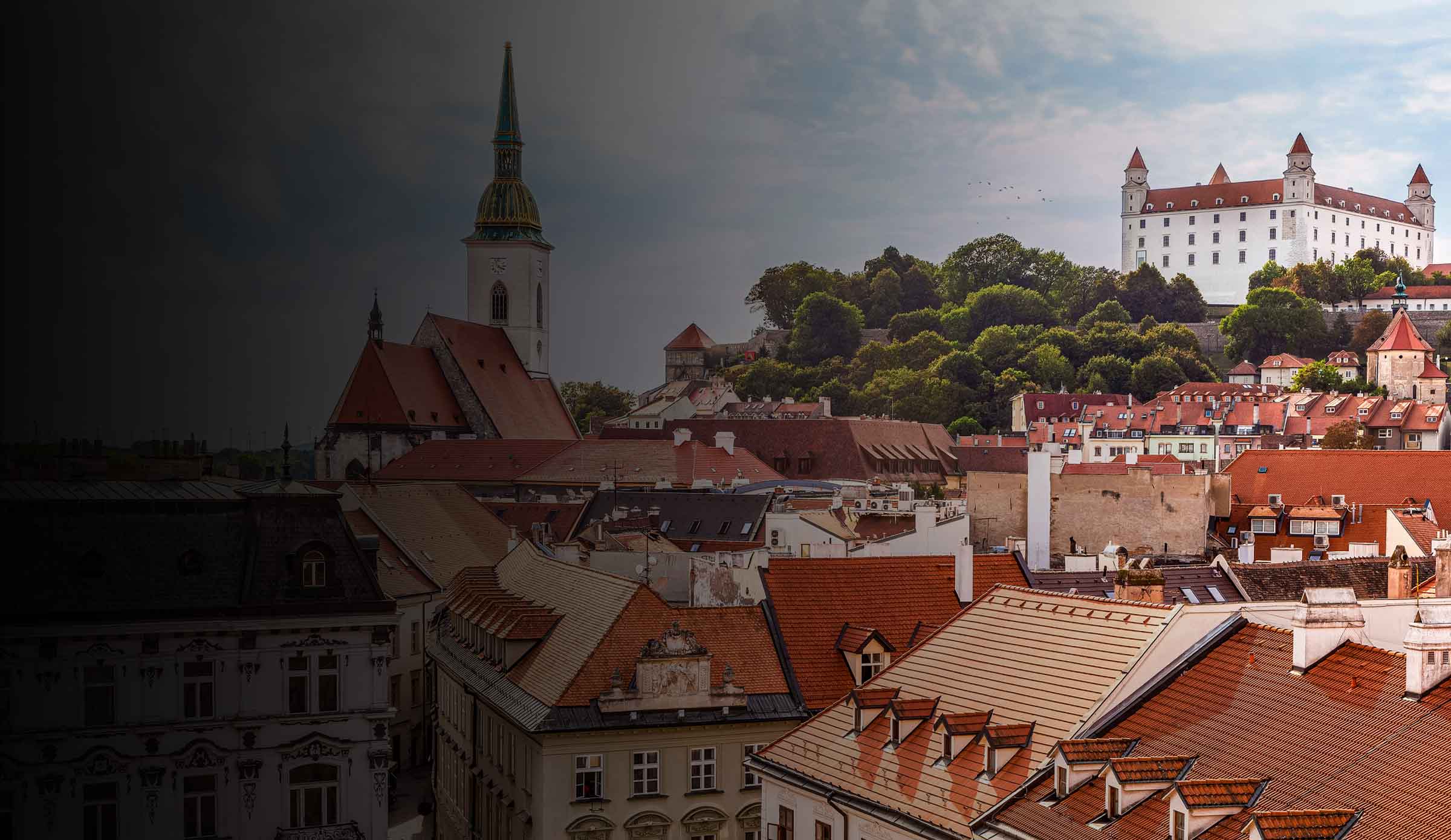 Working in Slovakia
Starting your legal career in our Bratislava office will give you valuable experience working on high-profile transactions, often with a cross-border dimension. Committed to excellence through teamwork, you'll be working with—and learning from—lawyers who are highly professional, friendly and always willing to help. We recognize that our people are our most valuable resource. Because you'll be working in a high performance environment on challenging projects that sometimes require overnight and weekend work, we make sure that you always receive the support you need to achieve your full potential.
In the past two decades, our Bratislava team has worked on some of the most high-profile projects in Slovakia. We have strong M&A and banking and finance practices, and are recognized market leaders in the most sophisticated regulated industries. Fully integrated with the Firm's international offices and practice groups, we bring a truly global breadth and local depth to our clients' businesses—working closely with the White & Case teams based in Brussels, Prague, London and Washington, DC, for example, to advise clients on EU law issues, cutting-edge private equity issues or sophisticated arbitration proceedings.
Practice areas
Our team works on complex corporate, regulatory and commercial transactions that span borders and jurisdictions.
We support local and international corporations active in Slovakia, with commercial and regulatory issues arising from their business and/or investment activities. Our extensive on-the-ground resources enable us to call on lawyers with deep knowledge of the relevant areas, to ensure that we always provide the highest possible standard of service.
As one of the few law firms in Slovakia able to advise on the legal and tax aspects of deals, we have become a valued resource for companies attracted to the country's favorable investment climate and incentives. Our tax professionals provide the full range of tax services, from corporate taxation to the highly sophisticated tax structuring of cross-border transactions.
Our Bratislava office focuses on the following areas of law:
Mergers & Acquisitions
Corporate & Commercial Law
Dispute Resolution and Commercial Litigation
Banking and Finance
Real Estate
Financial Restructuring and Insolvency
Employment and Labor Law
Capital Markets and Securities
Energy and Utilities
Tax
Greenfield Investments
Events
Job Fair
November 2017
Comenius University, Faculty of Law, Šafárikovo námestie 6, 811 01 Bratislava
The Job Fair is organized for law firms and companies in related industries, such as consulting and professional services, to present their businesses and potential job opportunities to students at Comenius University's Faculty of Law.
Jessup Moot Court
February 2018
Comenius University, Faculty of Law, Šafárikovo námestie 6, 811 01 Bratislava
The Philip C. Jessup International Law Moot Court Competition (the Jessup) is the largest and the most prestigious moot court competition in the world. White & Case's Bratislava office is the exclusive sponsor of the Slovak national round.
SSS ELSA
May/June 2018
Comenius University, Faculty of Law, Šafárikovo námestie 6, 811 01 Bratislava
In cooperation with Taylor Wessing and Wolters Kluwer, we are a partner organization and part of the judicial tribunal of multiple Simulated Moot Court Competitions (in Slovak: Simulovaný súdny spor) under the auspices of ELSA Slovensko. The competition offers law students a unique opportunity to demonstrate their writing and oral skills and knowledge of civil and commercial law.
Applying in Slovakia
If you are interested in joining our team, please apply online and include a cover letter outlining your strengths as a candidate.
Shortlisted candidates will be asked to take a written exam, involving a case study and an analytical test. If our office has an opening, we will make a decision within a month. If no position is available, candidates with the best results are placed on our waiting list.
Primary contact
Silvia Paurova
White & Case s.r.o.
Hlavné námestie 5
811 01 Bratislava
Slovak Republic
T +421 2 5441 5100
E [email protected]
Student Internship Program
White & Case's Bratislava office is looking for law students from Slovak and Czech universities who have completed at least three years of study to work as trainees in the summer of 2019.
Duties and Responsibilities
Our trainee program offers law students an opportunity to gain experience and training in an international law firm. Typical assignments include legal research, legal translation, dealing with various governmental authorities, preparing and maintaining transaction data rooms, as well as drafting various transaction documents, memoranda and minutes. Our trainees work closely with our lawyers and admin staff and have full access to our internal trainings.
We are looking for students with energy and enthusiasm - individuals who show initiative, adaptability and who have the ability to work in teams but aren't afraid of individual responsibility.
Qualifications
The candidate should:
have completed at least three years of study at a Slovak or Czech law school
be fluent in Slovak and English
have a good academic record
enjoy the challenge of analyzing complex legal issues
have an interest in transactional work, including banking, finance, M&A and capital markets,
and/or regulatory work
be interested in seeking out new challenges
be pragmatic, flexible, resilient and a good team player
have good MS Office skills
be reliable, attentive to details but able to work fast, self-motivated and able to work alone
About White & Case
White & Case is a global law firm with 45 offices in 31 countries around the world. Our office in Bratislava provides a wide range of Slovak and international legal and tax advisory services and is one of the leading international law firms in the Slovak Republic. We offer our clients full support for all of their corporate and commercial activities regarding banking and finance, financial restructuring and insolvency, capital markets and securities, energy and utilities, dispute resolution and litigation, tax, real estate, employment and labor law. Our young and energetic team is composed of lawyers at different levels of seniority and experience.
How To Apply
The trainee program begins on July 1, 2019 and runs until September 15, 2019.
Please apply online here by attaching your cover letter and CV in English and a recent copy of your transcript.