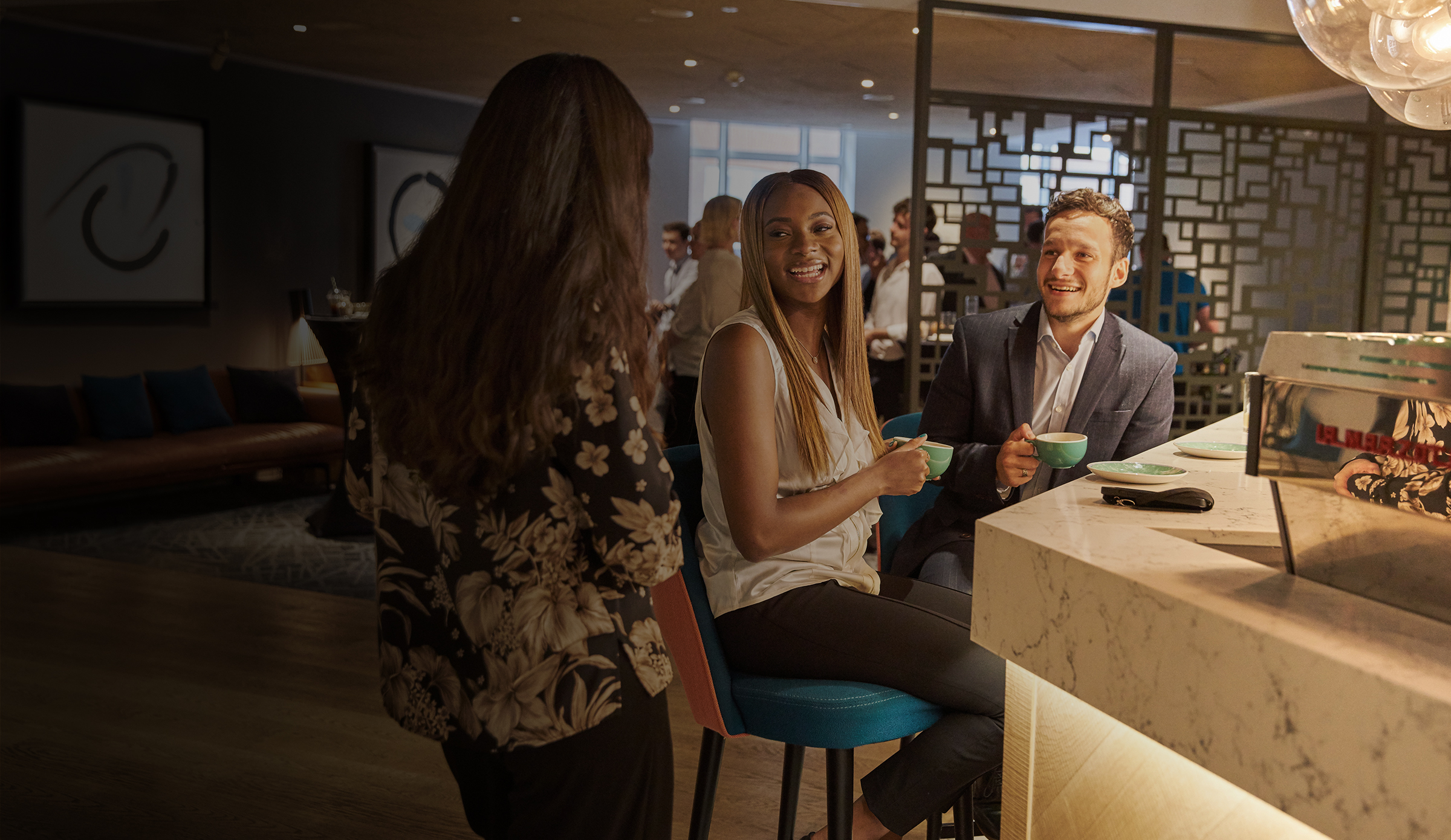 Training contracts
A guaranteed six-month overseas seat. Working in diverse teams on the most complex challenges for the world's biggest companies. Building the friendships and personal connections that will last a lifetime. And the chance to develop an international reputation at the cutting-edge of City law. A lot can happen in two years.
83%
retention rate of trainees qualifying in 2022
50
trainees recruited annually in London
1
of the only law firms to guarantee an overseas seat
Solicitors Qualifying Examination (SQE)
The SQE is the new route to qualification for solicitors in England and Wales. Trainees joining White & Case from September 2024 onwards will train via this route (commencing their SQE preparation course from September 2023). Prospective solicitors are required to pass this new centralised assessment which is divided into two stages, SQE 1 (functioning legal knowledge) and SQE 2 (legal skills). Upon successful completion, our future trainees will also gain an LLM in Legal Practice. 
We're committed to providing exceptional training that will equip you with the skills to practise in a market-leading global law firm, and we're proud to be partnering with the University of Law to design and deliver our tailored offering. 
After completion of SQE 1 and 2, you'll complete the SQE Plus. This course builds on the core legal modules previously covered and will be unique and fully tailored to the Firm, allowing you to gain further experience and critical skills specifically relevant to your career with White & Case.
Once you've completed the 11 months of study for the SQE 1, 2 and Plus, you'll then complete your qualifying work experience (QWE) with the Firm by undertaking the two-year training contract.
Four different seats
You'll rotate through four six-month seats: one overseas, one in Finance and one in a contentious practice area. Alternatively, you can join our Litigation Training Programme. You'll have plenty of opportunities to meet our teams, learn about their work and explore different areas of the law.
Live and work overseas
To complement the global mindset that underpins everything that we do, you'll get the chance to experience working in one of 16 White & Case offices around the world. Experience living in a different country, gain valuable insight into the working practices of another jurisdiction and build professional contacts that will last throughout your career.
Wherever you go, we'll help you relocate and you'll stay in regular contact with the Graduate Development team during your overseas seat. You'll receive the same level of personal training, including a dedicated supervisor, a cost-of-living salary adjustment and free language lessons in certain countries.
Learn more about the overseas seat experience from London trainee Steph Lartey
Comprehensive support
Everyone needs back-up. Not only will you work directly with our partners and senior associates, you'll have the benefit of a dedicated supervisor (an experienced associate or partner) and ongoing support from the Graduate Development team. Together, they'll ensure your skills, knowledge and practical experience are constantly expanded.
Training and professional development
As well as our comprehensive legal training programme, you can expect on-the-job learning, in-house courses and more. From Lunch & Learn sessions with senior associates focusing on specific areas of the law to specialised seminars with City professionals, we'll make sure you have everything you need to become the best lawyer that you can be.
Training contract for 2026/27
When can I apply?
11 September 2023 – 14 July 2024
Who can apply?
Penultimate-year students, finalists and graduates from any degree discipline
The White & Case London Training Contract
Learn more about our training contract in London and how to apply.
Rising salary and great financial rewards
We believe that high performance deserves great rewards. Our compensation package reflects the calibre of our trainees.
£52k
year-one trainee starting salary
£140k
salary on qualification
£4k
interest-free loan upon joining
£17k
PGDL maintenance grant plus fees
£17k
SQE maintenance grant plus fees
Benefits
As well as 25 days' annual leave, we'll give you up to six weeks of unpaid leave on qualification. We also provide a suite of flexible benefits, which you can tailor to suit your particular lifestyle, needs and priorities.
Private medical insurance
Retail vouchers
Pension 
Skin cancer screening
Dental insurance
Season ticket loan
Critical illness coverage
Cycle to work scheme
Life assurance
Give as you earn
Travel insurance
£500 health and wellness account
Ready to apply?
When it's time to apply, complete our online application form. Join us and make a mark.
Inside White & Case
Learn more about our training contract from past and present trainees on our recruiting content hub.
Top