Every year, the White & Case Football & Volleyball World Cup brings together people from across our global offices for some intense, but friendly, competition. More than 550 of our people gathered this year over an autumn weekend in Vienna, with more than 40 six-a-side teams fighting it out in both sports. Among them were competitors from our new Melbourne office, as well as cross-office teams including a volleyball team composed of Global Business Service Leaders, "The Business Servers." In volleyball, Bratislava came away victorious; in football, Berlin took home the gold.
But the World Cup is about more than competition. It also raises awareness and funds for a chosen charity partner—one that is often an existing pro bono client. This year we supported the Homeless World Cup, a global charity that inspires homeless people to change their lives through the power of football.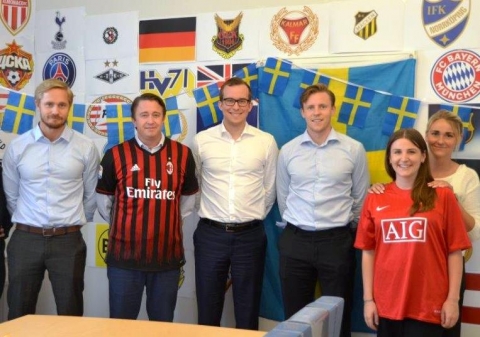 Alex Ydstie, Oscar Liljeson, Gustav Lexner, Petter Ullman, Cajsa Sjöblom and Pia Mattsson of our Stockholm office showing their support.
Ryan Mackie, the Chief Executive of Homeless World Cup, says the organization was founded to make a difference in the lives of homeless people around the world. "There are people who are homeless in every country around the world. We help approximately 100,000 people every year, providing a focus and sense of empowerment that helps people who are homeless to change their lives off the pitch. Support from organizations such as White & Case is crucial in allowing us to fulfill our mission."
In recent years, we have worked with Homeless World Cup on a pro bono basis to provide structuring advice and to negotiate sponsorship arrangements, among other areas of support.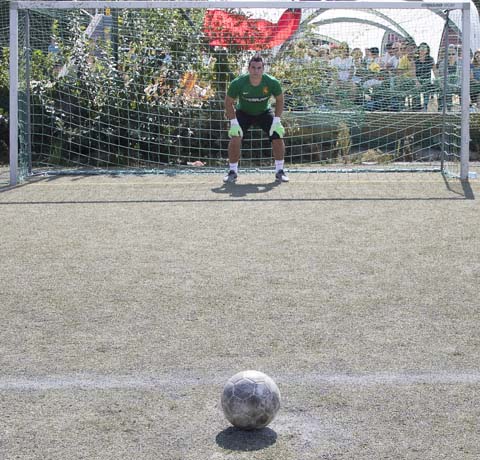 Professional Austrian goalkeeper Luca Pahr participated in the penalty shoot-out for charity.
Working with 74 national partners, many of them based in countries where we have offices, the charity offers year-round access to football programs which help improve communication, self esteem and build new relationships and reconnect with family and friends. The centerpiece of its initiatives is the event that gives the organization its name: an annual international football tournament for national teams comprised of homeless men and women.
The first such tournament was held in 2003. Over the years, it has taken place in Mexico City, Santiago, Milan, Paris, Rio, Melbourne and Glasgow, with the most recent tournament held in Oslo. Participation in the tournament can offer a tremendous boost in morale for participants, encapsulating the power of sport to build personal confidence and a sense of community.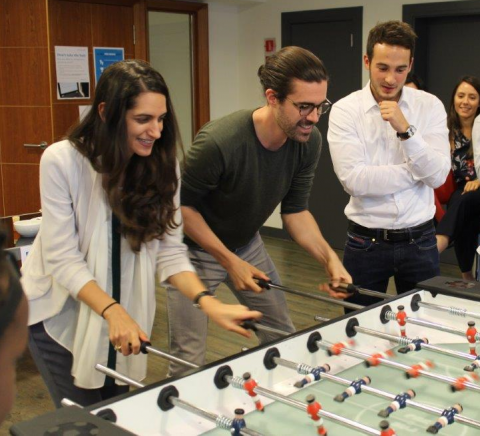 Our Brussels and Hamburg offices held Foosball tournaments. Here are Strati Sakellariou, Jan Jeram, and Yevgen Khodakovskyy of our Brussels office competing.
Our fundraising efforts on behalf of Homeless World Cup were not confined to this year's big weekend in Vienna. Many of our global offices hosted fundraising events—such as foosball tournaments and bake sales—in the run-up to the weekend. Throughout the weekend, as White & Case teams fought it out on the football pitch, a series of sports-related activities contributed additional fundraising for the organization. All of our people were invited to participate in an action-packed penalty shoot-out against professional goalkeepers from a local football team to see if they had the skills to beat a true professional, and nearly 60 White & Case strikers rose to the challenge.

Frankfurt (light blue) vs. London (royal blue): Marcel-Remie Muhadzeri, Michael Langan, Ben Davies, Will Stoner, Zouheir Toura, and Morad Boukarouit.
We also held a raffle for a range of prizes, including footballs, shirts autographed by famous players and official Bhutanese football shirts—an especially coveted item, and a proud tie-in to our nearly decade-long collaboration with the Kingdom of Bhutan to help found the country's first law school, which recently admitted its first class.
All told, our fundraising efforts raised EUR 12,000. "We are proud to see such terrific participation across our offices to fundraise for the Homeless World Cup," says London Social Responsibility Manager Sophie Orr. The enthusiasm to support a pro bono client on this scale is part of what makes the Firm's annual World Cup such a unique and impactful event."
This publication is provided for your convenience and does not constitute legal advice. This publication is protected by copyright.
© 2017 White & Case LLP
Top