Africa Focus: Spring 2018
Stay current on your favorite topics
There is no set issuer profile, so most sovereigns that can issue international bonds could also issue green bonds if they meet the criteria.
Achieving sustainability objectives through innovative funding of climate-change projects
The first green bond was issued only ten years ago, but since then the market's depth and volume has increased exponentially. Green issuances are now considered mainstream. While sovereign issuers were initially slow to issue them, they now realize that green bonds offer easy access to a large and diverse funding pool, providing a source of low-cost and much-needed capital to finance infrastructure projects and set up green funding programs.
The various forms of green finance are open to almost any sovereign. While France might have been a predictable early mover, very few would have bet on Poland and Fiji being among the first sovereign green bond issuers. This demonstrates that green bonds are a viable alternative to traditional financing mechanisms. There is no set issuer profile: Most sovereigns that can issue international bonds could also issue green bonds if they meet the criteria. Many African states have indicated their intention to facilitate and undertake green issuance at the sovereign level, some of which are in the pipeline for the not too distant future.
The Case for Going Green
Almost every African sovereign is party to and has ratified the Paris Agreement1 on climate change and has committed to reducing carbon dioxide emissions through national programs.2 In developing the Paris Agreement, green bonds were identified as one of the most readily accessible and economical options available to nations to facilitate raising large amounts of capital to meet environmental targets and the funding of infrastructure projects that underpin them. Quite significantly, African nations are among the most vulnerable to impacts of climate change and therefore, many have a need for climate change adaptation and "sustainable infrastructure" such as public transport, water services or clean energy. According to the African Development Bank (AfDB),3 the African region's vulnerability to climate change, translated as damage relative to GDP and population, is proportionally most acute. Financial requirements to adapt to climate change are projected to be between US$20 and US$30 billion annually until 2030. These can only be met through diversification of finance mechanisms and sources of funding. The particular climate-related challenges depend on the circumstances and geography of each nation. A summary of the key issues is shown in Figure 1.
Figure 1: Potential climate change risks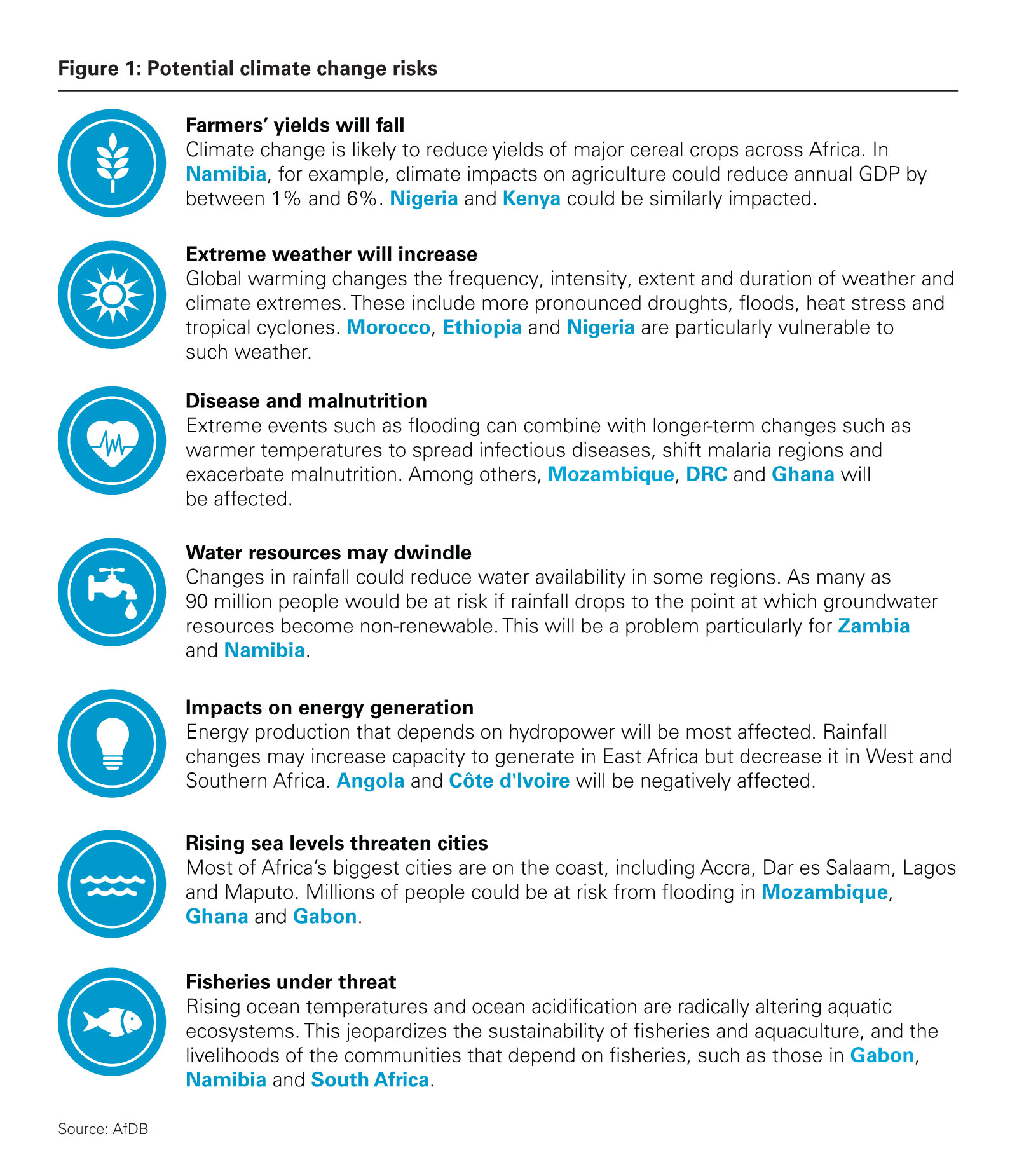 View full image

These factors may drive decision makers to the green bond markets. Ambitious targets and limited public resources support the need for a large portion of projects that could be funded through green financing initiatives, tapping into a broad base of investors looking for exposure to green assets. Green financing mechanisms are a perfect fit for nations that must now balance the need for infrastructure projects with raising large amounts of capital to meet national targets and international commitments.
There is no shortage of potential green projects. In power generation alone, Africa's potential for renewable energy dwarfs levels achieved so far on the continent. Further investment in sustainable energy infrastructure could unlock this vast potential (Figure 2).
Figure 2: Renewable electricity generation by region (2015)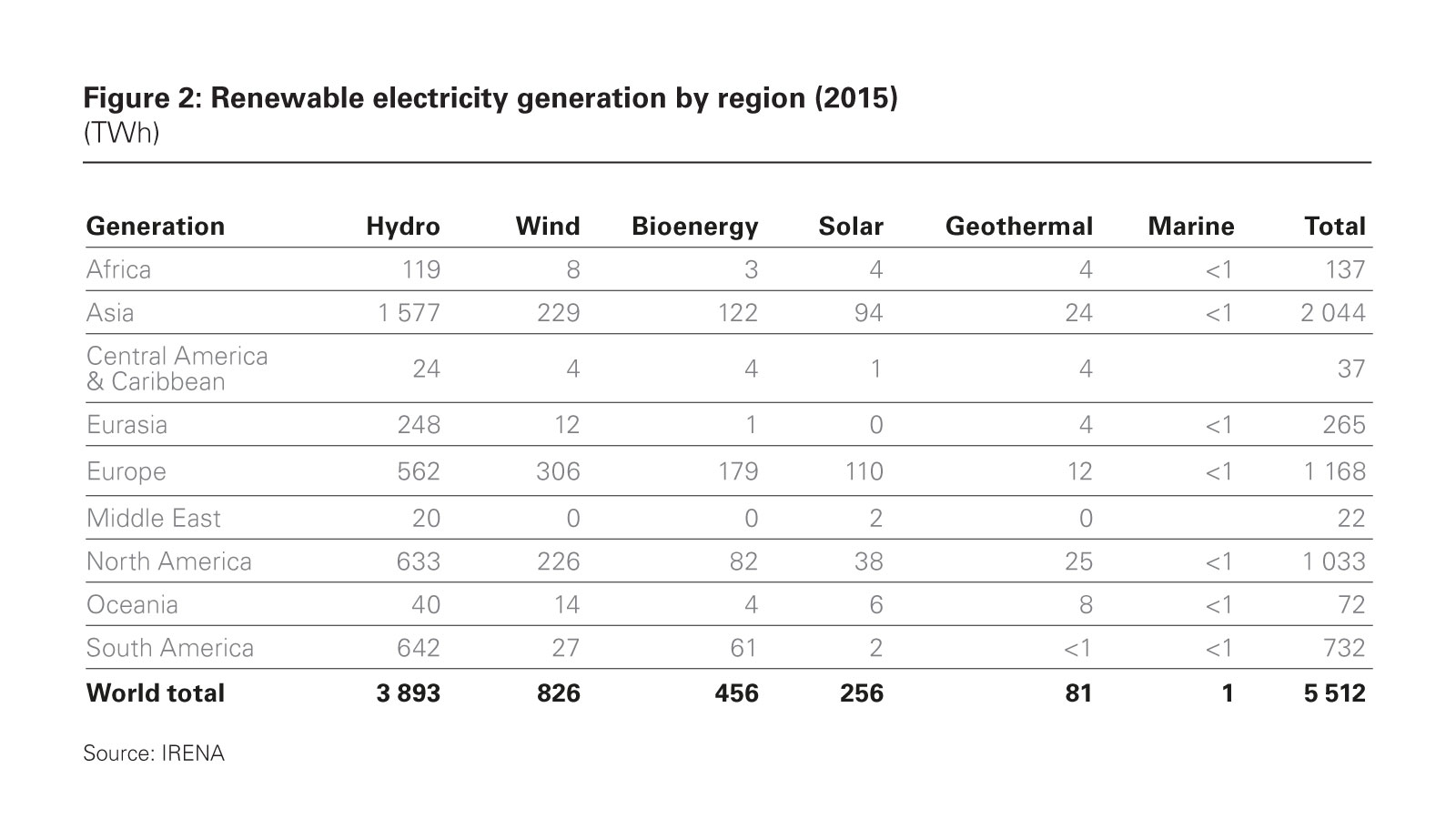 View full image
International Developments
Financial institutions in Africa are becoming more active in facilitating green finance. The AfDB has played a major role in sustainable investment in Africa and is promoting green projects in national development planning. Between 2011 and 2015, AfDB mobilized approximately US$12 billion to support climate-resilient projects as part of its Climate Change Action Plan (CCAP).4 The bank's African Climate Change Fund (ACCF)5 is aimed at providing access to large amounts of funding for African countries to scale up green finance. Nations across Africa are also set to benefit from the International Finance Corporation (IFC) and Amundi's joint US$2 billion "Cornerstone" fund designed to buy green bonds issued by emerging market banks that would not otherwise attract institutional investors owing to their risk-return profiles.
The Oil Economies
Nigeria
Despite its economy being heavily reliant on fossil fuels, Nigeria is at the forefront of preparing to transition to a sustainable future. One of the keys to unlock green bond success for Nigeria will be to cultivate and preserve investors' confidence by complying with the Nigerian green bond framework together with SEC Nigeria's new listing rules, which codify the criteria and approval process of green bonds in Nigeria. To qualify as a green project, the investment must fall into one of eight listed categories that largely mirror the categories of the Green Bond Principles6 (GBP). Other requirements aligned with the GBP include a green use of proceeds commitment; the process for evaluation and selection of projects; and reporting.7 This framework is consistent with the Nigerian green policy drive and is timely, given that Nigeria's much anticipated debut sovereign green bond came to market in December 2017. This was the first sovereign green bond to gain the coveted certification of the Climate Bonds Initiative and sets a strong precedent for other African sovereigns to follow.
Angola
Like Nigeria, Angola's economy is heavily oil-reliant. Fluctuating oil prices have amplified the importance of investment in other sectors, not only to reduce its exposure to oil and create a stronger buffer against market volatility as fossil fuel becomes a less viable long-term investment. The abundance of rivers in Angola also creates considerable opportunity for hydropower projects. Many projects have been completed, and there are many more in the pipeline geared to help meet the country's ambitious hydroelectric energy generation target of 9,000 MW by 2025.
Gabon, Ghana, Côte d'Ivoire and Democratic Republic of Congo
These nations have all benefited from their booming fossil fuel industries over the past decade, however, falling oil prices in 2016 hit their local economies hard and for some, oil reserves may be in decline. Therefore, each government has a strategy to diversify its economic interests going forward. Forestry, agricultural and mining industries are set to benefit from this diversification, and instilling sustainability as a core principle at the heart of developments will be vital to achieving success through green finance.
The Renewable Energy Frontrunners
Morocco
Morocco is among those spearheading the development of a green bond market in Africa and the regulatory infrastructure to support it, as part of its commitment to a lower-carbon economy. In the wake of Morocco's hosting of the 22nd Conference of the Parties to the United Nations Framework Convention on Climate Change, the Moroccan Capital Market Association (AMMC) published a green bond framework and practical guidelines for green bond issuance.8 Among the first to benefit from this was the Moroccan Agency for Solar Energy (Masen), which issued Morocco's first green bond to finance the country's development of solar power projects. Morocco aims to obtain 52 percent of its electricity from renewable energy sources by 2030,9 and eventually seeks to export its solar energy to Europe.
Ethiopia
Ethiopia is well recognized for its commitment to building a climate-resilient (and middle-income) economy by 2025. The Ethiopian government has published a comprehensive strategy paper10 on how to achieve this. Ethiopia is now the largest producer of hydropower in Africa and is aiming to increase its current output five-fold by 2030.11 The country has declared its ambition to become the energy hub of East Africa and already exports energy to Sudan and Djibouti, and will soon export to Kenya as well.12 It is also developing power stations and grids based on other renewable energies to reduce reliance on hydropower, which requires rainfall to function. These developments are prime candidates for funding through sovereign green bonds.
The Municipal Bond Innovators
South Africa
South Africa has the most developed bond market in Africa and, like many jurisdictions across the world, it issued green bonds at the municipal level first. The City of Cape Town and the City of Johannesburg have each issued green bonds, the proceeds of which were used for local climate change mitigation and adaptation projects providing examples for other municipalities to follow.13 A positive market signal recently came from the Johannesburg Stock Exchange, which launched its Green Bond Segment and Green Listing Rules in October 2017,14 promoting further green bond issuance in the jurisdiction. Through this pioneering move, South Africa is seen as positioning itself as a gateway to green investment in sub-Saharan Africa.
The Climate-Vulnerable States
Kenya
Sustainable finance is particularly important for Kenya owing to its vulnerability to the effects of climate change—in particular drought and flooding. Government coffers alone cannot bridge the financing gap of what is needed to transition to a sustainable economy. As part of its Vision 2030 campaign, Kenya's ambition is to reduce greenhouse gas emissions by 30 percent by 2030 with the goal of becoming a middle-income country based on sustainable development. To date, the Kenyan government has focused on developing a green bond framework and incentivizing the development of renewable energy, prioritizing geothermal, wind and biomass. Sustainable transport is also on Kenya's agenda after the success of the recently completed Mombasa-Nairobi railway, which is planned to connect to Uganda, the Democratic Republic of Congo, Rwanda, South Sudan and Ethiopia.
Mozambique
Mozambique's vulnerability to climate change impacts can be seen through recent extreme events of drought and flooding, which have repeatedly set back the already struggling economy. Against this background, the Mozambique government has produced an ambitious "Roadmap for a Green Economy," making it a national objective for Mozambique to become a middle-income country based on inclusive, efficient and sustainable development by 2030.15 Commitment to this objective has, to an extent, been solidified by the government's Green Economy Action Plan, which sets out a strategy for the development of a sustainable green economy. Key entry points were identified as sustainable infrastructure, efficient and sustainable use of natural resources, and strengthening resilience and adaptability to climate change. Government funding is limited in its ability to address each of these broad targets, therefore coordination with supranational and private capital will be essential, and attracting international capital through green bonds will be invaluable. Investor confidence may have to be rebuilt initially from a municipal level following the sovereign default in January 2017, although foreign debts have become easier to service after a 19 percent rise in value of the Mozambique metical against the dollar last year.
Namibia and Zambia
Other countries that are particularly vulnerable to climate change include Namibia and Zambia, whose vibrant wildlife reserves are susceptible to drought and desertification. Conservation, sustainable tourism infrastructure and the protection of wildlife and the ecosystems they interact with need capital injection, as do projects that alleviate the impact on subsistence communities that are completely dependent on the natural environment in which they live. Furthermore, the impact on climate change on the cost of staple foodstuffs could be devastating (Figure 3).
Figure 3: Impacts of climate change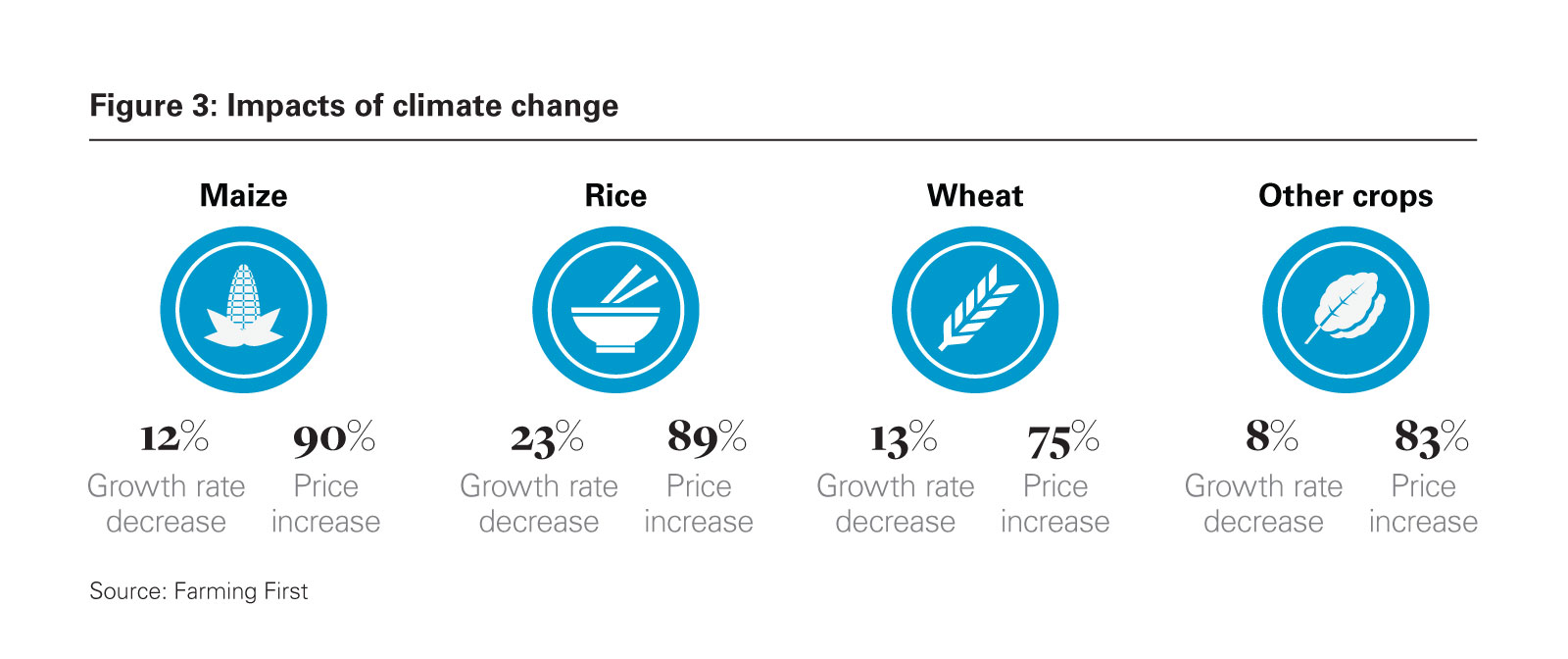 View full image
Challenges for Sovereign Issuers
One of the key challenges for a first-time sovereign green bond issuer is its commitment to developing green framework legislation. Green frameworks play a key role in encouraging green finance within a jurisdiction through transparency and commitment and send an important signal to markets globally. With regional and global examples in place, African nations should continue to develop green bond frameworks and identify a pipeline of eligible green projects that could be financed under each framework. In some cases, it may be easier to begin on a small scale with a municipal issuance, rather than lead at the sovereign level. Sub- and quasi-sovereign issuers have been comparatively prolific and diverse in terms of geography, economic development and project type, further demonstrating the versatility of green bonds and their ability to be tailored to local circumstances.
In order to meet global commitments under the Paris Agreement, 33 percent of oil reserves, 50 percent of gas reserves and 80 percent of coal reserves globally may have to be left in the ground. Several African countries will need to look at scaling down their exposure to the fossil fuel industry if they are to meet their commitments. At the same time, growth will need to be achieved in other sectors to replace the revenues no longer being earned from fossil fuels. Real sustainable alternatives to fossil fuel-based power production will need to be developed, financed and implemented to meet low-carbon energy demands. Governments will need to make public policy shifts in favor of a greener and more climate-resilient economy. Government involvement is also vital for encouraging the green finance market through the creation of fiscal policy that makes holding green assets more attractive.
The extreme lack of electrical infrastructure in many parts of Africa presents an opportunity for African countries to be at the cutting edge of sustainable development, not only in the power sector. Lack of legacy infrastructure based on fossil fuels allows countries to adopt international best practices, tailored to unique African conditions. This should allow African countries to develop without the same level of environmental harm as developed Western economies experienced at the height of their use of fossil fuels.
NEXT CHAPTER
Angola and Mozambique: Oil & gas and mining
FULL MAGAZINE
Africa Focus: Spring 2018
1 unfccc.int
2 The Paris Agreement requires each party country to propose strategies for achieving the goal through 'nationally determined contributions' ("NDCs") that must be submitted to the UNFCCC in order to track progress on meeting their targets.
3 www.afdb.org
4 www.afdb.org
5 www.afdb.org
6 www.icmagroup.org
7 SEC Nigeria proposes new rule for green bonds [Federal government] to Launch First African Sovereign Green Bond in December www.afdb.org
8 www.ammc.ma
9 www.masen.ma
10 greengrowthknowledge.org
11 www.hydropower.org
12 www.hydropower.org
13 In July 2017, the City of Cape Town issued a 10-year, R1 billion green bond, which will fund adaptation and mitigation initiatives including procurement of electric buses, energy efficiency and water management.
14 www.jse.co.za | www.afdb.org
15 www.afdb.org
This publication is provided for your convenience and does not constitute legal advice. This publication is protected by copyright.
© 2018 White & Case LLP