Risk without borders
The global risk landscape continues to get more complex and challenging, particularly as regulators step up cross-border collaboration and show greater willingness to take action across jurisdictions.
Evolving global risk requires new approaches
Seismic changes are recalibrating the nature of legal risk and risk management for companies worldwide. Risk has become global, transcending corporate boundaries. Moving forward, companies must be increasingly knowledgeable about risk and nimble in their response to a constantly evolving risk environment.
While global risk grows, the scope of US jurisdiction has been shrinking. A landmark 2014 US Supreme Court decision significantly limited where corporations may be sued for claims not relating to business they may do in the United States. Other recent US court rulings have limited the territorial reach of substantive US law. Using these decisions, companies can plan to separate or "ring fence" certain risks. For instance, in the capital markets arena, an increasing number of European corporates are using provisions under the US Securities Act—Rule 144A—to tap US credit markets while managing exposure to US lawsuits.
But other legal risks have increased that are not so easily ring fenced in areas such as anti-corruption, anti-terrorism, anti-money laundering, economic sanctions, environmental compliance and banking regulation. Technological and social media advances mean that when a crisis hits, companies no longer have the luxury of time to assess potential problems, determine strategy and respond appropriately. As a result, a new gospel has emerged: Assemble teams faster, be nimble and be committed. "You can't just consider the technical legal arguments," says White & Case partner Greg Little. "You also need to think about public perceptions, dealing with the media, shareholders, legislators and regulators."
Another shift in legal risk management is emanating from the rise of so-called industry ombudsmen taking over duties from the courts, which are increasingly deemed too slow and expensive. A European pan-continental claims system, similar to the US tort system, is slowly forming, shifting dispute resolution from the courts to alternative dispute resolution mechanisms.
Global approach to cartels yields record fines
In the last decade, the frequency of antitrust investigations has grown significantly around the world, and the size of fines and length of prison sentences related to cartels has increased dramatically.
Annual fines levied in 2015 by the US Department of Justice (DOJ) Antitrust Division increased more than tenfold compared to 2003. In recent years, the DOJ also sent more than twice as many defendants to jail for cartel activity than it did in the 1990s, and the average jail sentence is more than three times longer. Annual fines levied by the European Commission actually fell in 2015, compared to 2014, but they had risen precipitously from 2001 to 2014.
Two factors are driving these trends. The first is that many authorities have expanded their use of leniency programs, which encourage suspected parties to provide information about other parties in exchange for reduced penalties or amnesty, despite the risks for private damages actions. The second is increasing cooperation among antitrust watchdogs in different countries. The International Competition Network, an international body of competition authorities who cooperate and share information, includes about 120 jurisdictions.
Due to these trends, even a small case in a single jurisdiction can rapidly morph into a global investigation. Companies facing actions must be able to mount globally coordinated responses that are viable across jurisdictions.
United States increasingly prosecuting trade violations as crimes
In recent years, alleged trade violations in the United States increasingly involve criminal charges, both for corporate entities and top executives; previously, authorities mainly brought civil charges in customs cases. As a result, more executives face the prospect of prison time for trade violations, and companies face the potential of more and higher fines as well as corporate probation (a period of close monitoring by a third party).
The US Department of Justice has increasingly turned to criminal statutes in trade cases that have typically been used to prosecute other types of offenses, including statutes relating to obstruction of justice, conspiracy, money laundering, smuggling, aiding and abetting, and the False Claims Act. Some statutes now in use are punishable by up to 20 years in prison. And in many cases, parties that violate one statute are simultaneously in violation of other statutes, triggering multiple indictments.
So far, most trade-related prison sentences have not exceeded three years for individuals, and most criminally convicted corporations have received three or fewer years of corporate probation. But this could change as prosecutors turn to statutes carrying higher penalties and as it becomes more politically difficult for plaintiffs to voluntarily terminate lawsuits once they are underway.
To protect themselves, companies should establish strong compliance regimes, training programs and transaction-based testing procedures, and they should develop reporting protocols for engaging the government should a violation be discovered.
Arbitration takes the reins in resolving cross-border disputes
International arbitration, once a second choice to litigation for private dispute resolution, is now conclusively the preferred form of dispute resolution for cross-border disputes, according to a new 2015 study done by White & Case together with Queen Mary University of London. Ninety percent of the 763 respondents surveyed prefer international arbitration, up from 73 percent in 2006.
London and Paris continue to be the preferred venues for international arbitration, ranked by respondents as the two most-used seats over the past five years (45 percent and 37 percent, respectively). But Hong Kong and Singapore are gaining momentum, coming in third and fourth (22 percent and 19 percent, respectively). White & Case partner Paul Friedland, Head of the Firm's International Arbitration practice, attributes this momentum to the "significant investments both seats have made in support of international arbitration in recent years."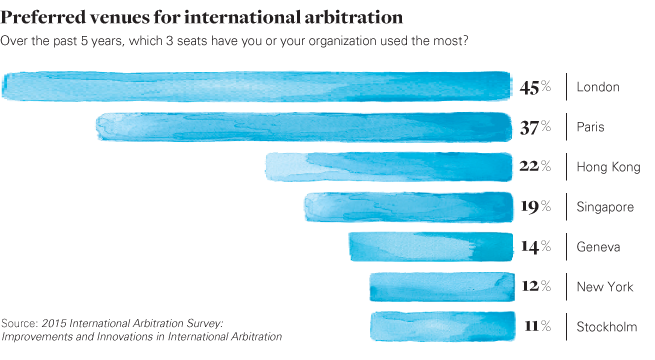 When asked for their three preferred institutions, 68 percent of respondents included the International Chamber of Commerce (ICC) and 37 percent included the London Court of International Arbitration (LCIA) in their answer. But again, Hong Kong and Singapore are closing the gap, with the Hong Kong International Arbitration Centre (HKIAC) and the Singapore International Arbitration Centre (SIAC) coming in third and fourth (28 percent and 21 percent, respectively).
While most respondents felt that there is an adequate level of regulation in international arbitration in general, a majority believe that more "micro-regulation" is needed when it comes to third-party funding, tribunal secretaries and the conduct of arbitrators. These issues will likely be prominent in 2016 and beyond, as respondents identified ways to improve regulation in these areas, including the issuance of more guidelines.
New legal tool cuts risks for non-governmental organizations
Just like private companies, non-governmental organizations (NGOs) face legal issues both in their work and their structure. While these issues can be presented as they arise to a legal clearinghouse or a law firm, sometimes the less urgent legal problems take a backseat, and deeper issues go undetected until a major problem arises. Addressing such issues at an early stage ensures compliance with the law and helps organizations to operate as effectively as possible.
To address this challenge, White & Case worked pro bono with Advocates for International Development (A4ID), an NGO and legal clearinghouse focused on sustainable development, to develop the A4ID Legal Health Check, a tool that a law firm can use to help an NGO identify the legal issues it faces.
The Legal Health Check explores in-depth an organization's everyday functioning and any related issues. It covers a wide range of issues from structure and governance to tax, risk management and compliance. Since its launch, we have used it with pro bono NGO clients in London, New York and Germany. Having been piloted by White & Case, it is now available for use by other law firms—a scalable innovation that goes beyond the scope of our own pro bono legal work.
A big advantage of the Legal Health Check is that it can be used both by existing NGOs to identify issues and by startups to help them get things right at the outset and ensure that they are sustainable both in the immediate and longer term. And it can be used by large organizations whose activities cross borders, as well as smaller organizations located in one jurisdiction.
NGOs have few resources to waste. The Legal Health Check guides them and their legal advisors in using their resources efficiently and legally, maximizing their ability to reach their goals and minimizing the legal and operational risks they face in doing so.