Africa Focus: Autumn 2017
The region has robust long-term economic fundamentals. In an aging world, Africa has the advantage of a young and growing population and will soon have the fastest urbanization rate in the world. By 2034, the region is expected to have a larger workforce than either China or India—and, so far, job creation is outpacing growth in the labour force. Accelerating technological change is unlocking new opportunities for consumers and businesses, and Africa still has abundant resources.

McKinsey & Co, Lions on the Move II, September 2016
Stay current on your favorite topics
Private equity in Africa has come a long way since the early 1990s, which saw development financial institutions (DFIs) investing in government-initiated development projects across the continent. During that period, such investments were restricted almost entirely to South Africa and North Africa. The period that followed was characterised by the emergence of a limited number of South African–focused PE funds, which over the next decade started to invest more widely across the continent. By 1997, there were 12 private equity funds that had collectively raised US$1 billion to invest in Africa1. During the lead-up to the global financial crisis in 2008, a number of major international institutions turned their attention to Africa, and Africa-focused investment funds began to make their appearance in international markets. PE funds increasingly turned to emerging markets for levels of growth that were simply unattainable elsewhere. On the back of a commodities boom, driven largely by demand from China, an 'Africa rising' narrative began to pervade the media. Investments spread to other parts of the continent, most notably East Africa, southern Africa outside of South Africa and West Africa.
As we fast-forward to 2017, the African PE ecosystem has significantly matured with more than 200 PE funds managing upwards of US$30 billion targeting Africa2 and unprecedented capital formation in 2014 – 2015, which saw more than US$7 billion raised to invest in Africa, including the first billion-dollar sub-Saharan African funds, Helios Investors III and Equatorial Guinea Co-Investment Fund3. During 2016, PE funds invested US$3.8 billion in 145 deals across Africa, which was a greater than 50 per cent increase compared to the US$2.5 billion invested in 20154. While these figures are small compared to PE investments into developed markets such as the United States, United Kingdom and Europe, they seem set to increase steadily in coming years. Given the importance of PE investment to Africa's national economies, it is reasonable to expect that African countries will continue to examine their legislative and policy frameworks in order to make them more attractive to foreign investment.
On the other hand, 2016/17 has seen a decrease in new deals being initiated, which is likely to be reflected in more modest figures in 2017/18. The collapse in the price of oil and other commodities has hit investments in those sectors hard, and this has been exacerbated by currency depreciation in a number of African countries. As a result of the increased currency and execution risk, PE funds and other financial investors are expecting greater risk premiums. Although depreciated currencies may represent excellent value for new investments, that is little comfort to investors who have seen a decline in the value of previous investments.
New sources of finance
Since the global financial crisis, European banks which were previously very active in Africa have retreated to their home markets to rebuild their battered balance sheets. Coupled with small domestic public debt and equity capital markets in most African markets, this has created strong demand for other forms of finance typically reserved for PE transactions in Europe and North America.
DFIs continue to play an essential role in African PE, particularly as a source of funding for development projects. However, traditional institutional investors, such as insurance companies and pension funds, are becoming an increasingly common source of funds5.
More recently, global funds, such as Helios and KKR, have invested Western pension money in Africa, and notably, African institutional investors have become increasingly attractive investments due to rapid growth in this area.
Pension funds in 10 African countries have an estimated US$379 billion in assets under management, of which US$29 billion could potentially be directed towards private equity, according to the Emerging Markets Private Equity Association (EMPEA). Economist Charles Robertson of Renaissance Capital estimated that pension funds in the six largest sub-Saharan African markets will grow to US$622 billion in assets by 2020 and to US$7.3 trillion by 2050. Such pension funds present a significant opportunity for alternative asset classes such as private equity. Private equity is currently a rare feature of African pension portfolios. However, Africa's emerging pension fund industry could also be a valuable source of funds for PE investments in the future as the market continues to broaden. Pension reforms across the continent also support this proposition: Nigerian pension regulations have been amended to include PE as a specified asset class for pension fund investment, and in South Africa the percentage of the total assets that pension funds can invest in PE has increased from 2.5 per cent to 10 per cent. Significant participation will remain unlikely until African pension fund trustees become less risk-averse and more familiar with this asset class. However, the opportunity in this area means that, like Western pension funds, we expect domestic pension funds to become a future source of funds for African PE.
Figure 1: Comparing investment location before and P after the 2009/10 global crisis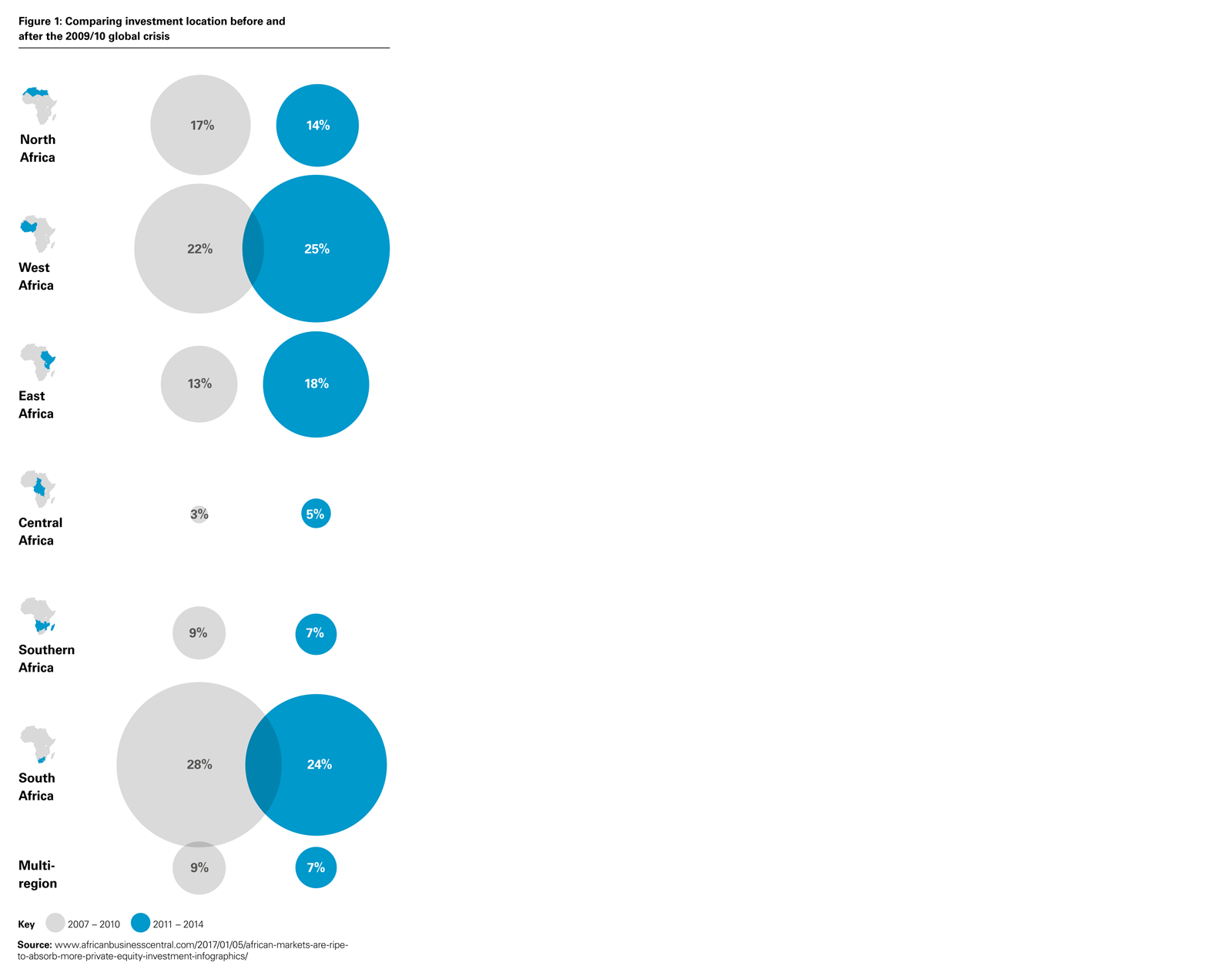 View full image
Source: African Business Central
Figure 2: The Venture Capital & Private Equity Country Attractiveness Index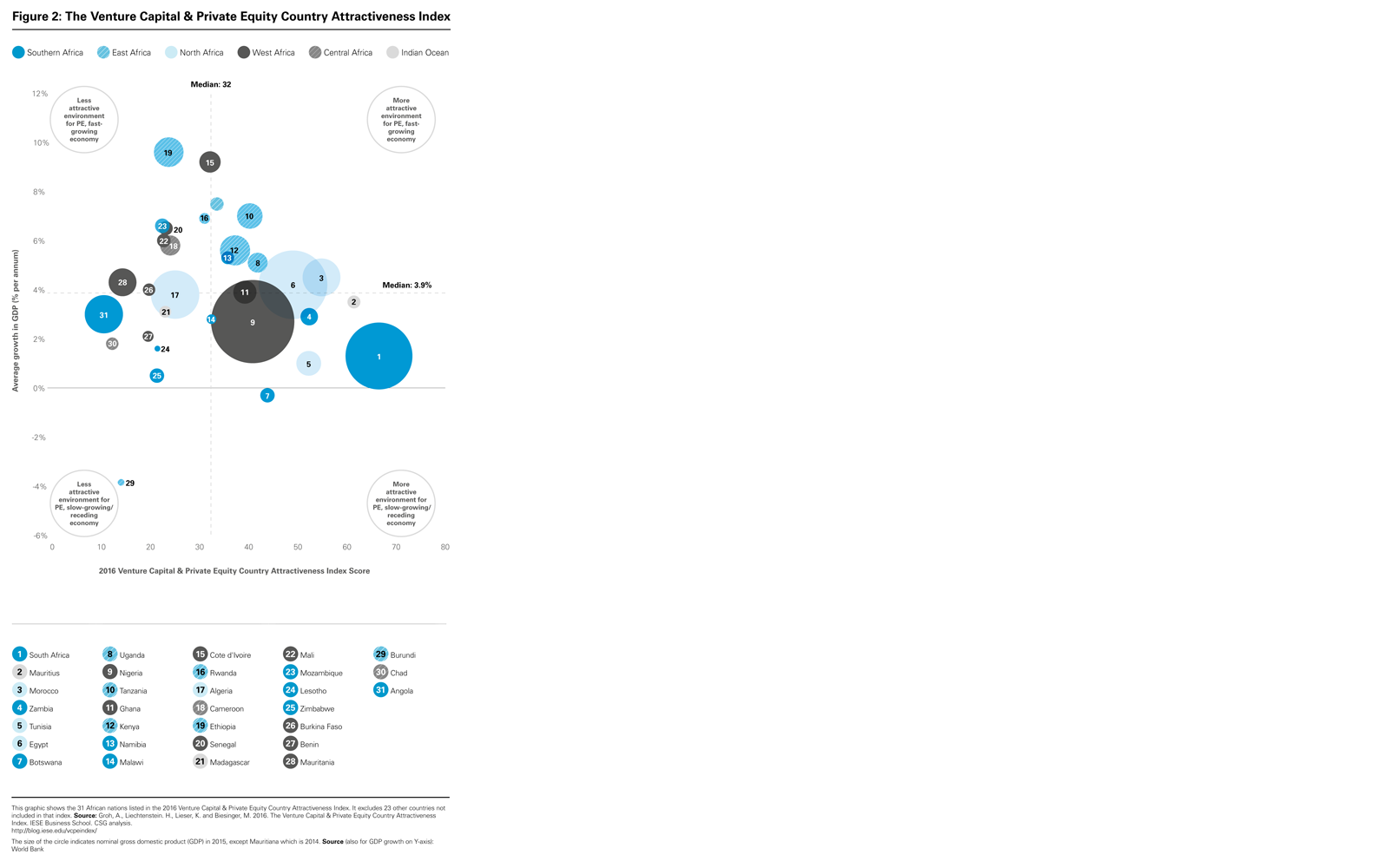 View full image
This graphic shows the 31 African nations listed in the 2016 Venture Capital & Private Equity Country Attractiveness Index. It excludes 23 other countries not included in that index.
Source: Groh, A., Liechtenstein. H., Lieser, K. and Biesinger, M. 2016. The Venture Capital & Private Equity Country Attractiveness Index. IESE Business School. CSG analysis.
The size of the circle indicates nominal gross domestic product (GDP) in 2015, except Mauritiana which is 2014. Source (also for GDP growth on Y-axis): World Bank
Over the past decade, the focus of investment has shifted from South Africa and North Africa to new markets—most notably West Africa.
Which markets?
While the returns that successful PE deals have delivered in recent years have generally exceeded those in developed markets, the risks and the challenges are very different. Determining how conducive a country's legal environment is to PE investment is challenging. One way is to use the Venture Capital & Private Equity Country Attractiveness Index published by IESE Business School,6 which includes 31 of Africa's 54 countries. In the infographic accompanying this article (Figure 2), the scores for these 31 countries are plotted against economic growth rates and the size of the economies to produce an overall picture of the attractiveness of African markets for PE.
Over the past decade, the focus of investment has shifted from South Africa and North Africa to new markets—most notably West Africa. As Africa's largest economy, Nigeria has benefited from this, but smaller markets such as Côte d'Ivoire and Senegal have also felt the positive impact.
Over the past decade, South Africa has attracted more investment than the next nine countries combined: Egypt, Nigeria, Kenya, Morocco, Mozambique, Ghana, Namibia, Algeria and Angola. This is illustrated in Figure 5 and Figure 6.
Figure 3: Private equity and M&A activity by volume Q1 2006 – Q1 2017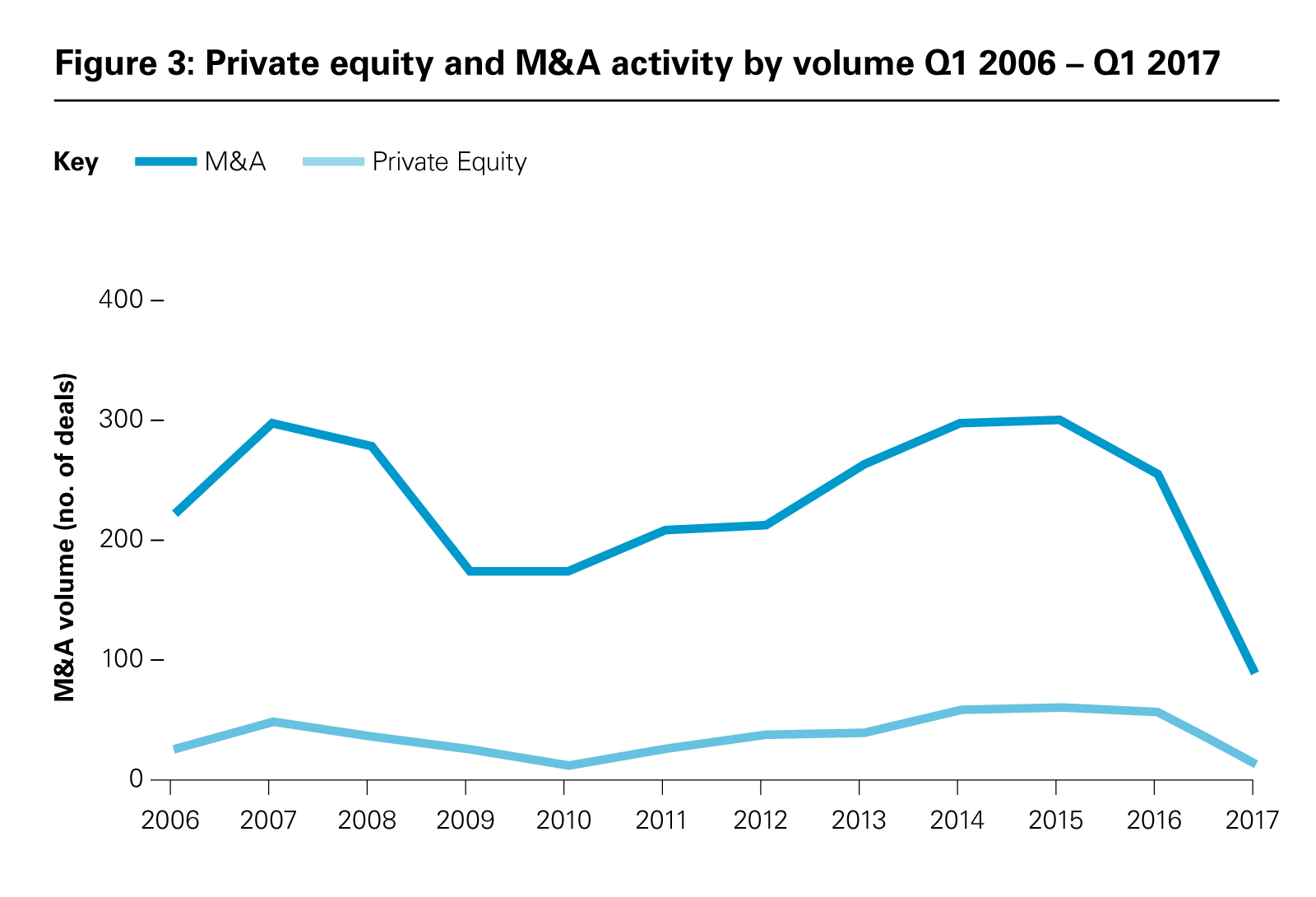 View full image
Figure 4: Private equity and M&A activity by volume Q1 2006 – Q1 2017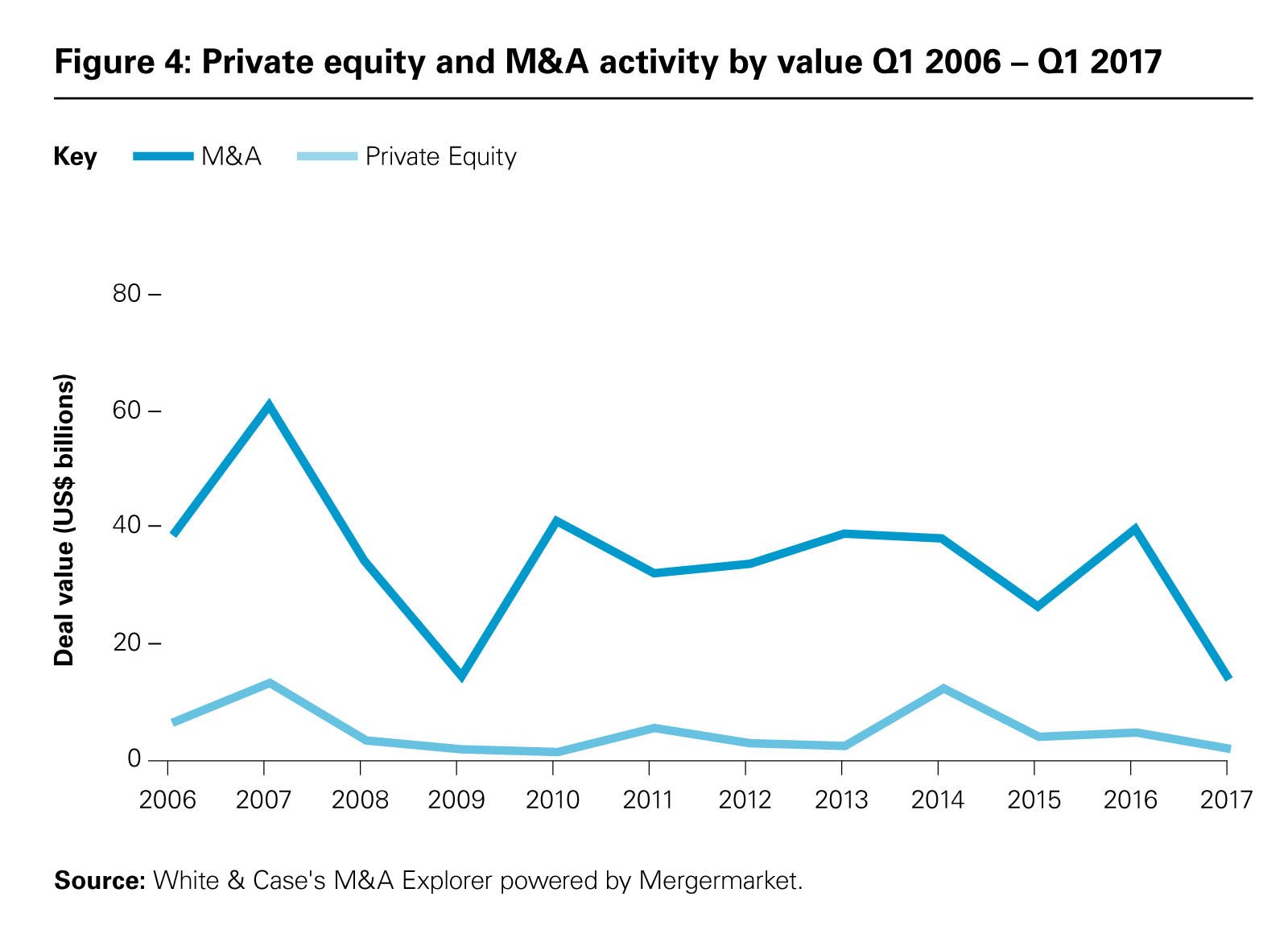 View full image
Figure 5: M&A activity – Top targets by value Q1 2006 – Q1 2017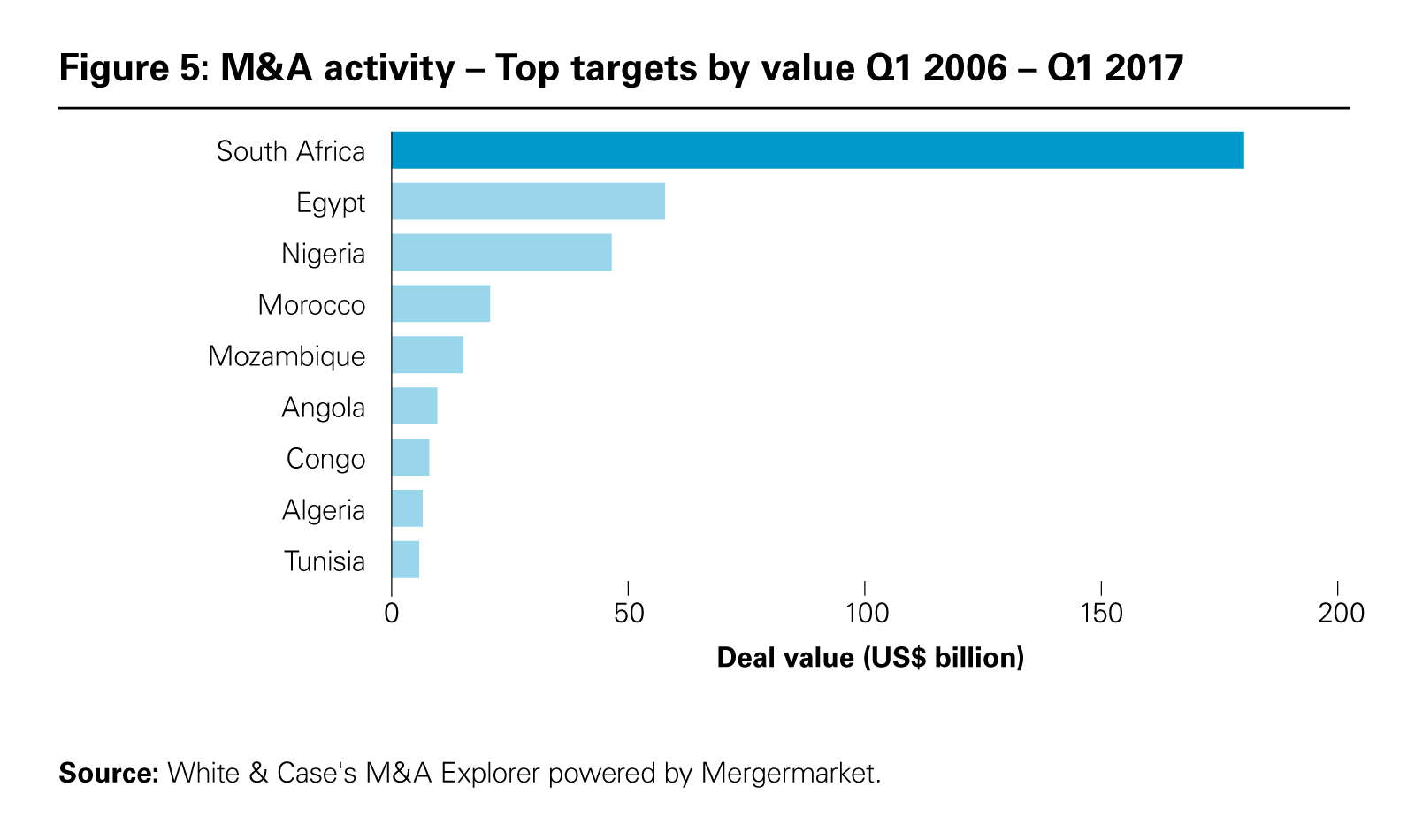 View full image
Figure 6: M&A activity – Top targets by volume Q1 2006 – Q1 2017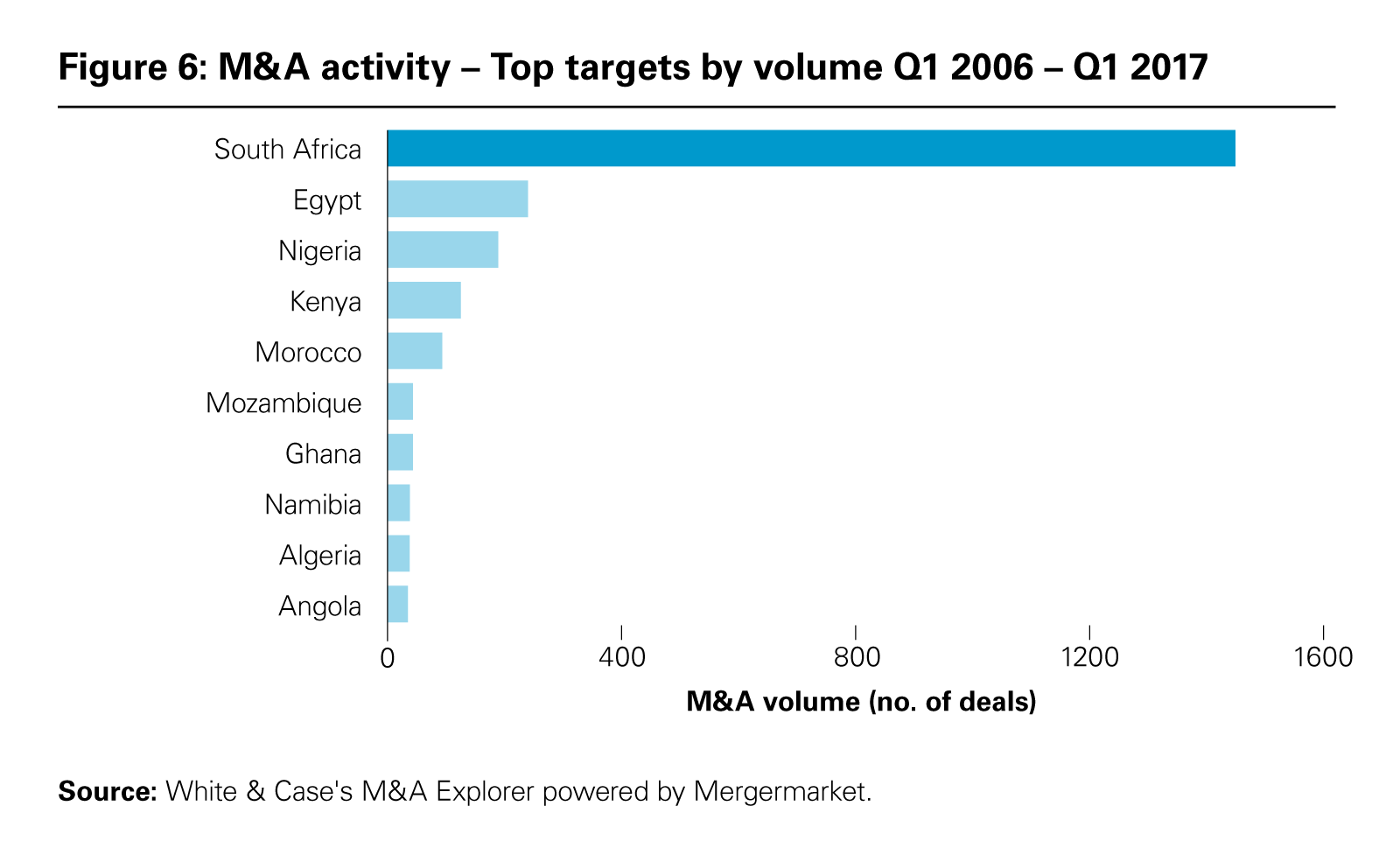 View full image
Figure 7: M&A activity – Top sectors by value Q1 2006 – Q1 2017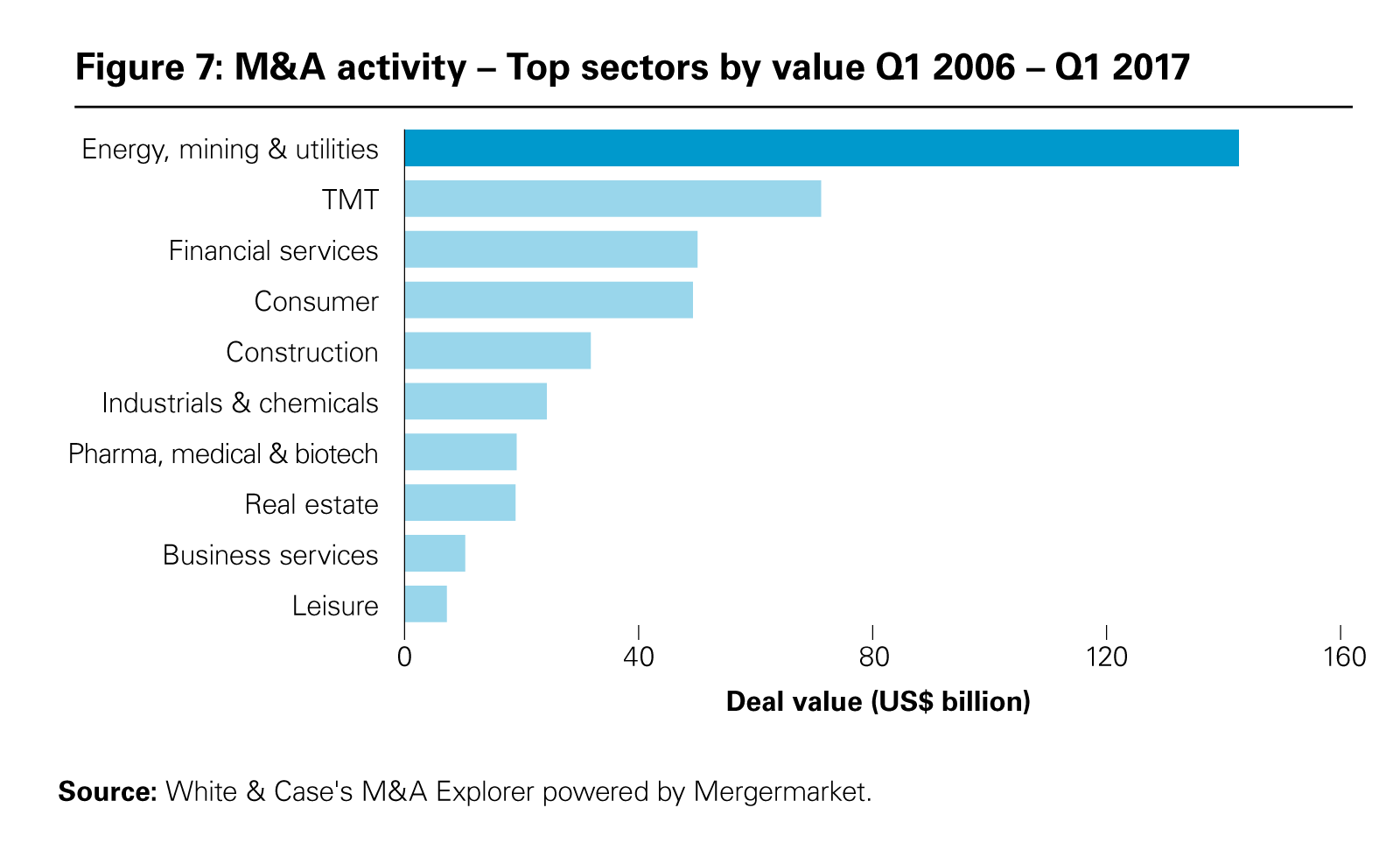 View full image
Figure 8: M&A activity – Top sectors by volume Q1 2006 – Q1 2017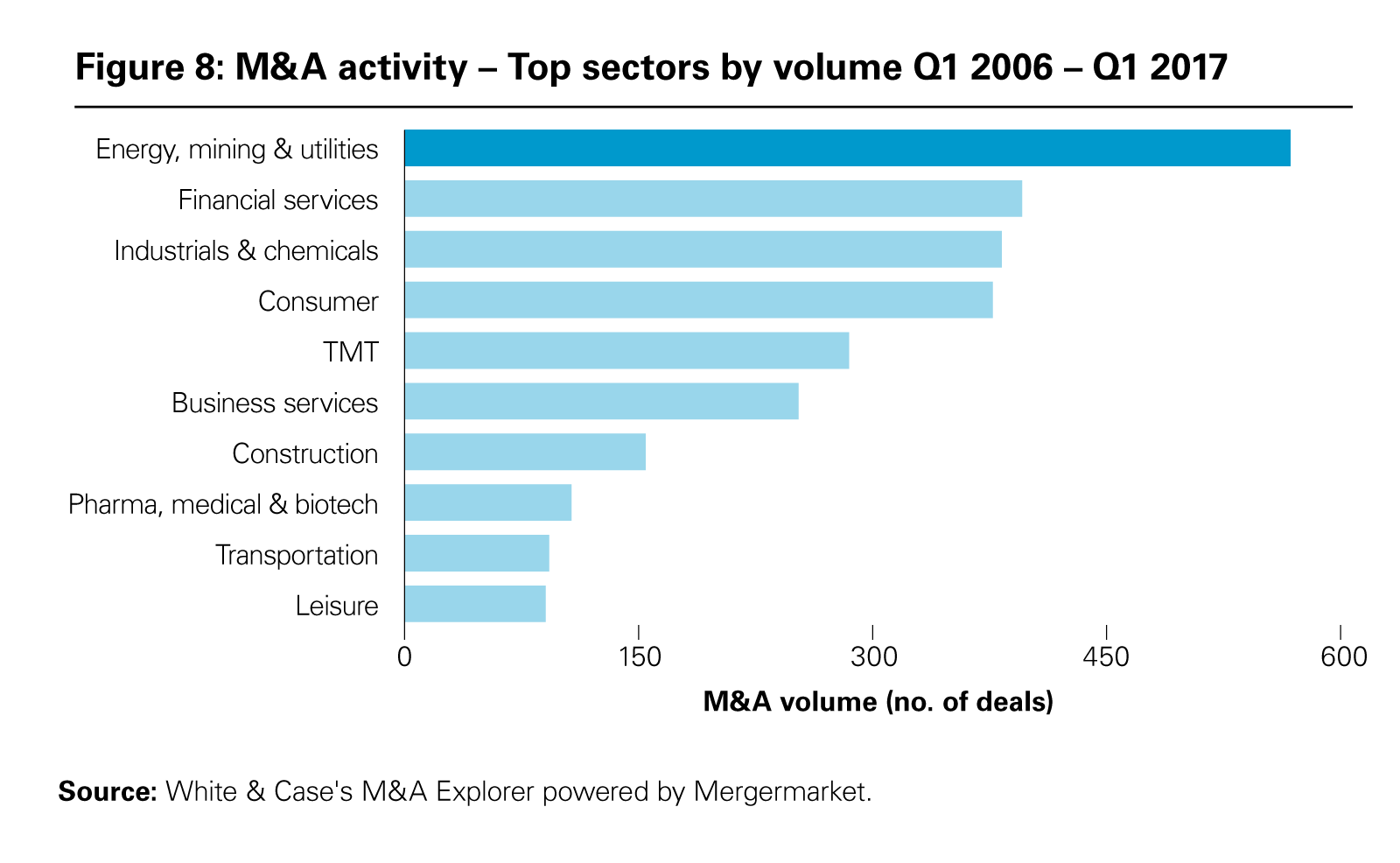 View full image
Source: White & Case's M&A Explorer powered by Mergermarket
Greater stage specialisation with funds targeting different levels of the market
In addition to new sources of funds, many features typically reserved for PE transactions in Europe and North America are increasingly prevalent in African PE.
Greater availability of capital has been one of the key changes in the African PE market. As well as contributing to the growth in the secondary market, it has also paved the way for mid-market funds to source transactions that fall below the thresholds of larger players. In the first half of 2016, approximately 75 per cent of deals were below US$250 million, with most below US$100 million7. Given the typical deal sizes and the fact that most companies in the African economy are SMEs and mid-market companies, the deal flow and wider range of sectors present an opportunity that many mid-market African funds have seized. These mid-market funds include 8 Miles, Ethos Private Equity, Musa Capital and Enko Capital.
As the African PE market grows deeper, we expect to see even greater stage specialisation with funds focusing on different levels of the market.
Increasingly sophisticated features and capital structures
Equity and debt instruments
The illiquidity of domestic capital markets, as described above, presents challenges for companies seeking funding. The small size and conservative nature of many African banks result in African PE deals being significantly less leveraged than equivalent deals in the developed world. As a result, the primary source of funding in African PE has historically been equity finance with a simple capital structure.
As the market matures and aims to close the funding gap, mezzanine debt is becoming a key component in the capital structures of African companies, and there are a number of dominant South African funds in the mezzanine debt market. While specific forms of 'mezzanine debt' in a European context are generally clearly defined, in African countries it refers more broadly to subordinated debt or unsecured senior debt structures.
A number of PE funds, such as Helios Investment Partners and TLG Capital, have raised funds specifically targeting these types of investments in Africa. Abraaj is currently in the process of raising a debt fund. Going forward, we expect to see an increasing number of such funds being established.
The challenges posed by the African funding market and the increased complexity of companies' investment needs means that we also expect to see an increase in the use of tiered capital structures, with a broader range of share classes and debt instruments, loan notes, warrants, high-yield instruments and payment in kind (PIK) notes.
Warranty and indemnity insurance
Private equity has been a driving force in the increased use of warranty and indemnity (W&I) insurance in global M&A transactions, particularly on the buy-side. Such policies are beneficial for buyers with limited recourse against sellers who have poor covenant strength. They also allow PE and institutional sellers to achieve a clean break and distribute proceeds to their LPs.
Historically, insurers have been wary of emerging markets. However, AIG reports that this is a growing area. Before offering W&I insurance, insurers assess the legal, political and regulatory risks in the relevant jurisdiction and reflect the level of risk through pricing and exclusions. We expect that the trend to take out W&I insurance, and the increased appetite to underwrite W&I policies on African PE transactions, will continue.
Prospects for the future
The 'Africa rising' narrative has become more nuanced in the aftermath of the global financial crisis and the sharp decline in commodities prices. Nonetheless, prospects for significant growth in Africa and hence opportunities for PE investment remain bullish:
According to the World Bank, 14 of Africa's 54 countries currently have economic growth rates exceeding 5 per cent per year, and Africa-wide growth of 4.5 per cent is expected for 2017 – 18.
While medium levels of conflict persist stubbornly in parts of central Africa, the Sahel region and the horn of Africa, armed conflict has subsided significantly over the past decade
Markets remain relatively underpenetrated
Initiatives continue that are aimed at enhancing transparency, good governance and combating corruption and money laundering (Algeria was recently removed from the Financial Action Task Force (FATF) grey list, after new measures to counter money laundering were implemented)
The sharp decline in oil prices is driving countries whose economies are over-dependent on oil to diversify, thus creating opportunities for investment in new industry sectors
While the term 'middle class' may mean different things in different parts of the world, the growth and diversification in African economies is driving demand for consumer goods and services
Lower income from commodity sales has caused a general shift in many African countries, from public to private funding such as through public-private partnerships which, in the absence of conventional bank financing, is of benefit to alternative sources of financing such as PE
The continent's population is becoming more urbanized (by 2035 it is estimated that 50 per cent of people will live in urban areas), which creates new opportunities for real estate development, energy and infrastructure, retail and services
According to McKinsey & Co's Lions on the Move II report, Africa could nearly double its manufacturing output from US$500 billion today to US$930 billion in 2025
Even in countries that have been hit the hardest by the disruption caused by the slump in commodity prices (e.g., Angola and Nigeria), African governments and central banks have proved effective at maintaining a degree of stability. Macro-economic stability has been sustained by a mixture of fiscal conservatism, currency controls and interest rate management. Furthermore, PE investment itself is having a stabilizing effect on these economies, not only through the injection of capital but by virtue of the fact that bridging Africa's infrastructure deficit is one of the primary areas of African PE investment.
Given the current trends, it is likely that African economies will continue to grow at rates that significantly outstrip the developed West. It is likely that investment opportunities in turn will increase in number, size and diversity. PE funds nonetheless need to be aware of the risks and how to mitigate them. Africa is a vast continent, comprising 54 countries with differing legal systems and historical legacies. Almost all African sovereign debt is rated as below investment-grade, which means that investments need to be carefully designed in order to meet LP requirements. This requires careful management not only of the financial but also the legal components of PE transactions. In navigating complex deals, understanding each local market is as important as understanding the black-letter law. Yet, it is true that for those who understand the continent, Africa offers investment opportunities that one would be hard pressed to find elsewhere.
In the next edition of Africa Focus, we will explore the exit environment and options for PE in Africa.
This article is based upon material first published in the April 2017 edition of 'Into Africa'
NEXT CHAPTER
Anticipated trends in project finance
1. AVCA: Guide to Private Equity in Africa; 2013-14
2. African Consumers: Driving the Africa Private Equity Opportunity, FMOFairview
3. Private Equity International, September 2016 – 'Big Beasts Prowling the Block'
4. African Private Equity and Venture Capital Association
5. BCG – 'Africa remains ripe for private equity'
6. Groh, A., Liechtenstein, H., Lieser, K. and Biesinger, M. 2016. The Venture Capital & Private Equity Country Attractiveness Index. IESE Business School.
7. AVCA report
This publication is provided for your convenience and does not constitute legal advice. This publication is protected by copyright.
© 2017 White & Case LLP