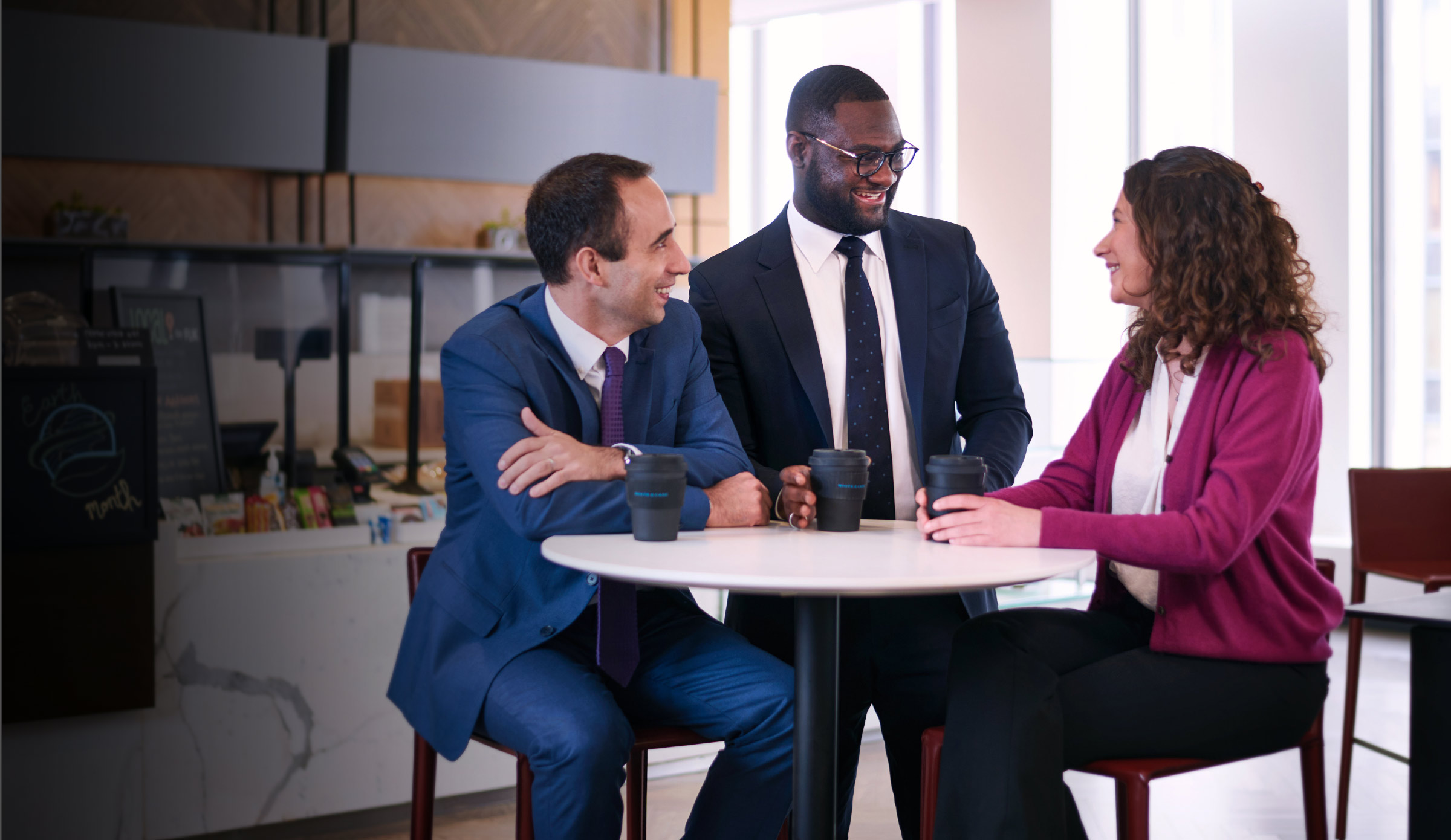 Our Summer Associate Program
Launch your career with us.

Our Summer Program is tailored to make the most of your skills and ambitions. You'll work alongside our lawyers and get a true insight into our work, our people and our culture. Get ready to do real work with real deadlines for real clients, with plenty of opportunities to build your network and enjoy social events too.
Ranked Top 10 by Chambers Associate in the following categories: Associate Satisfaction, Associate Retention, Career Development, and Diversity, Equity & Inclusion
Ranked #1 for Best Summer Program for Social Experiences and #6 for Overall Best Summer Program and Best Summer Program for Career Development by Vault
Our ten-week Summer Program
Explore what kind of lawyer you want to be
 
Our Summer Program is tailored to make the most of your skills and ambitions. We want you to get to know our people and experience our Firm culture because these are the biggest indicators of what your full-time experience will be like.
One of the highlights of the Summer Program is our Launch Your Career (LYC) Program. During week one of the US Summer Program, the entire class is invited to the New York office where summer associates across the US will have the opportunity to network with their peers and learn more about the Firm, our people and our culture. At the end of the program, our summer associates will have a thorough understanding of what it is like to be a junior associate at White & Case.
What to expect: Work
Follow your interests
Before you join us, we will ask you about your practice area interests. If you want to work on specific matters or with specific lawyers, let us know and we'll do our best to make this happen.
Learn on the job
You will have multiple assignments at once, which have real deadlines and will require effective time management. Typical assignments include writing briefs, motions, contracts and client memoranda, assisting in drafting and negotiation sessions, and performing due diligence in transactions. 
Our lawyers include summer associates in conference calls, depositions, negotiation sessions, hearings, closings, trials and other out-of-office activities.
Overseas opportunities
We believe it's important to get firsthand international experience across various business cultures early in your career. Each year, we offer a number of overseas work opportunities during our Summer Program. 
You may also be invited to participate in business meetings or client work that provides you with the opportunity to visit one of our offices outside the US. Due to the COVID-19 pandemic, our overseas rotation program has been suspended, but we hope to offer these opportunities in 2023. 
Timely and meaningful feedback
We believe that quality feedback is important for continuous growth and development. At the start of the program, summer associates are provided with the criteria on which they will be assessed. This includes their performance against our core competencies: Expertise, Tenacity, Client Service, Entrepreneurship and Collaboration.
Over the summer, lawyers will be asked to give formal and informal feedback on the quality of a summer associate's work product, their verbal and written communication skills, teamwork, client readiness and ownership of matters. Real-time feedback means there's time to address any areas for improvement quickly. 
What to expect: Learning and support
Mentors
You will be provided with a number of formal and informal mentors to help integrate you into the Firm, and our recruiters are always available to support you as well. Talk to your partner mentor about the type of work you would like exposure to. Counsel and associate mentors will help make your summer experience as productive and beneficial as possible. In some locations, you will be paired with a junior associate who will act as an informal mentor and help integrate you into the Firm. 
Training seminars
Build your legal knowledge through a series of training seminars on topics including law firm economics, better lawyering through mindfulness, working effectively in a hybrid working environment, business skills training and project management.
Social activities
We want you to get to know our people as well as learn about our business, so each office organizes a variety of social events. Expect cooking classes, wellness events, new skills events and more, where you can relax and network with your fellow summer associates and our lawyers in a casual environment.  
Make your mark
Supporting local communities
It's important to us that our summer associates can help support local communities and get a firsthand understanding of our commitment to social responsibility. Each office partners with a local organization to give back. In 2021, our New York office partnered with the NYC Urban Debate League, where middle-school children from low-income backgrounds coach summer associates in a fun moot debate format.
Pro bono opportunities
We believe that pro bono work is an excellent way to accelerate your training and development. You will get opportunities to get involved in pro bono matters and hone your legal skills while making a difference, both locally and globally. In 2021, our summer associates completed more than 3,200 hours of pro bono work.
US Summer Associate LYC Field Day
See some of the highlights from our LYC Field Day in New York
Top