Given the potential impact of political sanctions, it makes sense to ask if there is anything designees can do to challenge the decision to impose sanctions on them. White & Case's EU and US sanctions teams provide some details about the potential for challenging an asset freeze designation in Europe and the United States.
EU and US restrictions imposed in response to the Ukraine crisis serve as a reminder that sanctions can materialize unexpectedly and expand rapidly. Their effects deliberately extend beyond the designated organizations and individuals themselves, presenting challenges for the entities with which they do business and often for nations and the global business community in general. Given the potential impact of political sanctions, it makes sense to ask if there is anything designees can do to challenge the decision to impose sanctions on them.
In both Europe and the United States, judicial recourse is available to enable organizations and individuals to challenge their designations, but the processes differ depending on which body issued the sanctions. Recent cases in Europe and to a limited extent, the United States, suggest that it is possible to mount a successful challenge. It's never easy, particularly because the processes for designating sanctions targets is conducted in secret, often using classified information that is not publicly divulged even after sanctions have been issued. Thus it can be difficult even to determine the basis for a designation. However, some designees have had success getting their status changed in Europe, and US courts have recently issued limited but notable decisions that may open the door to successful challenges. Even successful challenges can take years to play out, but the cost of an asset freeze can be extraordinary, and many designees will consider mounting a challenge despite the difficulties.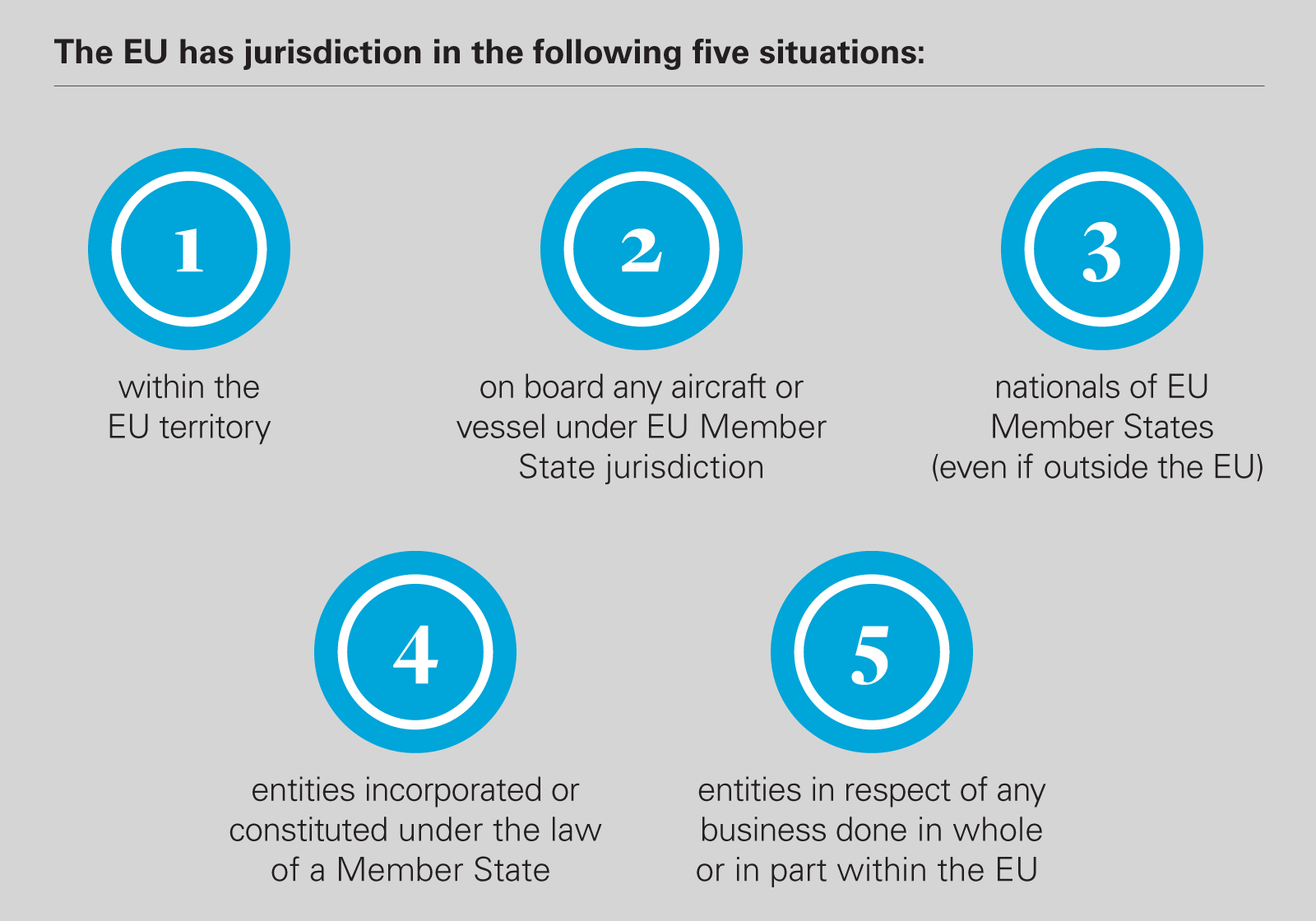 Download this infographic
Challenging designations
Both at the United Nations (UN) and national (or regional) level, asset freeze listings are determined through the use of secret information and without prior legal proceedings. In the EU, for example, the Member States adopt asset freezes in closed Council meetings, and the identity of listed parties is not publicly known until relevant Decisions and Regulations are published in the Official Journal just before entering into force. A separate notice will simply inform the prohibited party of available legal remedies (i.e., either request that the Council reconsiders the listing or challenge the sanctions before the General Court of the EU). While there may be important security concerns that warrant these secret and swift practices, fundamental due process rights can also weigh against such sweeping government authority. Challenges to these listings can therefore be important.
Lately, there has been a string of EU court decisions annulling EU asset freeze listings, chiefly because listing criteria were not met. For example, a June 2014 court decision annulled the listing of Syria International Islamic Bank for insufficient grounds, where the listing was based mainly on allegations that the bank had allowed other listed banks (state-owned Commercial Bank of Syria and its subsidiary Syrian Lebanese Commercial Bank) to circumvent EU sanctions by facilitating transactions for their (non-listed) account holders.1
A series of judgments arising from challenges to the EU listing of Mr Yassin Abdullah Kadi – listed by the UN Sanctions Committee based on his alleged association with Osama Bin Laden and the Al-Qaeda network – inform the value of the judicial review process. The judgments in Mr Kadi's case have been instrumental in shaping the EU sanctions framework by increasing the judicial scrutiny of Council decisions imposing asset freezes.
The Kadi judgments have not only confirmed the availability of judicial review of EU measures implementing UN Security Council asset freeze resolutions, but also that the listing grounds specified by the Council must be "individual, specific and concrete". In addition, the ECJ confirmed that the listed party's rights of defence will require the Council to disclose the evidence supporting the listing decision to allow the listed party to submit observations.2 By sharp contrast, Mr Kadi was less successful in challenging his US designation.3 In this case, Kadi's claims were dismissed and it was found that "substantial evidence" supported OFAC's continued designation of Kadi as a "Specially Designated Global Terrorist" (SDGT). Notably, Mr Kadi voluntarily dismissed his appeal of the lower court's rejection of his OFAC petition.
Some limited but notable developments in challenging OFAC's designation process have occurred in recent years through judicial review
In the United States, administrative and judicial review is available to those who believe they have been erroneously placed on the "Specially Designated Nationals and Blocked Persons List" (SDN List) in connection with US economic sanctions programs. The SDN List is maintained by the US Department of the Treasury's Office of Foreign Assets Control (OFAC) – the agency that administers and enforces US economic sanctions programs.
It is not settled whether an SDN must first petition OFAC to be delisted before seeking judicial review of the designation. Whether the SDN petitions and is denied, or goes directly to court, a US court will overturn OFAC's decision only if it was "arbitrary, capricious, an abuse of discretion, or otherwise not in accordance with law".4 This is a high standard for an SDN to meet, particularly where the SDN's access to OFAC's supporting evidence may be restricted by national security or foreign policy concerns.
Judicial precedent concerning delisting petitions remains sparse, which is likely attributable to the fact that few aggrieved parties challenge OFAC or take their case to court. However, some limited but notable developments in challenging OFAC's designation process have occurred in recent years through judicial review. In 2011, for example, a US federal court of appeals held in Al Haramain Islamic Found., Inc. v. US Dep't of Treasury5 that the due process rights of the blocked entity (a Specially Designated Global Terrorist, "SDGT") had been violated where OFAC had failed to mitigate the SDGT's inability to view the classified information underpinning the designation: "Without disclosure of classified information, the designated entity cannot possibly know how to respond to OFAC's concerns. Without knowledge of a charge, even simple factual errors may go uncorrected despite potentially easy, ready, and persuasive explanations."
Such mitigation was held to include providing an unclassified summary or giving access to classified material to the SDGT's lawyers possessing the requisite security clearance.
US sanctions programs
US sanctions programs are country-based (e.g. the Iran, Syria and North Korea programs) or "list-based" (e.g. programs targeting those engaged in various activities such as terrorism, narcotics trafficking and efforts to undermine democratic processes such as the recent Ukraine-related sanctions). Designation as a blocked person on the SDN List means that your property and property interests must be frozen if they come within the United States or the possession, custody or control of a "US person" wherever located and US persons are prohibited from having any dealings with you or your property. Depending on the US sanctions program at issue, the phrase "US person" can include US citizens worldwide, green card holders, persons or entities within the United States, US incorporated entities, including their foreign branches and in more limited cases, their foreign subsidiaries.

OFAC was faulted by the Court for waiting seven months before giving any reason for the designation and providing only one document in four years that could be viewed as providing some reason for the designation. Similarly, in KindHearts for Charitable Humanitarian Dev., Inc. v. Geithner,6 the court found OFAC had violated procedural due process by waiting 15 months to provide the SDN with a largely uninformative, unclassified record of the basis of the designation.
The court agreed that one of OFAC's bases for designating the charity was not supported by substantial evidence. In addition, the court found that OFAC had violated the SDGT's Fourth Amendment right to be free from unreasonable seizure by failing to obtain a warrant before issuing a blocking order freezing the SDGT's assets.
Although the court ultimately concluded that the due process violation was harmless and other reasons supported OFAC's continued designation, the case demonstrates that OFAC's discretion, while broad, is not unfettered. Courts in other circuits have shown a willingness to test OFAC's evidence in camera – but thus far there are no reported judicial decisions reversing an OFAC designation. By way of example, in Zevallos v. Obama,7 OFAC's designation of an individual as a "Significant Foreign Narcotics Trafficker" was found to be supported by substantial evidence and that due process had been followed, despite finding OFAC's three years of "radio silence" to be "troubling". The decision is currently pending before the DC Circuit Court of Appeals. This general silence is largely attributable to the fact that few designated persons file judicial challenges, as noted in Al Haramain Islamic Found., v. U.S. Dep't of Treasury. Instead designated persons, particularly those designated under secondary, extraterritorial sanctions, have experienced greater success in brokering a negotiated solution with OFAC – for example, by agreeing to implement new compliance procedures and systems and alter their activities in exchange for delisting. For example, Elaf Islamic Bank, a private Iraqi financial institution listed on the "Part 561 list", was successfully delisted by OFAC in May 2013 reportedly upon change in behavior.8
While the sanctions tool is a powerful means of exerting political pressure, crucially, it must afford due process to those it affects directly
Lessons learned
As shown by the US and EU examples given above, certain challenges to asset freeze listings have been vital in increasing judicial scrutiny of the relevant government authorities, or decision making process, and more generally in structuring the developing sanctions frameworks. While the sanctions tool is a powerful means of exerting political pressure, crucially, it must afford due process to those it affects directly.
Reading the signals: Steps to comply with sanctions and limit exposure
- Screen parties to transactions (e.g. customers, suppliers, distributors, transportation companies, banks) against comprehensive designated party lists
- Perform due diligence with respect to ownership of parties to transactions, including beneficial ownership
- Perform heightened due diligence with respect to transactions where there are red flags or otherwise may be a reason to believe a designated entity is benefiting from a transaction that on its face does not involve one
- Consider additional contractual language and other protections in contracts and transaction documents to cover current or future sanctions
- Review and ensure that compliance programs are robust and effective, with adequate procedures and training programs, and are updated to account for evolving sanctions
- Monitor and anticipate possible future sanctions
- Seek OFAC or other authorization, wherever necessary
To download the full report please click here.
To read other articles in this report, please click here.
1 See Judgment in Case T-293/12, Syria International Islamic Bank PJSC v. Council (June 11, 2014)
2 See Judgment in Joined Cases C‑584/10 P, C‑593/10 P and C‑595/10 P, European Commission and Others v. Yassin Abdullah Kadi (July 18, 2013)
3 Kadi v. Geithner, --- F. Supp. 2d ----, 2012 WL 898778, at *19 (D.D.C. Mar. 19, 2012)
4 Zevallos v. Obama, CV 13-0390 (RC), 2014 WL 197864 (D.D.C. Jan. 17, 2014) (quoting 5 U.S.C. § 706(2)(A))
5 Al Haramain Islamic Found., Inc. v. U.S. Dep't of Treasury, 686 F.3d 965, 983 (9th Cir. 2011)
6 KindHearts for Charitable Humanitarian Dev., Inc. v. Geithner, 647 F. Supp. 2d 857, 906-08 (N.D. Ohio 2009)
7 Zevallos v. Obama, CV 13-0390 (RC), 2014 WL 197864, at **9, 14-16 (D.D.C. Jan. 17, 2014)
8 OFAC announcement, July 31, 2012, available at treasury.gov/resource-center/sanctions/OFAC-enforcement/pages/20120731.aspx
This publication is provided for your convenience and does not constitute legal advice. This publication is protected by copyright.
© 2014 White & Case LLP