Pacific pioneers: Asian financial institutions enter Mexico
Stay current on your favorite topics
7
major Asian automobile manufacturers currently have direct subsidiaries in Mexico
Source: Capital IQ
Asian banks were among the first to take advantage of these newly available opportunities for foreign financial institutions in Mexico. They included several banks owned and controlled, including indirectly, by Asian government agencies that established subsidiaries supervised by sovereign wealth fund investment managers.
For example, a subsidiary of the Industrial and Commercial Bank of China (ICBC)—the world's largest bank by total assets—received the first-ever license allowing a foreign sovereign to own a controlling indirect participation in a Mexican banking institution in 2015. Bank of China—the world's fourth-largest bank and the oldest bank in China— followed soon thereafter.
In 2015, Shinhan Bank became the first Korean bank to operate a Mexican subsidiary. Two years later, KEB Hana Bank—the largest financial institution in South Korea— obtained a license to establish a banking subsidiary in Mexico.
Six of the 40 foreign financial institutions that currently have direct subsidiaries in Mexico are Asian headquartered banks, according to Capital IQ.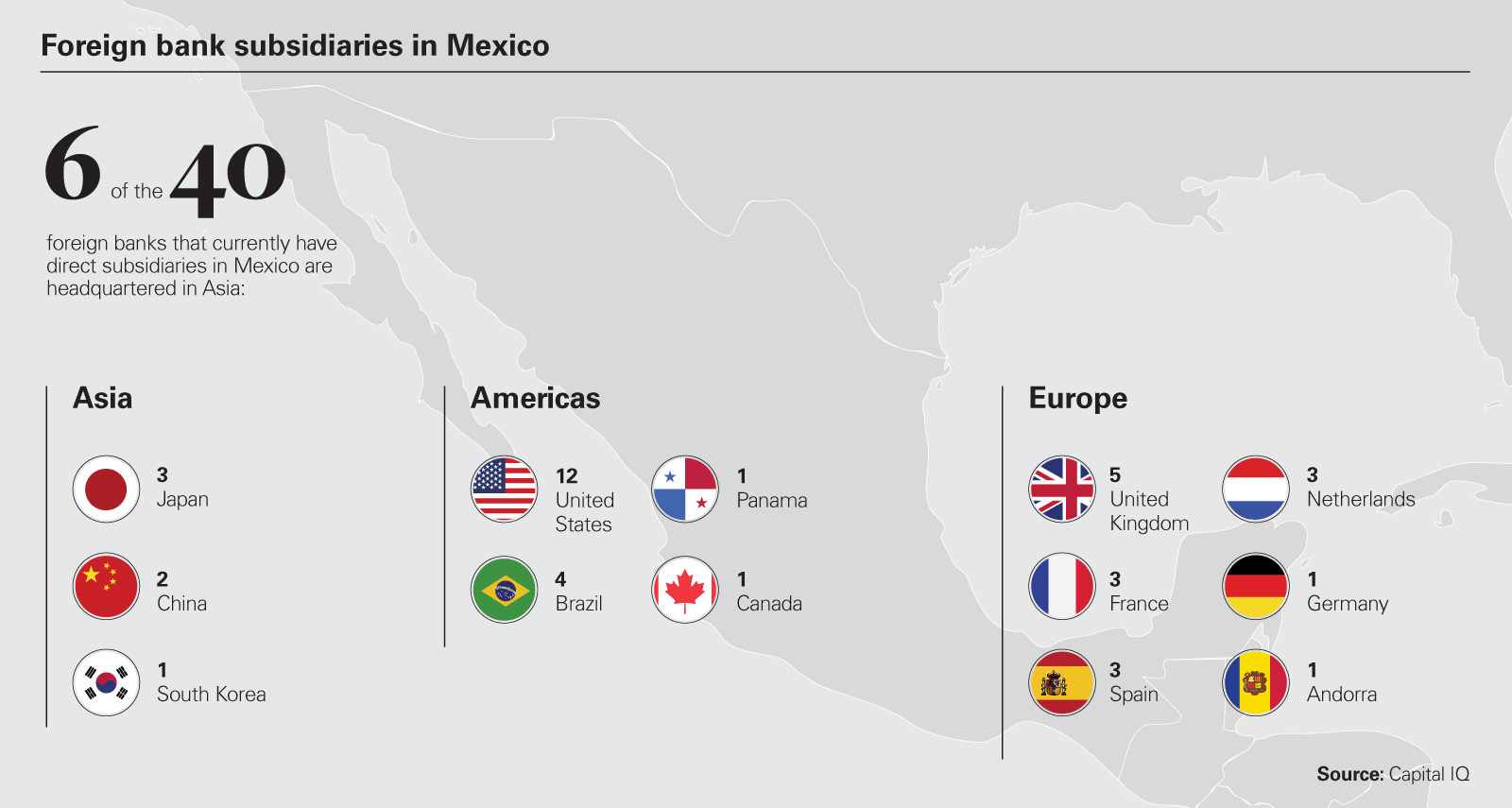 View full image
Strong and increasing Mexican-Asian commercial ties
Mexico's banking sector attracts Asian financial institutions for multiple reasons.
First, Asia-based banks are well suited to support Asian companies globally, due to cultural and language links and those companies' comfort with their existing banking relationships.
A recent, growing trend has seen Asian manufacturers establishing manufacturing operations in Mexico. Manufacturing in and exporting from Mexico offers competitive advantages, including proximity to the United States—the world's largest consumer market—which currently is accessible from Mexico through the North American Free Trade Agreement (NAFTA). Mexico also participates in a high number of other free trade agreements, by some estimates more than any other country in the world. As Asian multinational companies expand their manufacturing operations in Mexico, many of their Asia-based suppliers and financers are focusing interest on Mexico, too.
During the past few years, a series of legislative and economic reforms have further improved the commercial environment in Mexico, which now ranks among the best countries for economic risk in Latin America.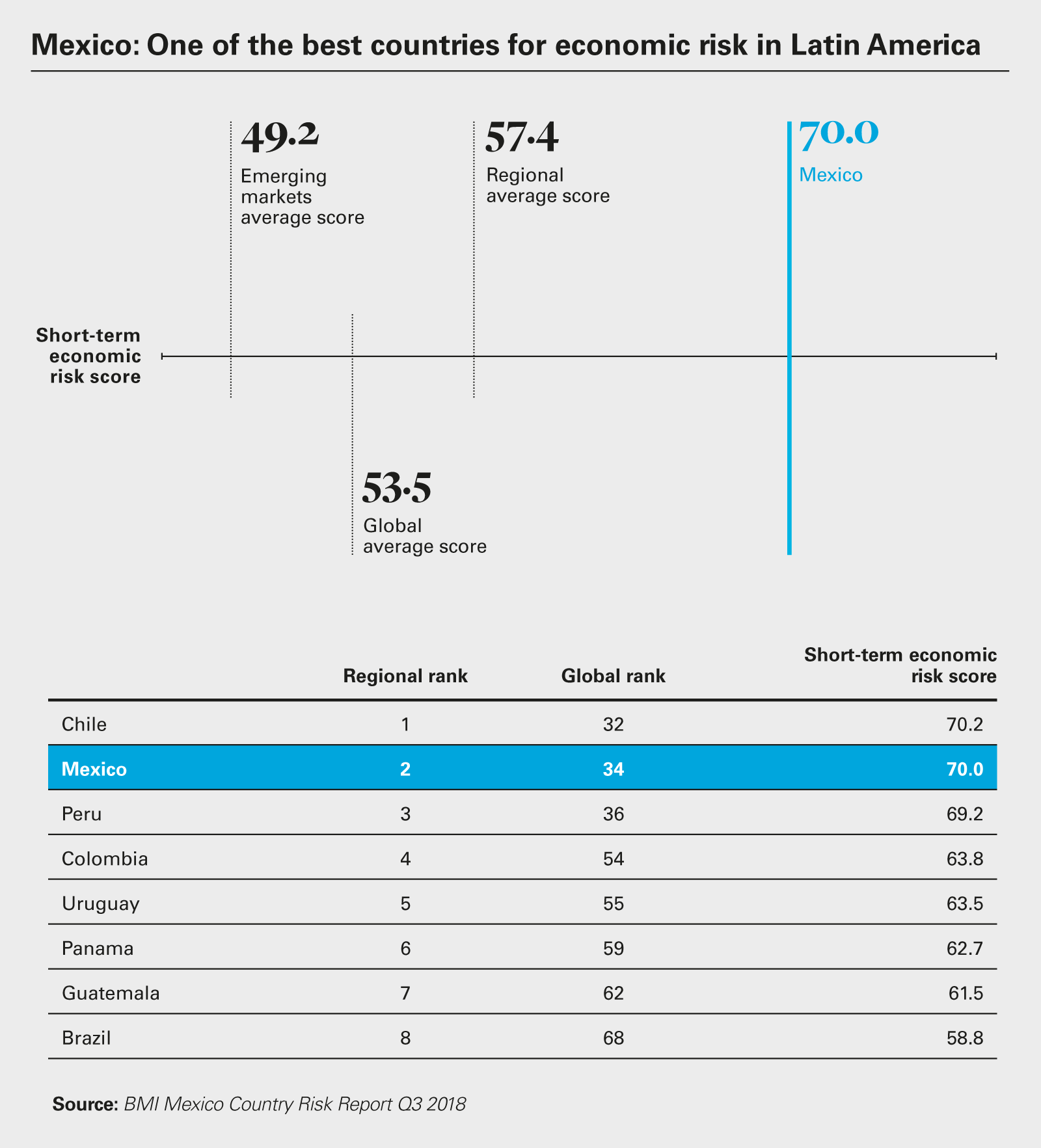 View full image
According to a Boston Consulting Group study, Mexico's average direct manufacturing costs have been at least 4 percentage points cheaper than China's since 2004. Labor costs in China have risen significantly, while productivity gains in Mexico have offset almost all of the country's wage increases.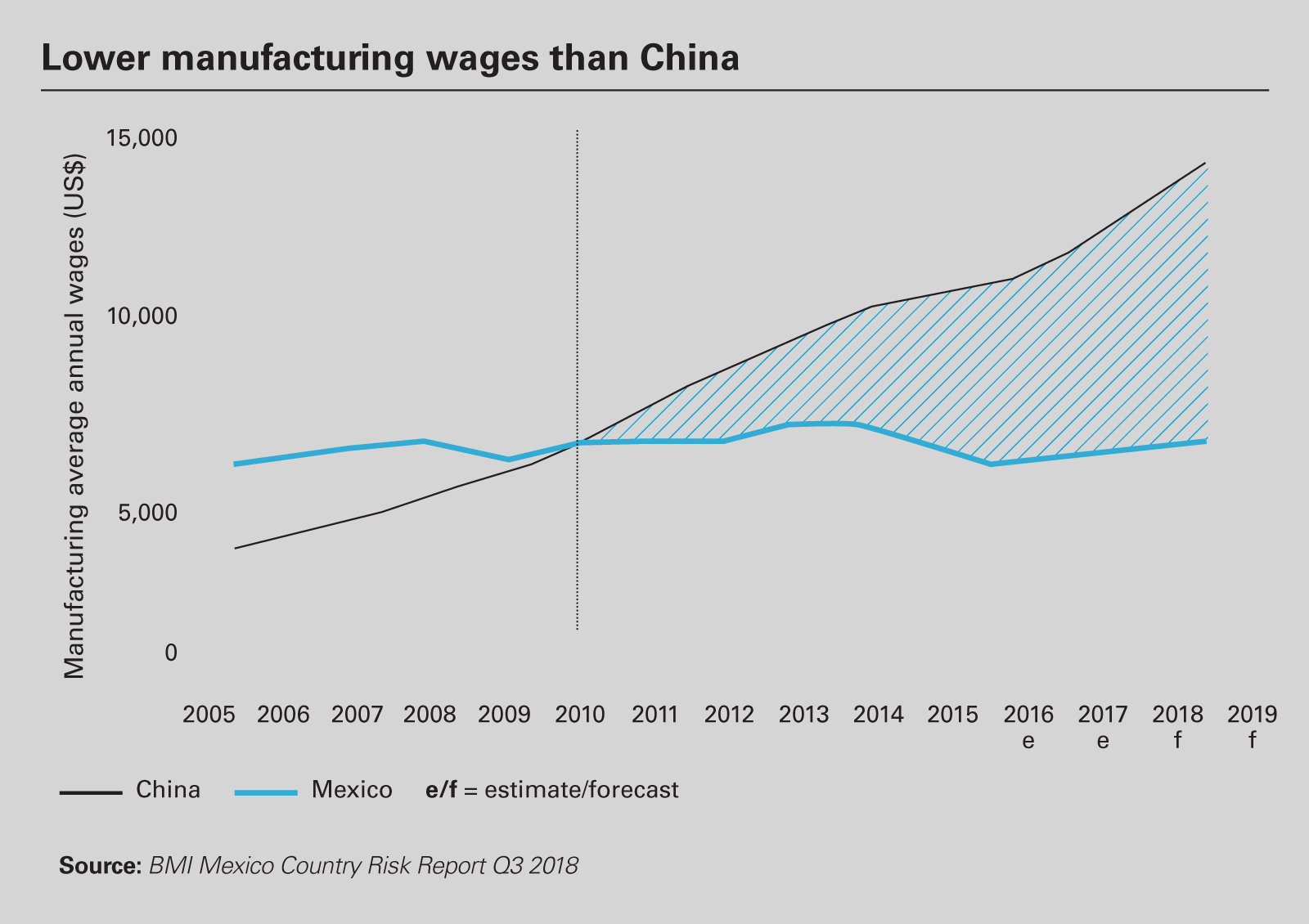 View full image
Mexico's manufactured goods exports, which accounted for more than 80 percent of its total goods exports in 2017, "have experienced a robust growth in recent years and are likely to perform well over the long term," according to BMI Research's Mexico Country Risk Report, Q3 2018.
Furthermore, foreign direct investment flows to Mexico from Asian countries are strong and growing. According to fDi Intelligence, from January 2011 to June 2018, Asian companies carried out 597 projects in Mexico worth more than US$42 billion. The top investing countries by number of projects were Japan (US$18.2 billion), South Korea (US$10.6 billion), China (US$5.2 billion) and Hong Kong (US$5.3 billion). The top sectors for Asian foreign direct investment in Mexico by number of projects included automotive components, metals and industrial machinery, and equipment & tools.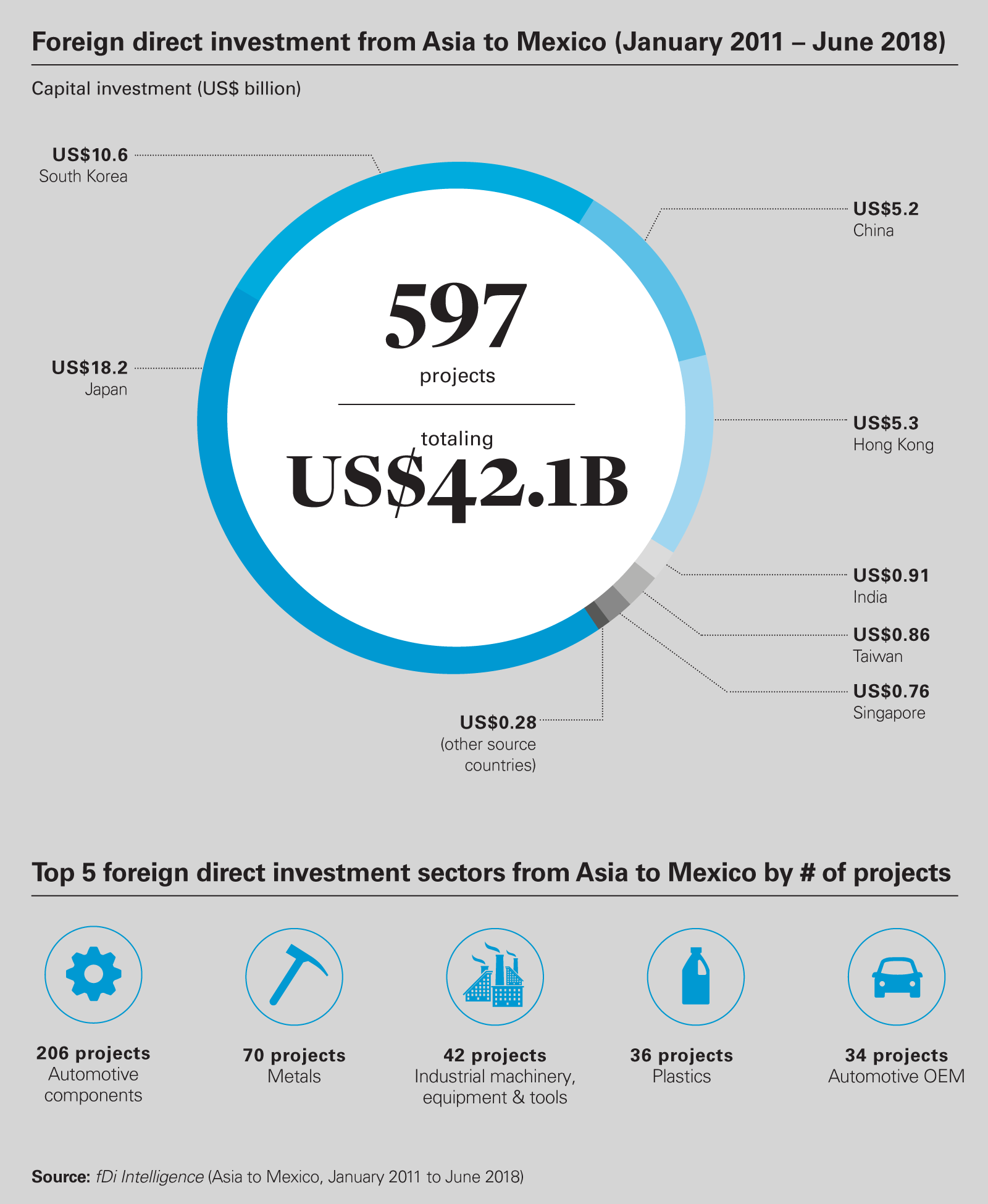 View full image
These direct investment ties go both ways. From January 2011 to June 2018, Mexican companies carried out 40 FDI projects worth US$1.98 billion in Asian countries according to fDi Intelligence. The top target countries by number of projects included China, the Philippines, India and South Korea.
Trade ties between Mexico and Asia continue to expand. From 2013 to 2017, Mexico's exports to Asia grew at a compound annual growth rate of 4.67 percent, while its imports from Asia grew at a compound annual growth rate of 5.33 percent, according to the International Trade Centre. In particular, China, which imported US$6.7 billion worth of Mexican-made products in 2017, is now Mexico's fourth-largest trading partner by exports, according to several estimates.
Finally, Mexico is an appealing destination for Asian capital seeking M&A investments. From 2009 through Q1 2018, Asian companies carried out 39 acquisitions in Mexico worth approximately US$4.76 billion. The top target sectors by value in Mexico for Asian companies during this period were energy, mining and utilities, industrials and chemicals, TMT and transportation.
Linking the flow of Asian capital into Mexico's economy has the potential to be a powerful combination: larger than the economic might of the United States, the world's largest economy.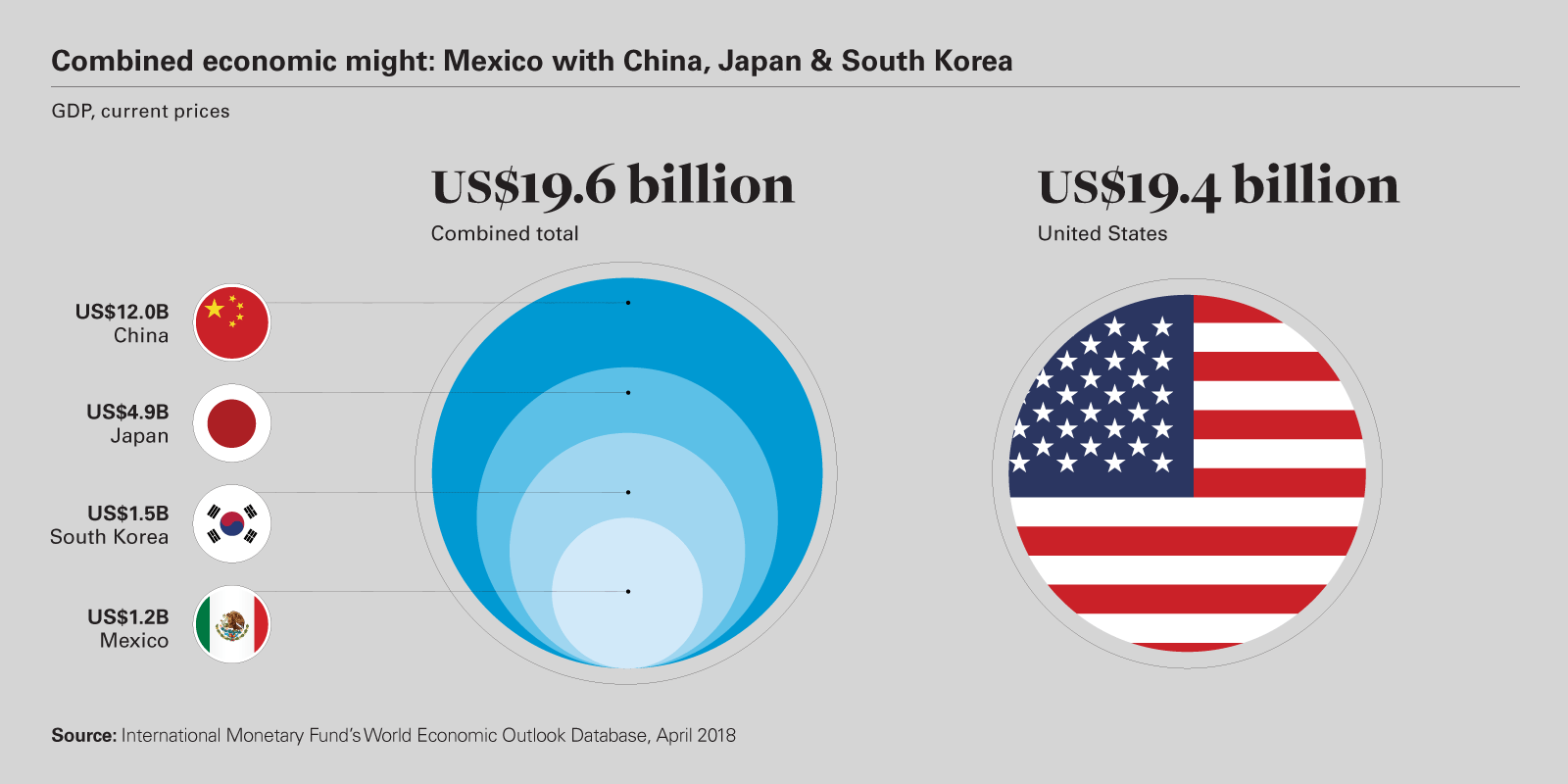 View full image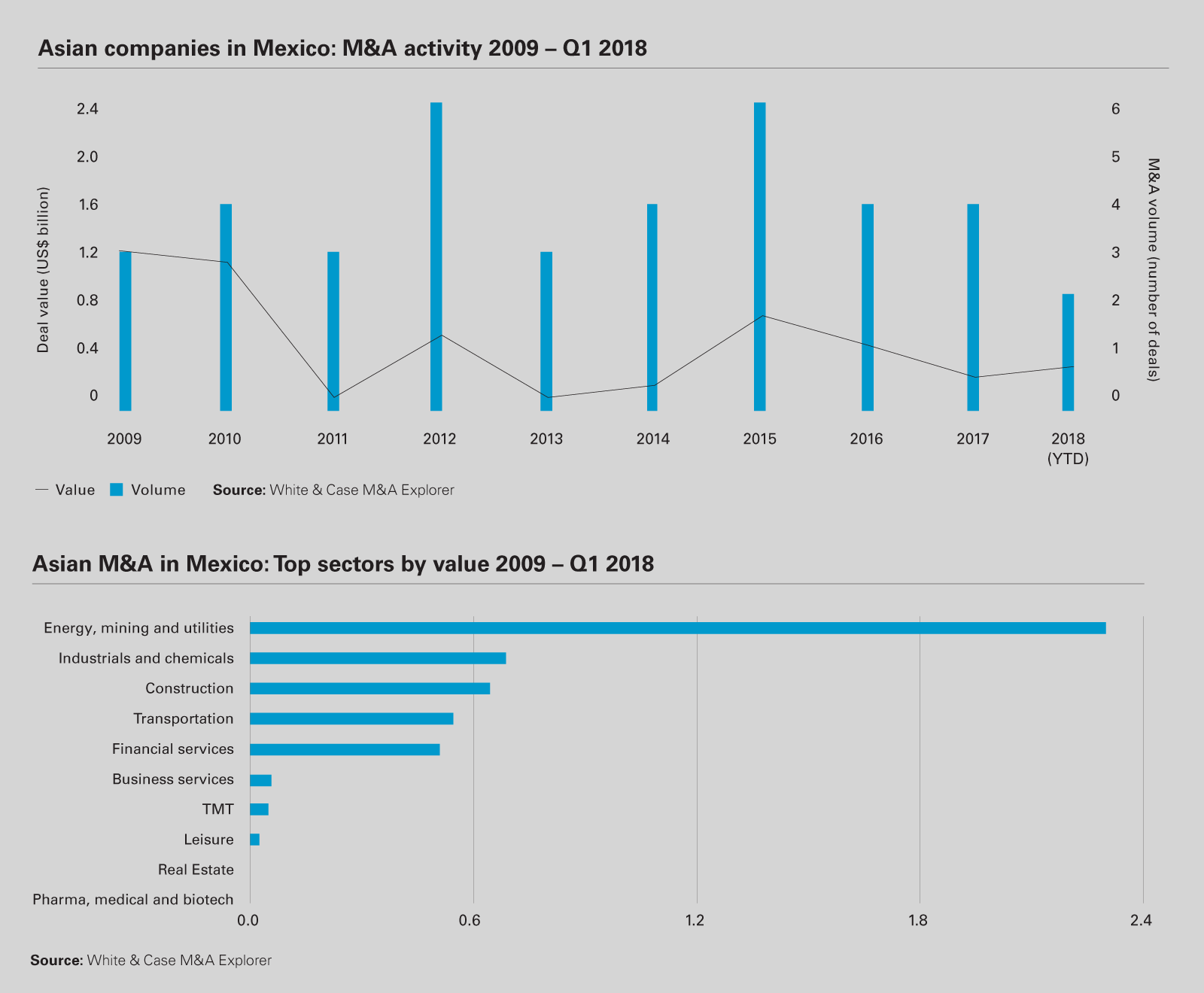 View full image
Mexico 'benefits from a competitive manufacturing sector with strong trade linkages to the US, low labor costs, favorable demographics and the 2013/14 economic reforms, all of which will help to drive increasing investment.'
BMI Mexico Country Risk Report Q3 2018
Potential for further growth, despite current uncertainties
Upheavals and events could possibly derail these trends going forward. Notably, the impact of the current US presidential administration on Asia-Mexico investment flows and existing trade routes remains uncertain. For example, after the current US administration threatened potential economic retaliation, several Asia-headquartered corporations announced plans to shift some of their production from Mexico to the US or to abandon planned further expansion of their operations in Mexico.
Still, disruptions like the current US administration's threats to renegotiate NAFTA could result in China emerging as an even more significant trading partner for Mexico. Soon after the November 2016 US presidential election, top diplomats from China and Mexico announced they had met to commit to deepening their trade and investment ties. Similarly, after the current US administration announced its intent to abandon the Trans-Pacific Partnership multi-nation trade agreement, Mexico and South Korea pledged to move forward with creating their own free trade agreement.
At the same time, banking connections between Mexico and Asia have broad potential for growth. Mexico's commercial relationships with Asian countries, which are fast developing, could continue to strengthen, result in a steady flow of Asian investments into various sectors of Mexico's economy, and prompt even more banks to enter Mexico.
Forecasts by BMI Research's Mexico Country Risk Report, Q3 2018 predict that Mexico's "growing manufacturing sector, solid private consumer and favorable demographics" will make it "well placed to see steady economic expansion over the coming decade."
FULL MAGAZINE
Pacific pioneers: Asian financial institutions enter Mexico
This publication is provided for your convenience and does not constitute legal advice. This publication is protected by copyright.
© 2018 White & Case LLP