Dealmaking in an uncertain economy
Josh Lerner of Harvard Business School on private equity's knack for navigating uncertainty
Stay current on your favorite topics
Every day investors face risks of all kinds in the pursuit of returns, from the political to the economic, from changing consumption trends to technology disruption. Broadly speaking, investors do not like uncertainty, and it is not generally healthy for public markets.
Few industries thrive on disequilibrium like private equity
The political shifts of the last 12 months towards economic populism and nationalism—discussed at great length elsewhere—are likely to be associated with a rise in uncertainty.
If we are indeed entering an era where a lot of things we took for granted in places like the US, such as the rule of law, are no longer guaranteed, this could present challenges in the long term for equity investors of all types.
Similar concerns might be raised regarding the prospects for private equity, whose performance has historically been quite correlated to that of public equities. At the same time, few industries thrive on disequilibrium like private equity. When you look at many of the successful investments that private equity has made, they tend to be in industries in transition, whether due to regulatory changes, such as in telecommunications and healthcare, or due to changes in patterns of global competition.
Forecasting market tops is a perilous business. I recall a bunch of venture capital groups getting out of the market for internet start-ups in 1996, as they saw valuations as unsustainable. They were right—but they nonetheless succeeded in severely damaging their reputations, and even firms' futures, by missing out on four years of the boom before the dotcom bubble eventually burst.
That said, there are big differentials between private equity vintage years. Those vintages that turn out to be the market tops, such as 1986 (prior to Black Monday the following year) or 2006 before the global financial crisis, substantially underperform. Only tomorrow will we know how today's vintage will perform.
Some comfort should be taken from a recent working paper we released. We matched British companies backed by private equity with counterparts not owned by financial sponsors by industry and size to see how they performed in the financial crisis.
We found that the firms with private equity backing undertook capital expenditures and other kinds of investment at substantially greater rates in the wake of the crisis.
Private equity firms' active engagement in the companies that they own will prepare them for — and help them to manage — the worst.
Their ability to invest more appeared to be due to their ability to raise capital relative to the others. The firms backed by private equity firms have more equity investment—which presumably reflects the fact that private equity firms themselves had deep pockets to continue to fund those companies, while their counterparts had to rely on declining public markets and other alternatives, which was a more difficult row to hoe. They were able to access debt financing, as well.
One suggested explanation for the latter pattern was that their private equity backers had developed strong relationships with banks over many years.
While the others were grappling with credit lines being pulled after the financial crisis, the private equity-backed firms got more forbearance from the banks and a greater willingness to extend credit lines, reflecting their sponsors' deep relationships with the financial institutions.
Whatever the precise reason for this continued investment during hard times, it is fair to assume that whatever lies ahead in this period of uncertainty, private equity firms' active engagement in the companies that they own will prepare them for—and help them to manage—the worst.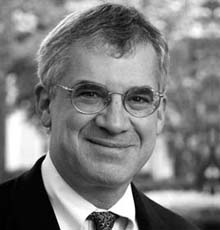 Josh Lerner
Jacob H. Schiff Professor of Investment Banking at Harvard Business School and head of the Entrepreneurial Management unit.
He founded and runs the Private Capital Research Institute, a nonprofit devoted to encouraging access to data and research about venture capital and private equity.
FULL MAGAZINE
Dealmaking in an uncertain economy
This publication is provided for your convenience and does not constitute legal advice. This publication is protected by copyright.
© 2017 White & Case LLP