In the European high yield market, the average deal size in 2015 rose to €524 million, far outstripping the €355 million average tickets a year earlier.
At the beginning of 2015, it was believed that the high yield bond and leveraged loan markets would continue at the levels seen in 2014. Issuance had peaked and terms were loosening.
Indeed, the first quarter started well; however, as the midpoint of the year arrived, it was becoming clear that 2015 was not going to match the previous 12 months for issuance in the US and Europe.
In 2014, some 60 percent of high yield bonds and 49 percent of leveraged loans had been issued in Europe for refinancing purposes. In 2015, that figure dropped to 46 percent and 36 percent, respectively.
Many private equity sponsors looking to exit were seeing better valuations through an IPO than through a secondary sale or debt issuance. European equity markets have been very strong as a result, and this has cannibalised some of the demand for high yield. The traditional tension between a leveraged refinancing, an IPO and an M&A exit shifted in 2015, as the IPO market proved stronger than in recent years.
However, private equity did boost the market with funding for leveraged buyouts in 2015, particularly on the loans side. While the percentage of high yield bond proceeds used to finance these deals grew from five percent to nine percent, leveraged loan issuance for leveraged acquisitions over the two years grew from 33 percent for add-ons and leveraged buyouts in 2014 to 48 percent for the same in 2015.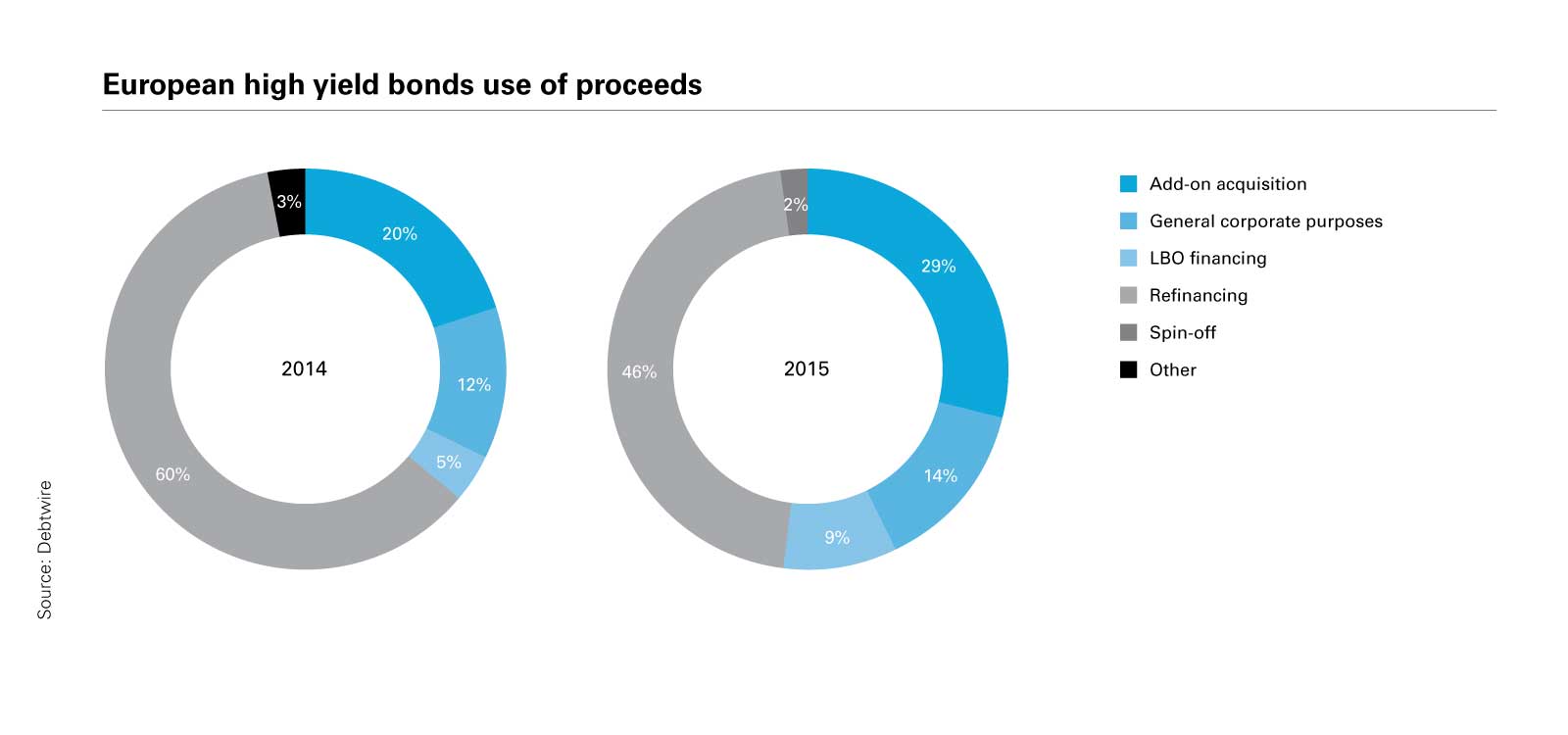 View full image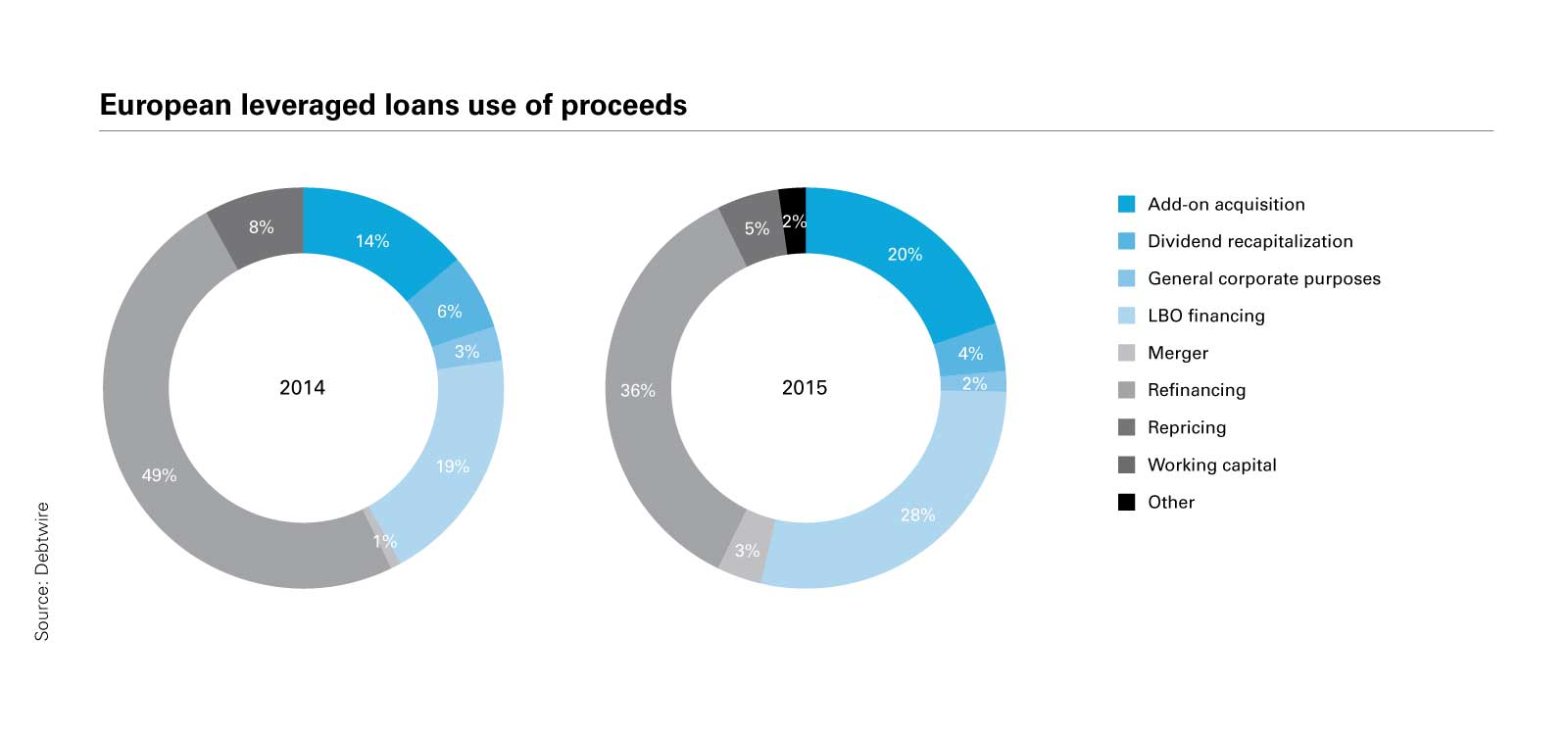 View full image
Loan sizes remain resilient
Further evidence of this growing depth and strength can be seen in the size of deals that were transacted successfully in 2015. Despite the relative drop off in issuance, the ticket size offered by those coming to market has been resilient.
The mean European leveraged loan deal size in 2015 was €600 million compared with €617 million a year earlier. In the European high yield market, the average deal size in 2015 rose to €524 million, far outstripping the €355 million average tickets a year earlier. In fact, the average deal size in 2011 – 2014 had been within the €340 million to €363 million range.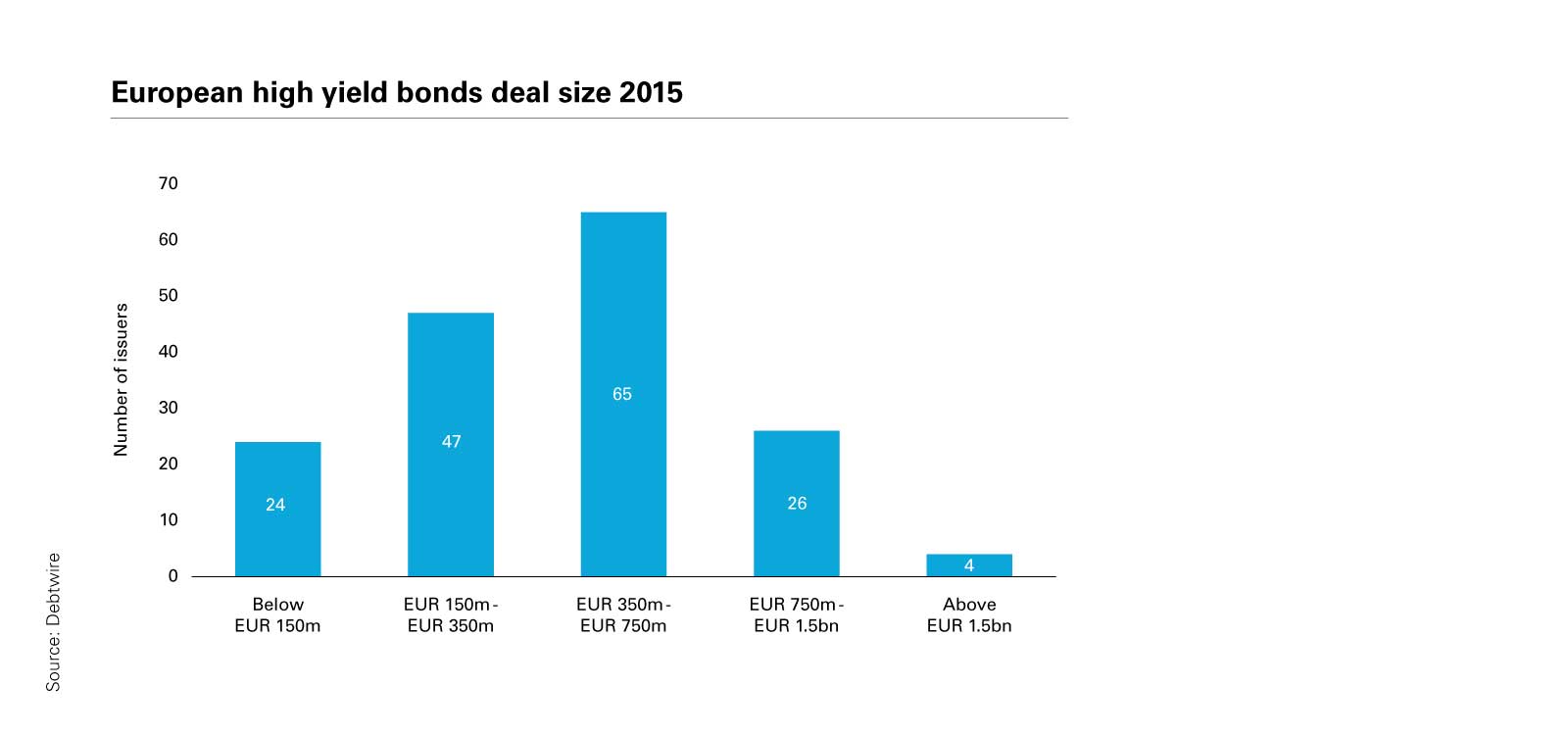 View full image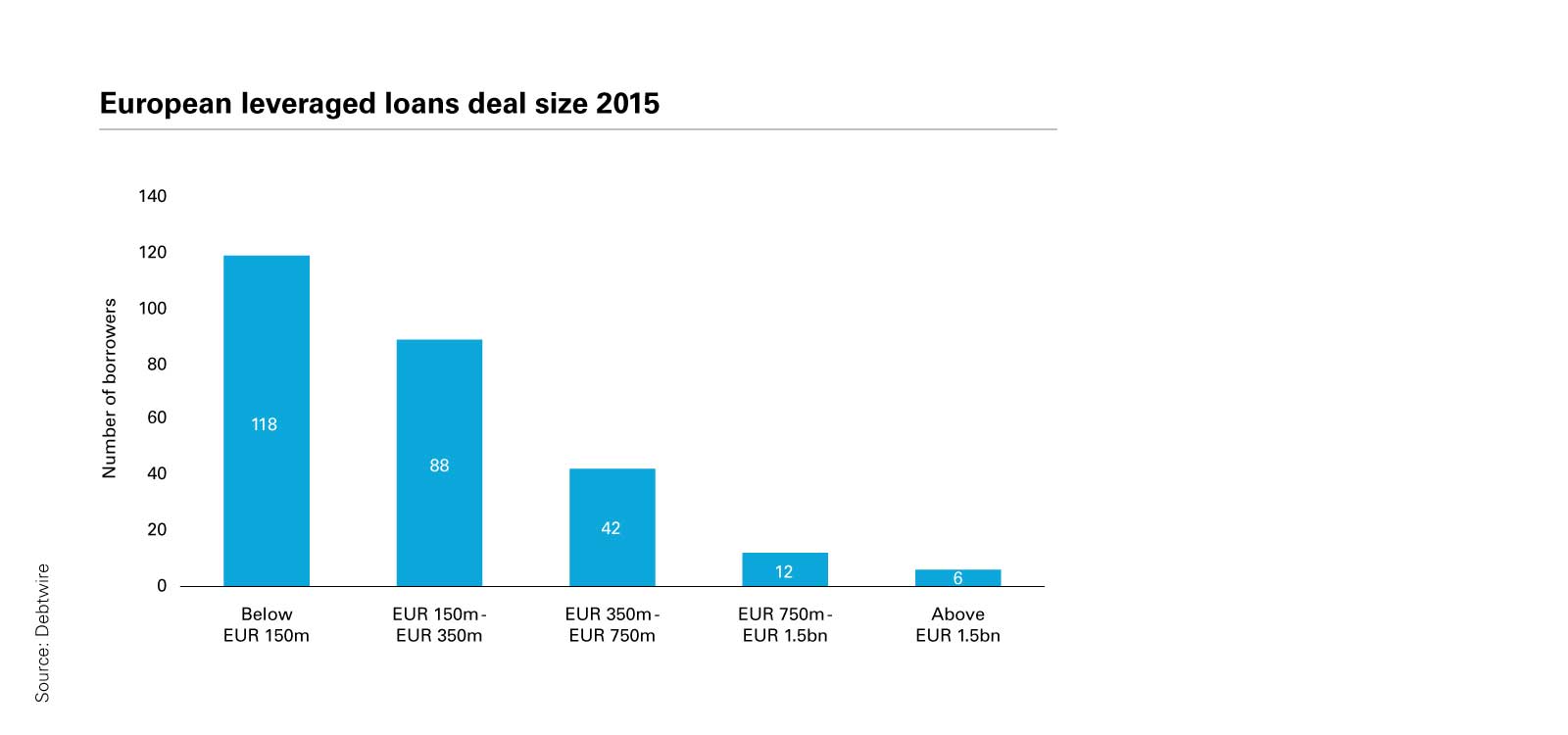 View full image
However, breaking these numbers down might suggest a couple of outlying deals skewed the numbers in 2015. By far, the largest component of leveraged loan issuers aimed to borrow less than €150 million in 2015. Six aimed at borrowing more than €1.5 billion, with 12 asking for between €1.5 billion and €750 million.
On the high yield bond side, the key range was between €350 million and €750 million, with 65 companies issuing at that level.
A reality check for the market
The European market has increased in size, strength and attractiveness for lenders and borrowers alike, but 2015 has served as a reality check for some issuers who had been allowing themselves to get carried away. However, in the current market, issuers have reset their expectations for pricing and investor appetite. The success story of 2014 put a different perspective on 2015—a year when lenders and investors became more cautious.
In November, BlackRock, the world's largest fund manager, said that given the uncertainty around oil prices, it viewed "the downside risk to high yield as too high to justify a larger allocation in [its] strategic portfolio". Bluebay, one of the largest fixed income boutiques, said in the same month that investors were wary of how credit instruments would react to the first hike by the US Federal Reserve, which happened in December.
After robust pre-July markets, macro and industry-specific events hit the sector. Issuers fell into two camps: companies that were known to the market, had a strong background, who went to the market with aggressive pricing and had little or no pushback; or companies that had no rating, were in an industry that was not doing well or had no market history. Any of these three characteristics meant they had wider pricing and tighter terms and, in some cases, simply did not get deals done.
B-rated sector gets largest deals
Certainly, investors were not just looking at credit ratings and sliding back up the risk scale. Well-known companies with a market history were doing well. With bonds worth €25.6 billion, collective capital raised by 32 B-rated issuers surpassed the next largest group by almost €8.2 billion in 2015. Some 23 BB- issuers raised €17.4 billion, while 23 BB+ issuers raised €16.1 billion, according to Standard & Poor's.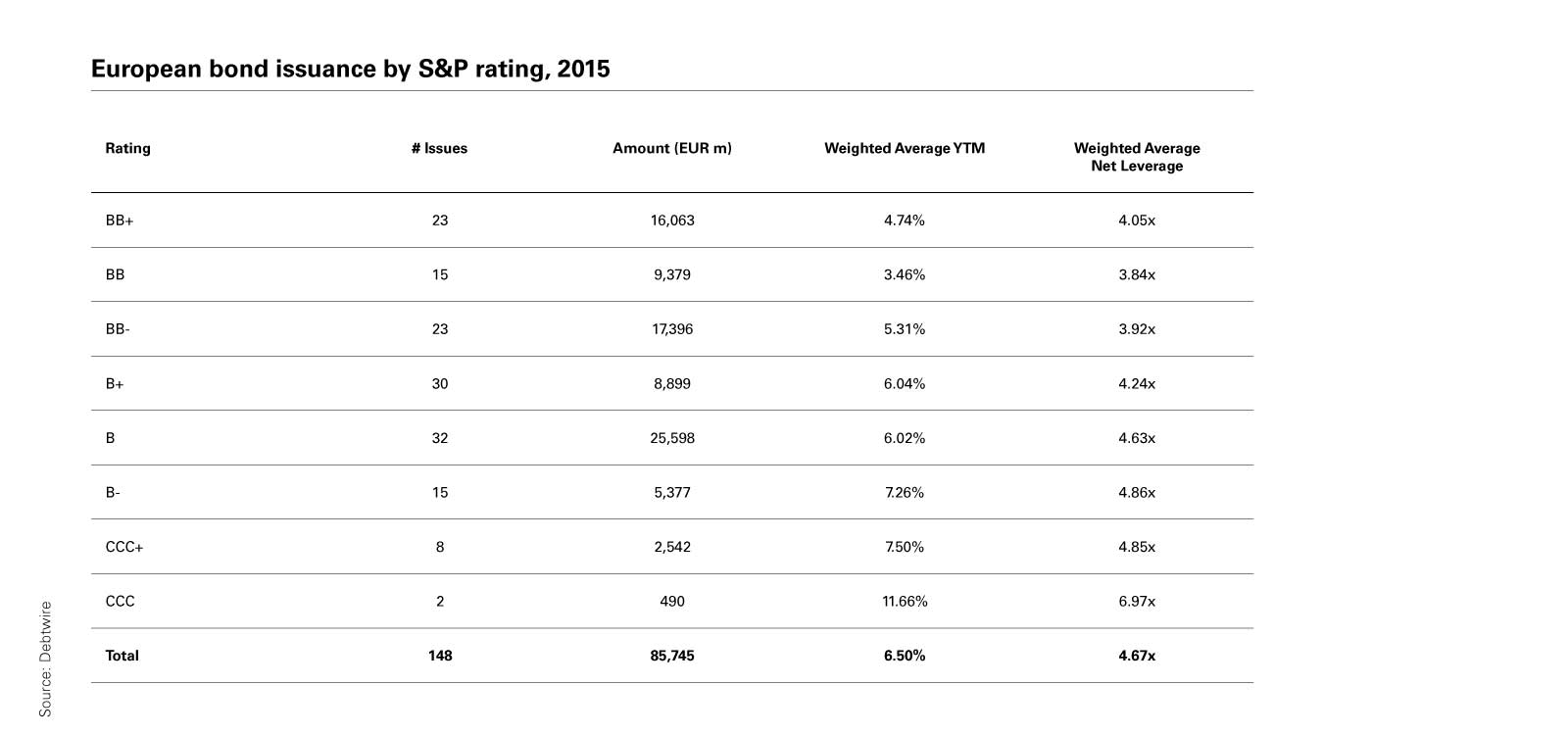 View full image
In fact, there were more deals in the B and B+ sector than in the BB- to BB+ sector put together in 2015. At an average €789.9 million, issuers awarded a B by Standard & Poor's managed to get the largest deals away—many of which were oversubscribed, according to Reuters data.
Investors willing to venture this far down the risk scale were rewarded with relatively impressive returns. In 2015, the weighted average yield to maturity on B and B+ rated issuers were 6.02 percent and 6.04 percent, respectively.
CASE STUDY
GTECH/IGT Plc
Innovation was key to the largest Italian bond issued on international capital markets to date, with White & Case acting as the issuer's international counsel for New York, English and Italian law.
The firm represented gaming business GTECH on its issuance of senior secured notes denominated in three tranches of US$3.2 billion and two tranches of €1.55 billion in February 2015.
The deal, which helped finance the acquisition of IGT Group by the issuer, used a cross-border pari passu bond/bank transaction and supported a complex capital structure. The team employed —and enhanced—the latest technologies in European bond/bank structures.
An innovative temporary note structure allowed for the issuance of notes pre-completion—which would not have been permitted by the existing capital structure—thus allowing timely access to the market and improved commercial terms.
The deal also was the first in Europe to see existing Eurobond note holders obtain a pre-agreement to enter an intercreditor agreement at completion, as the issuance of new secured notes tripped their negative pledge.
The deal was one of the few secured "covenant lite" high yield transactions completed in Europe, and it proved to be a market-leading precedent for companies temporarily crossing into the sub-investment grade space.

To download the full report, please click here.
To read other articles in this report, please click here.
This publication is provided for your convenience and does not constitute legal advice. This publication is protected by copyright.
© 2016 White & Case LLP