How global events shape local labour laws

Around the world in 60 seconds

Country rankings – operating employee share plans around the world
How global events shape local labour laws
Giving employers the better deal?
The global economic crisis squeezed corporate profits, reduced demand for goods and services and shrank workforces. Now, new labour laws are evolving that, ostensibly, favour employer over employee. White & Case's partner panel examines the global post-crisis employment landscape.
Who's who?
Nicholas Greenacre, partner, London
Alexandre Jaurett, partner, Paris
Frank-Karl Heuchemer, partner, Frankfurt
Tal Marnin, counsel, New York
Henrik Patel, partner, New York
Stephen Ravenscroft, partner, London
Nicholas Greenacre: On both sides of the Atlantic, labour markets and labour laws continue to respond to the global economic crisis. How far is this evident in your jurisdiction?
Stephen Ravenscroft, London: Notable changes to UK employment laws are due partly to the economic crisis and, I believe, partly influenced by the arrival of the Conservative/Liberal Democrat Coalition Government in 2010, which ended 13 years of Labour government rule. A new approach was adopted to deregulate the labour market and employment laws and to cut red tape for employers.
Take, for instance, the doubling of the qualifying period for ordinary unfair dismissal claims. Employees taking up a role on or after 6 April 2012 must now complete 2 years' continuous service before they can bring an unfair dismissal claim in an employment tribunal. This has made it easier for an employer to remove an employee in the early stages of their employment without the risk of employment litigation.
Employees have also been affected by reforms in collective redundancy situations. Where 100 or more employees are at risk of redundancy, the consultation period before any redundancy dismissal can be effected is now 45 days, down from 90 days. Moreover, rules have changed for business acquisitions under the TUPE legislation, allowing buyers to agree with sellers to begin the redundancy consultation period prior to completion of the deal, enabling faster headcount cuts on completion.
Tal Marnin, New York: Though the economic crisis and resultant downsizing have given rise to new legislation, labour statutes are largely open to individual state interpretation. Some states are more employee implied modifier (similar to: sugar-free) friendly; others favour the employer.
For instance, federal employment law sets a 60-day notice baseline for mass lay-offs involving at least 50 employees. New York had long ago upped it to 90 days for lay-offs involving more than 25 employees.
Henrik Patel, New York: Many US states see pro-employer legislation as an opportunity to attract new businesses and accelerate economic growth. Look at the mass exit of automotive manufacturers from Michigan to Tennessee, where legislation is more employer-friendly and trade unions exert less influence.
Frank-Karl Heuchemer, Frankfurt: German employment protection law remains as strict as ever. There is no statutory severance pay for unfair termination; instead, employees must be reinstated. Some years ago there's talk of increasing unfair dismissal thresholds from 6 to 24 months' employment and of making rules applicable to companies with 20 employees, rather than more than ten. However, these plans have never come into force in Germany.
Alexandre Jaurett, Paris: French labour law remains significantly pro-employee and imposes substantial obligations to the companies operating in France. However, since 2008 and the financial crisis, successive governments intended to give more responsibility to national employer and employee unions on the contemplated reforms of the French labour code. The aim of the governments was to promote the negotiation between national social partners, and to limit the scope of the bills to the topics not agreed between the national social partners. This is a clear change in the way to look at the labour law in France, which was historically the result of compulsory rules imposed by the government. Government understood that the economic crisis could not be reversed without major changes in the labour market in France, changes which require more negotiation between social partners. Now negotiation is back on the national labour market, which is very good news for business. For instance, recent reforms of collective redundancies and consultation procedure with works councils in France are a result of this negotiation. Even if these reforms remain unsatisfactory, it shows that social partners can be responsible and accept significant concessions to facilitate business and respond to economic crisis.
Nicholas Greenacre: Are employees experiencing pay freezes, curtailment of pension rights, caps on bonuses or other measures designed to curb how they are remunerated?
Stephen Ravenscroft: UK employers are required to meet national minimum wage requirements, and there is a general encouragement to pay an amount greater than the lowest threshold by which an individual can reasonably live and work: a so-called "living standard wage". However, the rate of increase of pay for young workers in particular has been slow over the past few years, and the new UK government has indicated a commitment to do more to increase the opportunities (and net earnings) of young workers and apprentices.
Henrik Patel: Pressure is on US states to raise minimum wage levels, while contractors in Los Angeles and New York City are urged to pay a living wage on top of the minimum baseline wage. We've literally got 5 or 6 layers of regulation on wages.
Tal Marnin: The federal rate is eight dollars an hour, but Los Angeles raised it to US$15 for some workers. Unions are courting the fast-food and temping sectors, urging them to fight for an increase, while protests are breaking out in some quarters over minimum pay.
Frank-Karl Heuchemer: Germany has only just introduced the statutory minimum wage, at a universal €8.50 per hour. Whether or not this will lead to redundancies is currently in discussion.
Alexandre Jaurett: Minimum wage has existed for more than 30 years in France. It amounts to €9.61. Many business sectors apply higher minimum rates negotiated at the national level. However, over recent years, annual negotiation on wages (compulsory in any company with more 50 employees) was not able to succeed in many companies. The trend is for employers to limit general wage increases as much as possible and to focus on selective [merit] increases for performance.
Stephen Ravenscroft: Pensions have certainly gone through upheaval. UK employers have mostly shifted to defined contribution (DC) plans to ease the expense and volatility of defined benefits (DB) plans.
Some DB plans survive in formerly nationalised industries, such as the energy and power sector, but many of those are now closed to new members. Trustees are particularly active in seeking to protect members' past service benefits, as well as expectations of future accruals. And case law, so far, backs the trustee.
Henrik Patel: DC plans are much more prevalent these days. Where a collective partnering agreement is in place, and a DB plan has to be preserved, acquiring companies restrict membership.
"Reforms to the employment tribunal system, including fees to bring claims and caps on compensation awards, have contributed to a huge drop in employment-related litigation in the UK ... It puts employers in a much stronger position to effect dismissals."
Stephen Ravenscroft, White & Case partner, London
Nicholas Greenacre: Have you noted a decline or increase in litigation and tribunals in your jurisdiction?
Stephen Ravenscroft: Reforms to the employment tribunal system, including fees to bring claims and caps on compensation awards, have contributed to a huge drop in employment-related litigation in the UK. The doubling of the qualifying period for unfair dismissal claims?the most common claim brought?has also had an impact. Trade unions are furious. It puts employers in a much stronger position to effect dismissals.
Trade unions are also very concerned about proposals to change the right to strike in the UK. These proposals include a requirement for a minimum threshold of 50 per cent. of voters to turn out to vote on union ballots (with the requirement for a simple majority of votes in favour). So these changes affect both judicial and social partnership influence on the labour market in the UK.
Tal Marnin: Even for very small claims, US employees tend to sue. Class actions are rampant, especially over wages, and many employers are taking out employment practices liability insurance to cover defence costs.
Frank-Karl Heuchemer: In Germany, employees' hands are tied. If they sign a termination agreement, they have to face the risk that they are not entitled to unemployment benefits for three months. So it's no surprise that they take their cases to court. We are just representing a company facing approximately 150 individual claims.
In Germany, the number of strikes have increased in previous years. As in the UK, strike action will in most cases be compromised. Though a new law, effective in July 2015, although multiple trade unions in one company for the same group of employees are still allowed, only the collective bargaining agreement of the union with the largest membership will in future apply.
Alexandre Jaurett: Historically, employees tend to sue a former employer for unfair dismissal. They know that they have a real chance to succeed and by suing they intend to force their former employer to open settlement negotiations. In 2008, the government introduced the possibility of terminating the employment contract by mutual agreement, which de facto limited the number of litigations in relation to termination. The current Finance Ministry considers that it is necessary to amend applicable rules on litigation for unfair termination, in particular by imposing a cap for damages. The bill is still under discussion: it is not yet clear if all kinds of dismissals (personal ground, redundancies etc.) will be in scope, nor which caps will apply. However, if such a reform is implemented, it will have a significant impact on employment-related litigation in France.
Nicholas Greenacre: We've looked at the repercussions that the global economic crisis has had so far on labour laws and practices. Looking ahead, what consequences (if any) do you anticipate from "Brexit"?
Stephen Ravenscroft: I don't think Brexit will trigger an entire repeal of all EU-derived employment legislation in the UK. We have adopted rules relating to family-friendly rights, paid holiday entitlements and automatic retirement, which, in general terms, most employers would seem to agree with. Where the UK "gold plates" its legislation over and above what is required by Europe, there is perhaps room for some more reform. Particular areas which employers feel impose unnecessary burdens are the record-keeping requirements and method of calculation of holiday pay under the EU Working Time Directive (including recent ECJ case law) and the regulation of agency worker arrangements. These are the areas most ripe for reform in the event of a Brexit.
Frank-Karl Heuchemer: Brexit is unlikely to have a significant impact from an HR perspective in Germany. But, if the UK's withdrawal from the EU affects the freedom of movement of people, then it might lose its ability to attract and retain talented employees and weaken its influence in Europe. On the flip side, many non-EU investors consider labour laws across Europe to be broadly similar, and it may make investment less attractive if all of a sudden very different rules apply in the UK as opposed to other European countries.
Alexandre Jaurett: We do not expect that Brexit would trigger significant consequences from an HR perspective in France. As for Germany, it could impact applicable rules on work permits. Some talented French business people (in particular in the finance and banking industry) may be tempted to relocate to the UK and to benefit from the greater flexibility in the UK labour market.
Key takeaways:
Nicholas Greenacre: Summing up, it seems that the repercussions of the global economic crisis are translating into labour laws and practices in ways that, for the most part, favour the employer. In the UK, raised thresholds for bringing unfair dismissal claims make it harder for employees to bring claims, and those who do get to tribunal now have to pay a fee and can expect a reduced award. Elsewhere, industrial action, balloting and the powers of unions are being curbed, further reducing employees' rights of expression. Minimum pay thresholds continue to cause concern globally. And the switchover to defined contribution pension plans is not well received by those workers who previously enjoyed defined benefits. Overall, employers seem to have the upper hand, at least for the moment.
Around the world in 60 seconds
1. Germany
Minimum wage
Since 1 January 2015, a gross hourly minimum wage of €8.50 has applied to businesses of any size and to all employees, including so-called "mini-jobbers" (with earnings up to €450). This includes employees of foreign businesses which are active in Germany.
Exceptions apply for various groups of apprentices, minors, pupils, students and trainees completing a compulsory internship.
It is only permissible to pay less than the minimum wage during a transitional period until the end of 2016. After this period, it will only be permissible to pay less than the minimum wage on the basis of a universally applicable collective agreement. Employers face a fine of up to €500,000 for a breach of the obligation to pay the minimum wage.
Equal participation of women and men in leadership positions
From 1 January 2016, listed companies will be subject to the German Co-Determination Act (Mitbestimmungsgesetz), a new bill which provides for a quota of at least 30 per cent. of newly created supervisory board seats to be filled by women. This also applies to SE businesses (European companies), provided they are co-determined.
If the quota is not achieved by a vote of shareholders, the election or appointment to the supervisory board would be deemed void and the seat will remain vacant.
Other listed companies and companies subject to co-determination, for example in the form of an AG, GmbH or SE, are obliged to set themselves targets (numbers and timescales) in order to increase the representation of women on their supervisory boards, the executive boards and the two levels below the executive board.
Parental allowance and parental leave
Parents whose children are born on or after 1 July 2015 will have the choice between the existing basic parental allowances (Basiselterngeld) and the new parental allowances (Elterngeld Plus). The Elterngeld Plus can be obtained for a period of 28 months (instead of 14 months) by paying out not more than half of the monthly parental allowance. Furthermore, if the parents obtain the Elterngeld Plus and work part-time, their income is taken into account in a more favourable way than it is for the basic parental allowance.
Continuous parental leave will be available for a maximum of three years. From 1 July 2015, parents may take three instead of two blocks of continuous leave without the employer's consent. Two blocks can even be taken between the third and the eighth year of a child's life and last up to two years instead of twelve months. The employer's consent is no longer required. The employer can only refuse the request for the third block of continuous leave between the third and the eighth year for urgent operational reasons.
One collective agreement per business
On 22 May 2015, the German parliament passed a bill providing for only one collective agreement per business (Gesetz zur Tarifeinheit). The main aim of the law is the disbanding of competing collective agreements within businesses. If, within a business, collective agreements by different trade unions within one group of workers compete with one another and the unions are unable to reach an agreement, the collective agreement entered into by the union with the most members within an organisation will prevail. However, there is an exception for collective agreements which are in force at the time the bill comes into force (i.e. approx. July 2015).
2. Sweden
Swedish government proposes rules to prevent abuse of fixed-term employment
Faced with a possible decision by the European Commission to refer Sweden to the European Court of Justice, the Swedish government has proposed new rules in the Employment Protection Act to prevent the abuse of fixed-term employment and to ensure compliance with the directive on fixed-term work. It is proposed that general fixed-term employment will automatically be converted into indefinite term employment if the aggregate length of active employment exceeds two years. This will apply not only when the aggregate length is reached within a period of five calendar years, as at present, but also if it is reached by the use of repeated fixed-term agreements without interruption or with intervals of at most 180 days. At present, it will be possible to deviate from the rules in collective labour agreements. The rules are proposed to enter into force on 1 May 2016.
Swedish Discrimination Act amended to include lack of availability as a basis for discrimination
On 1 January 2015, the Discrimination Act was amended to include "lack of accessibility" as a basis for discrimination. The purpose of the amendment is to ensure that those suffering from impairments and individuals without such impairments are treated equally. Employers and others responsible for activities/services such as shops, restaurants, educational and healthcare services are required to take reasonable measures to make the activities/services accessible to impaired individuals. Examples of such measures could be to offer means of assistance required for participation in school or at a workplace. Exceptions are made for the provision of housing, for employers with less than ten employees or individuals providing goods and services (other than within healthcare) and when individuals apply for employment on their own initiative.
3. Turkey
Unsuccessful measures put in place to increase female representation at board level in Turkey
In 2014, the Capital Markets Board of the Republic of Turkey introduced the Communique II-17.1, which proposed that publicly held joint stock corporations should aim to have at least 25 per cent. of seats at board level held by women. These corporations are expected to evaluate the progress they are making in reaching this target on an annual basis. Unfortunately, despite this recommendation, Turkey did not make significant progress during 2014. This is because the Communique was a 'recommendation' rather than a 'mandatory provision', based on a "Comply or Explain" approach, which means that a company may either choose to comply with the provision or explain why it has not complied with it in its annual activity report. According to the annual reports of the Women on Board Turkey, a body which aims to help companies give priority to women when nominating independent directors, since 2012 the ratio of seats held by women increased from 11.5 per cent. to 11.7 per cent. in 2013, and to 11.9 per cent. in 2014. These ratios may not reflect the actual data and might be lower due to the fact that the majority of companies are controlled by families, and women board members are appointed due to their family ties. Nonetheless, 44.1% of publicly held joint stock corporations still did not have a female director as of the cut-off date in 2014.
4. Poland
Debate on changes in the regulations on fixed-term employment contracts
The Polish parliament is currently debating amendments to the Labour Code. The draft bill contains changes to the rules concerning the conclusion and termination of fixed-term contracts. The proposed changes include:
(1) The abolition of agreements for the completion of a specified task
(2) The possibility to enter into a maximum of three fixed-term employment contracts of a total duration of up to 33 months (subsequent contracts would automatically become indefinite for term contracts)
(3) The possibility to terminate all fixed-term employment contracts early (including those shorter than six months) and
(4) The adjustment of the notice periods for fixed-term contract employees based on seniority
5. Japan
Japanese joint stock companies (kabushiki kaisha) no longer need to have a representative director with a Japanese residential address
In a move to promote foreign investment, Japan's Ministry of Justice decreed in March 2015 that Japanese joint stock companies (kabushiki kaisha) no longer need to have a representative director with a Japanese residential address. A representative director is the highest position within a Japanese joint stock company and has statutory authority to bind the company to contracts. The new rule also applies to Godo Kaisha, a Japanese legal entity similar to American limited liability companies. Japanese branches of foreign companies must still have a representative with a Japanese address, although this individual need not be a Japanese citizen.
This development is welcome news for foreign companies doing business in Japan because they are now free to run their Japanese subsidiary while all directors reside outside Japan. Practical reasons may remain for keeping a representative director in Japan (for example, to facilitate quick decision making and bank account creation for newly formed companies), so each company's situation should be considered before giving the representative directorship to an executive outside Japan.
6. USA
IRS publishes final regulations under Section 162(m)
Recently published final regulations of Internal Revenue Code Section 162(m) clarify exceptions to the US$1 million annual limit on deductions allowable to publicly held corporations for compensation paid to certain executive officers, such as the chief executive officer and the corporation's three other most highly compensated executive officers other than the chief financial officer. The Section 162(m) final regulations amend and clarify two exceptions to the US$1 million annual limit that are identified in the proposed regulations. The exceptions are regarding performance-based compensation and compensation paid pursuant to a plan that existed prior to the corporation becoming public; namely, the final regulations clarify that equity plans must provide individual limits on issuable stock, and that restricted stock units granted by newly public corporations must be paid (and not just granted) prior to the end of the transition period.
SEC proposes rules on pay-versus-performance disclosure
On April 29 2015, the Securities and Exchange Commission (SEC) approved proposed rules (the "Proposed Rules") implementing Section 953(a) of the Dodd-Frank Wall Street Reform and Consumer Protection Act. Section 953(a) of the Dodd-Frank Act instructs the SEC to adopt rules requiring public companies to include in their annual proxy statements information that shows the relationship between the executive compensation paid to named executive officers and the financial performance of the company, taking into account any change in the value of the shares of stock and dividends of the company and any dividends and distributions. The Proposed Rules would require disclosure under a new Item 402(v) of Regulation S-K. The Proposed Rules draw meaningful distinctions between the disclosure requirements applicable to smaller reporting companies and all other reporting companies.
SEC Adopts Final Rules on CEO Pay Ratio Disclosure
On August 5, 2015, the Securities and Exchange Commission adopted final rules (the "Final Rules") by a vote of three to two to require disclosure of (i) the median of the annual total compensation of all of the company's employees (excluding the CEO or equivalent position); (ii) the annual total compensation of the CEO or equivalent position; and (iii) the ratio of the two amounts.
The Final Rules are substantially similar to the proposed rules released in September 2013. The Final Rules incorporate certain modifications based on comments to the proposed rules largely aimed at reducing the costs of compliance.
The new pay ratio disclosure will be required in annual reports or proxy statements beginning in the spring of 2018, covering compensation for the fiscal year on or after January 1, 2017, with transition periods for newly public companies. Foreign private issuers, emerging growth companies and smaller reporting companies are exempt from the pay ratio disclosure requirements.
7. Slovakia
New whistleblowing act in Slovakia
On 1 January 2015, an act implementing certain measures related to the reporting of anti-social activities (whistleblowing) (the Act) became effective. Until the adoption of the Act, whistleblowing was not comprehensively regulated in Slovakia. The Act aims to establish a general legal framework for whistleblowing and introduce certain whistleblower protection measures. This includes measures for the legal protection of whistleblowers against the negative repercussions of their engagement in this activity and establishes a system for rewarding them.
Pursuant to the Act, employers that employ more than 50 employees are required to establish an internal whistleblowing system or adjust the existing system according to the requirements of the Act by 30 June 2015.
Revision of conditions of employment of agency employees
An amendment to the Slovak Labour Code entered into force on 1 March 2015 (the Amendment).
The Amendment introduces a number of new provisions, including specific protections for the benefit of employees of temporary employment agencies (Agencies) such as (i) the limitation of an Agency employee's temporary assignment to the same user employer to a maximum of 24 months, provided that it may be extended or renewed up to four times within this 24month period; (ii) the automatic establishment of an employment relationship between the Agency employee and the user employer for an indefinite period of time if the statutory terms of the temporary assignment of Agency employees are not complied with; and (iii) the joint and several liability of the Agency and the user employer for the payment of the salary to the assigned Agency employee.
8. United Kingdom
Zero hours contracts
In May 2015, the Small Business, Enterprise and Employment Act 2015 came into force, and this Act included provisions to ban exclusivity clauses in contracts of workers that do not guarantee any particular hours of work (known as 'zero hours contracts'). Over the next 12 months, secondary legislation is expected to be implemented in order to impose penalties for employers who circumvent the exclusivity ban and to provide for redress to employment tribunals for zero hours contract workers who suffer detrimental treatment.
Right to strike
Following the recent UK general election, the new Conservative government has confirmed that a bill shall be introduced before Parliament to reform trade unions and protect essential public services from disruption caused by strikes by introducing the following provisions:
(1) A minimum threshold of 50 per cent. of voters to turn out to vote on union ballots (with the requirement for a simple majority of votes in favour)
(2) For industrial action in the health, education, fire and transport services, the requirement that 40 per cent. of those entitled to vote, vote in favour of striking (in addition to the minimum 50 per cent. voting turnout threshold)
(3) The prevention of intimidation of non-striking workers during a strike and
(4) Time limits on mandates following a ballot for industrial action
Gender pay gap reporting
By spring 2016, new regulations shall come into force that will require employers with 250 or more employees in the UK to publish gender pay gap information. This will be a significant sea change for employers that have, to date, been encouraged to take a voluntary approach to gender pay reporting. The Secretary of State has broad powers to prescribe what information employers will need to publish, in what form, and the manner and time of publication. Publication cannot be more frequent than annually, however, and the penalty for an employer that fails to comply could be a criminal fine of up to £5,000 or civil enforcement measures. The Secretary of State shall consult on the details of pay gap reporting before the regulations are published, so employers will have an opportunity to try to frame the rules and to prepare before implementation.
Review of employment tribunal fees
When employment tribunal fees were introduced in July 2013, the UK government made a commitment to review their impact. On 11 June 2015, the government announced the start of the Employment Tribunal Fees Post Implementation Review. The purpose of the review is stated to be to consider how effective the introduction of fees has been in meeting the original financial and behavioural objectives, while maintaining access to justice. The review will also consider how effective the current fee remission scheme has been since its introduction in October 2013.
July 2015 budget
Measures announced in the UK's July 2015 budget statement which are most likely to impact employers and employees include:
(1) A new national living wage for all workers aged 25 and over, starting at £7.20 an hour from April 2016 and set to reach £9 by 2020
(2) Pensions tax annual allowance for those earning between £150,000 and £210,000 to be tapered from £40,000 to £10,000 from April 2016
(3) The amount that can be saved in a pension free of tax over the course of a lifetime is to be reduced from £1.25million to £1million from April 2016 (with transitional arrangements)
(4) With effect from April 2017, non-domiciled persons whose "temporary stay" in the UK exceeds 15 years (in preceding 20-year span) will be taxed in a similar manner to UK-domiciled persons if they continue to be resident in the UK. In addition, individuals who were born UK-domiciled but have subsequently left the UK and become domiciled elsewhere, will no longer able to rely on their non-domicile status for tax purposes if they return to the UK and become resident in the UK and
(5) Legislation to have effect from 8 July 2015 (and applying to arrangements entered into before that date) to ensure that sums which arise to investment fund managers by way of carried interest will be charged to the full rate of capital gains tax, with only limited deductions being permitted.
Country rankings – operating employee share plans around the world
We have identified countries which present significant risk to issuers and administrators when implementing and operating share plans and highlighted countries which are not typically onerous.
The results of our analysis are set out in the table below, which ranks 24 major jurisdictions.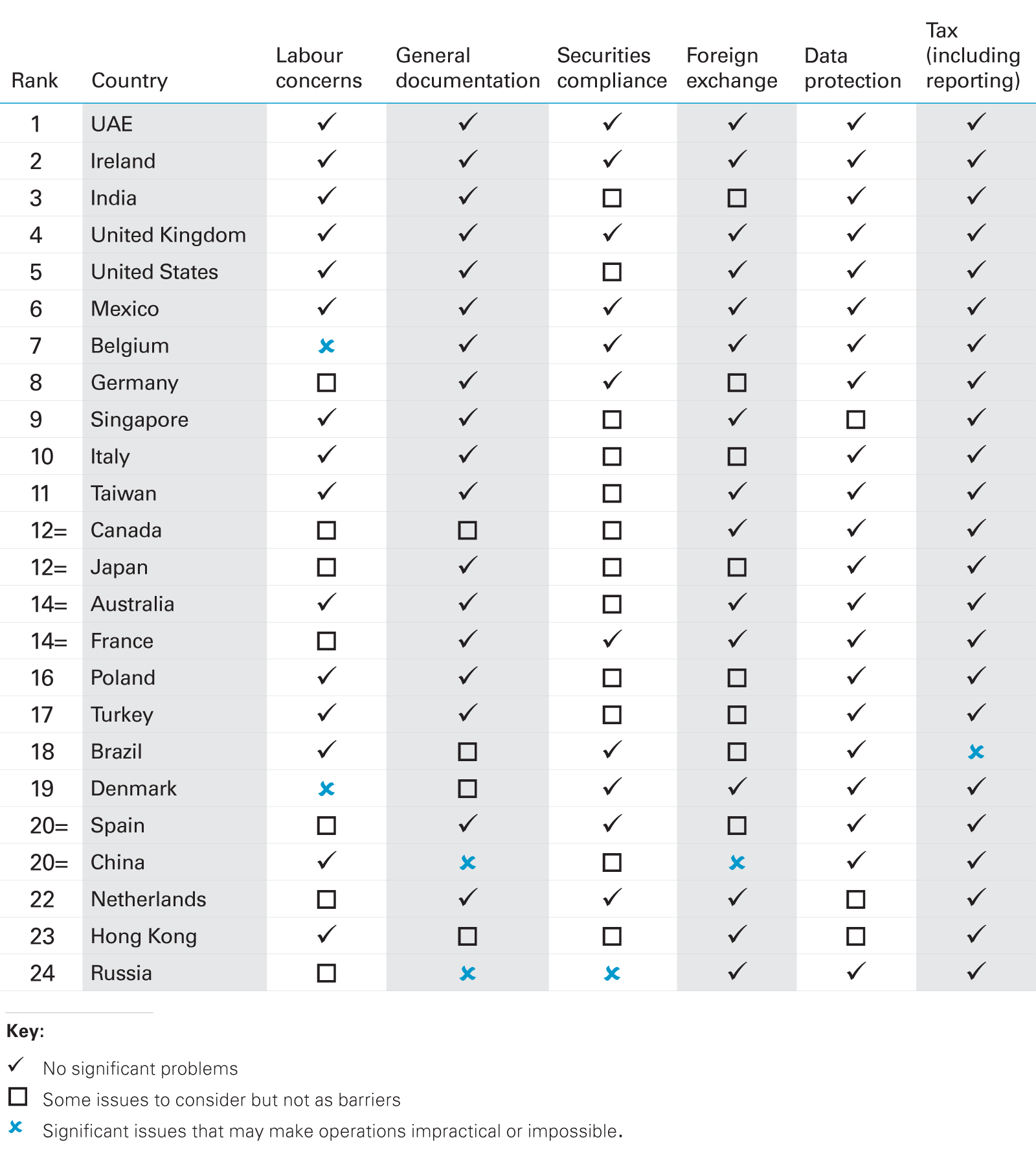 View full image
We have scored each country by reference to the ease or complexity with which employee share plans can be operated there, taking into account associated securities, employment, tax and data privacy matters. Points have been deducted for onerous obligations such as securities filings and added for advantages such as any favourable tax treatment. Our findings are based on share awards granted by a listed overseas parent.
More details are available from White & Case's Countries at a Glance database, which is regularly reviewed and updated. Extracts from this database can be accessed via our website or those of the Global Equity Organisation (globalequity.org/geo) and the National Association of Stock Plan Professionals (naspp.com).
Commentary
Russia is bottom of our list on account of the ongoing securities law prohibition for overseas issuers offering share plan participation to Russian employees. Many issuers use cash-based plans, but these also give rise to issues in ensuring that all communications and offers are kept outside of Russia. Any share plan activity will invariably require detailed analysis to ensure that local laws are not breached.
Australia has typically been regarded as a problematic country from a securities perspective. However, with effect from the end of last year, there have been some welcome legislative changes which have addressed some difficult issues such as phantom plans. Problems may, however, still arise if awards are to be granted over any non-listed subsidiaries' shares. So, careful attention will still need to be given. Forthcoming changes to the tax legislation in Australia are also to be welcomed, particularly in relation to options. We expect a rise in Australia's ranking in future tables.
China is relatively low in the table principally because of the ongoing issues which overseas issuers face under SAFE legislation. The level of bureaucracy and costs involved in registering for, and maintaining, SAFE approval is often disproportionate to the benefits of operating a share plan in China, especially for relatively low numbers of employees. However, employee share plans in China can qualify for favourable tax treatment.
Pro bono at White & Case
White & Case is one of the largest providers of pro bono legal services in the world, and devotes on average more than 80,000 hours per year. We have more than 100 years of pro bono leadership, and our lawyers have worked on a wide range of matters affecting nearly every country. We have achieved some remarkable successes, such as winning against the US government in the so-called "Don't Ask, Don't Tell" case, and creating a ground breaking programme to reduce genocide.
The Firm's Global Pro Bono Practice, led by Brussels-based EU law litigator Ian Forrester, QC, emphasises three areas of focus: providing access to justice and the protection of human rights, promoting good sovereign governance and the rule of law and supporting organisations with a social or environmental mission.
Over the past twelve months, our Global Employment, Compensation & Benefits team have provided employment advice to a range of charities, including organisations that promote human rights, work with vulnerable children (both in the UK and internationally), use investment as a tool to tackle poverty and work to find a cure for a rare childhood disease.
Please visit the White & Case Social Responsibility Review website for a complete profile of our programme: whitecase.com/social-responsibility
This publication is provided for your convenience and does not constitute legal advice. This publication is protected by copyright.
© 2015 White & Case LLP