The White & Case Women's Initiative began in 2004 to attract and retain the best people.
We take performance seriously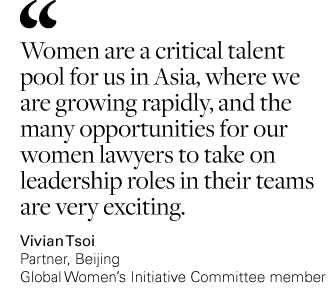 Members of the Global Women's Initiative Committee monitor how individual women are performing and engage in discussions with Firm leaders about their progress. Committee members stay informed of trends in the retention, performance and development needs of women lawyers. Our top priority is continuing to ensure that talented women are retained, advanced and given leadership opportunities.

Mentoring in circles

In the US we offer mentoring circle programs that are being explored for adoption by several other offices around the world. Each mentoring circle connects partners with small groups of women associates. This program has directly impacted the development, retention and engagement of our women associates and offers the chance for the partner mentors to guide our more junior women lawyers on their path to success.

Promoting sponsorship

We pair women at critical phases of their career development with partner sponsors to help ensure the women get the opportunities and experience necessary to advance to positions of leadership within the Firm and the broader legal profession.

Training to develop women leaders

We partner with the Firm's professional development program to ensure our leadership training programs effectively address the needs of our women lawyers and feature women facilitators. We actively encourage our women to attend these programs and have found them to be an effective way of ensuring strong participation.

Flexible working – we know it's a marathon
Careers can last forty years or more. We seek to provide the career flexibility all of our people need at critical transition times to go the distance. We have a full range of programs to support flexible work schedules and leaves of absence for both men and women. These programs include part-time and flexible work arrangement policies, as well as coaching to prepare people for and return from leaves of absence. We continue to monitor the effectiveness of these programs in meeting the needs of our lawyers and staff.