Concurrences, a publication of the Institute of Competition Law, has named an article penned by White & Case lawyers among the "best writings published in 2017" at its 2018 Antitrust Writing Award ceremony on April 10 in Washington, DC.
White & Case's winning article in the Business category, Intellectual Property section, "United States: Pharmaceutical Antitrust 2018, (awards.concurrences.com/IMG/pdf/us-pharmaceutical-antitrust.pdf)" was authored by Michael Gallagher (New York), Eric Grannon (Washington, DC), Heather McDevitt (New York), Adam Acosta (Washington, DC), Kevin Adam (New York), Kristen O'Shaughnessy (New York) and Trisha Grant (Washington, DC). The article appeared in The Antitrust Review of the Americas 2018, published by Global Competition Review.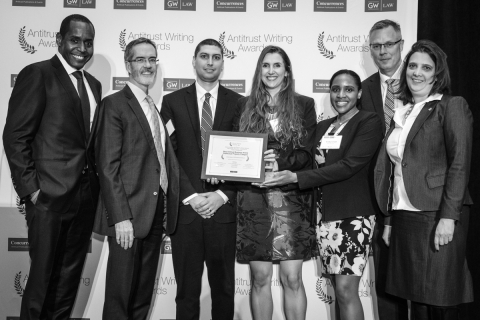 Said Grannon, "We're honored to receive this award. We have a deep bench of pharmaceutical antitrust specialists in both the US and EU, and our sector-specific strength is a key feature of our global practice. White & Case is the only law firm to have defended successfully at trial pharmaceutical clients against both FTC and private plaintiff reverse payment suits, and we were counsel in the landmark SCOTUS ruling on reverse payments in FTC v. Actavis."
According to Concurrences, winning articles are chosen in a three-month process involving more than 50 international antitrust experts and the review of more than 600 article submissions.
"The aim of the Antitrust Writing Awards is to promote competition scholarship and to contribute to competition advocacy," Concurrences writes.
To see a video of the award-winning authors discussing trends in antitrust law at the awards ceremony, click here.
Top